Richard Boatright took 1st Place on the Savannah River July 28th with 16.30 lbs and weighed the 1st BF at 6.20 lbs! Add in the BONUS $ and Richard took home $681.00!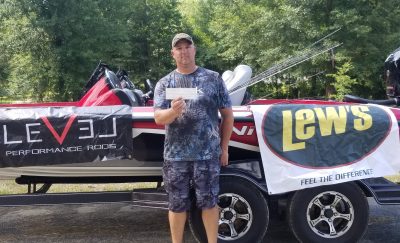 2nd went to Anthony Joyner & Barry Conley with 10.037 lbs and 2nd BF at 6.16 lbs! they took home $239.00!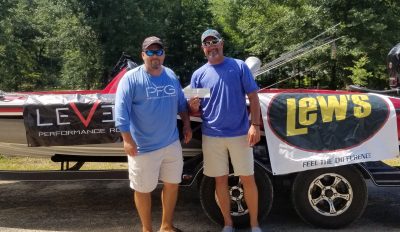 Next Savannah River CATT and the last Summer Qualifier is Aug 18th at Hardeeville!
| | | | | |
| --- | --- | --- | --- | --- |
| | Big | Total | Total | |
| 13 Teams | Fish | Weight | Winnings | Points |
| Richard Boatright   1st BF & BONUS $ | 6.20 | 16.30 | $681.00 | 110 |
| Anthony Joyner – Barry Conley 2nd BF | 6.16 | 10.37 | $239.00 | 109 |
| Tim Roundtree – Al Pitman | 0.00 | 8.29 | | 108 |
| Frank Ackerman – Jamie Rushing | 0.00 | 6.91 | | 107 |
| Mel Long – Felix Stanley | 0.00 | 6.35 | | 106 |
| Chris Chavis | 0.00 | 5.85 | | 105 |
| Matt Cantrell – Billy Orr | 0.00 | 5.70 | | 104 |
| Bubba Bowers – Buddy Wheeler | 0.00 | 5.58 | | 103 |
| Joe Toth – Kyle Suddath | 0.00 | 5.56 | | 102 |
| Travis Malphrus – Jason Davis | 0.00 | 4.86 | | 101 |
| Mac Sampey – Vonette Sampey | 0.00 | 1.88 | | 100 |
| Jordan Schumache – Ronald Welch | 0.00 | 0.00 | | 99 |
| Barry Thames | 0.00 | 0.00 | | 99 |
| Total Entrys | | | $1,040.00 | |
| BONUS $ | | | $200.00 | |
| Total Paid At Ramp | | | $920.00 | |
| Savannah River 2018 Summer Final Fund | | | $300.00 | |
| 2019 CATT Championship Fund | | | $20.00 | |
| 2018 Savannah River Summer Final Fund Total | | | $545.00 | |
| 2019 CATT Championship Fund Total | | | $840.00 | |