Next James River CATT is this coming weekend August 13th at Osbourne!

We had 69 teams enter the July 30th James River Qualifier competing for a purse totaling up over $8,000.00!
Michael Brannon & Jacob Compton took 1st Place with 5 bass weighing 20.41 lbs earning $2,100.00!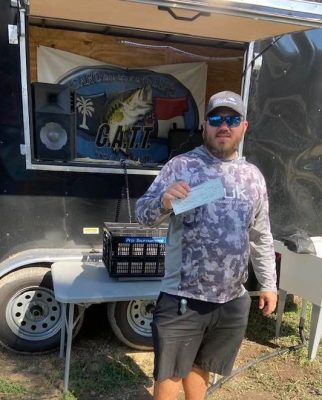 2nd Place went to Josh & Zach Durham with a limit weighing 18.95 lbs worth $1,000.00!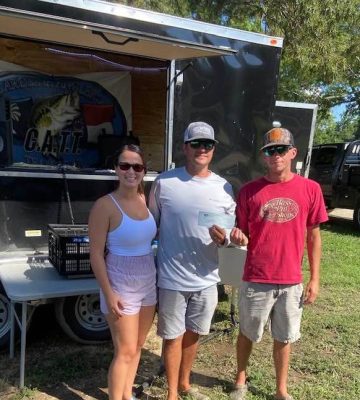 Justin Faison & Brian Bersick claimed 3rd with 18.94 lbs taking home $750.00!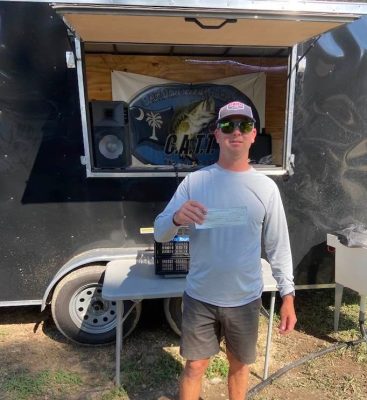 Richard Rodriguez Jr & Richard Rodrigues took 4th with 18.68 lbs plus weighed in the 1st BF at 7.54 lbs! Add in the 12st Side Pot and they collected $1,423.00!

| | | | | |
| --- | --- | --- | --- | --- |
| Team | BF | Weight | Winnings | Points |
| Michael Brannon – Jacob Compton | 7.00 | 20.41 | $2,000.00 | 110 |
| Josh Durham – Zach Durham | 7.04 | 18.95 | $1,000.00 | 109 |
| Justin Faison – Brian Bersick | 0.00 | 18.94 | $775.00 | 108 |
| Richard Rodriguez Jr – Richard Rodrigues | 7.54 | 18.68 | $1,481.00 | 107 |
| Scott Rodgers – Mike Milton | 0.00 | 18.02 | $745.00 | 106 |
| Greg Cooper – Clay Lewis | 7.46 | 17.98 | $579.00 | 105 |
| Clyde Baldwin – Jeff Davis | 4.63 | 16.00 | $340.00 | 104 |
| Matt Noraas – Soctt Blanton | 0.00 | 15.92 | $275.00 | 103 |
| Marshall Johnson – Ryan Luckniete | 0.00 | 14.87 | $235.00 | 102 |
| Luke Nickert – Jared Bass | 0.00 | 14.81 | $200.00 | 101 |
| Roger Walters – Renee Walters | 6.16 | 14.63 | $175.00 | 100 |
| Brandon Hill – Kevin King | 0.00 | 14.37 | $155.00 | 99 |
| Joey Deluke | 0.00 | 14.23 | $135.00 | 98 |
| Ray Hogge – Donnie Daniels | 0.00 | 14.22 | | 97 |
| Brian Green – Jamie Pitts | 0.00 | 13.96 | | 96 |
| Trey Goodman – Tim Chaffin | 0.00 | 13.64 | | 95 |
| Matt Holt | 0.00 | 13.52 | | 94 |
| Joey Cook – Justin Hall | 0.00 | 13.00 | | 93 |
| Bo Boltz – Mickey Anderson | 0.00 | 12.83 | | 92 |
| Rob Uzzle – Mike Cherry | 0.00 | 12.76 | | 91 |
| Jamie Nealy – Greg Ball | 0.00 | 12.65 | | 90 |
| Audie Murphy – Chris Dorman | 6.64 | 12.57 | | 89 |
| Donnie Meade – Brian Books | 0.00 | 12.44 | | 88 |
| Ryan Drewery – Wayne Drewery | 0.00 | 12.27 | | 87 |
| Cory Dunnavant – Kennon Ball | 5.67 | 12.25 | | 86 |
| Howard Austin – Mark Austin | 0.00 | 12.10 | | 85 |
| Kelly Robinette – David Barlow | 0.00 | 12.08 | | 84 |
| Garrett Geouge – Mike Grogan | 0.00 | 11.82 | | 83 |
| Jason Bishop – Stan Bishop | 0.00 | 11.81 | | 82 |
| Paul Martin – Francis Martin | 0.00 | 11.50 | | 81 |
| Jarred Sutton – Nick Pass | 0.00 | 11.47 | | 80 |
| Chuck Conner – Don Warren | 0.00 | 11.46 | | 79 |
| Tommy Little – Robert Bruquire | 0.00 | 11.06 | | 78 |
| Tripp Mistr – Brent Mistr | 0.00 | 10.82 | | 77 |
| Duane Hodge – Brad Colgin | 0.00 | 10.50 | | 76 |
| Dave Carney – Andy Bollhorst | 0.00 | 10.43 | | 75 |
| Harrison Baker – Chase Huffman | 0.00 | 10.42 | | 74 |
| Richard Mistr – Tom Owens | 0.00 | 10.36 | | 73 |
| Mike Green – Billy Wilson | 0.00 | 10.36 | | 72 |
| James Condrey – Jimmy Condrey | 0.00 | 10.34 | | 71 |
| Luke Carson – Darrin Zollar | 0.00 | 10.03 | | 70 |
| Curtis Combs – CJ Combs | 0.00 | 9.77 | | 69 |
| Neil Jernigan – Hunter Warren | 0.00 | 8.81 | | 68 |
| Jared Williams – Alex Richard | 0.00 | 8.53 | | 67 |
| Chris Cockrell – Brian Snipes | 0.00 | 8.41 | | 66 |
| Andy Walker – Jim Rowe | 0.00 | 8.37 | | 65 |
| Charles James – John James | 0.00 | 8.20 | | 64 |
| William Woodel – Walter Woodel | 0.00 | 8.07 | | 63 |
| Bryan Keane – Evan Anderson | 0.00 | 7.52 | | 62 |
| Jeff Ludlow – Billy Edwards | 0.00 | 7.48 | | 61 |
| Stacy Vasser | 0.00 | 7.34 | | 60 |
| Jeff Valentin – Daryl Moody | 0.00 | 6.99 | | 59 |
| Rusty Alley – Dan Robinson | 0.00 | 3.55 | | 58 |
| Kevin Davis – Melissa Davis | 0.00 | 1.90 | | 57 |
| Harvey Reece – Anthony Weithers | 0.00 | 0.00 | | 47 |
| Mike Knapp – Jeff Knapp | 0.00 | 0.00 | | 47 |
| Ben Knapp – Scott Shaffer | 0.00 | 0.00 | | 47 |
| Richard Bates – Greg Sakimura | 0.00 | 0.00 | | 47 |
| Shawn Dunlap – Ken Kipler | 0.00 | 0.00 | | 47 |
| James Funk – Matt Funk | 0.00 | 0.00 | | 47 |
| Aaron Lucy – Reed Clay | 0.00 | 0.00 | | 47 |
| Jerry Davis – Donnie Estes | 0.00 | 0.00 | | 47 |
| Neal Allen – Rodney Allen | 0.00 | 0.00 | | 47 |
| Eddie Griggs – Eric Rowe | 0.00 | 0.00 | | 47 |
| Jacob Rudd – Brandon Rideout | 0.00 | 0.00 | | 47 |
| TJ Milton – Ed Milton | 0.00 | 0.00 | | 47 |
| Matt Kite | 0.00 | 0.00 | | 47 |
| P Jones – Jennifer Bennett | 0.00 | 0.00 | | 47 |
| James Byrd | 0.00 | 0.00 | | 47 |
| Total Entrys | | | $8,160.00 | |
| BONUS $ | | | $550.00 | |
| Total Paid At Ramp | | | $8,095.00 | |
| 2022 James River Spring Final Fund | | | $560.00 | |
| 2022 CATT Championship Fund | | | $55.00 | |
| 2022 James River Spring Final Fund Total | | | $2,340.00 | |