Next James River CATT Qualifier is July 18 we hope at Osbourne. If we can't secure Osbourne then we will be back at River Rest!
We had 42 teams enter this past Saturday from River Rest chasing after the magic 5 bass to take home the 1st Place prize! Audie Murphy & Monte Aleman wrapped up 1st place with 5 bass weighing 18.08 lbs! They also weighed in the 2nd BF at 6.13 lbs and took home the 1st Place Bonus $! All total they collected $1,961.00!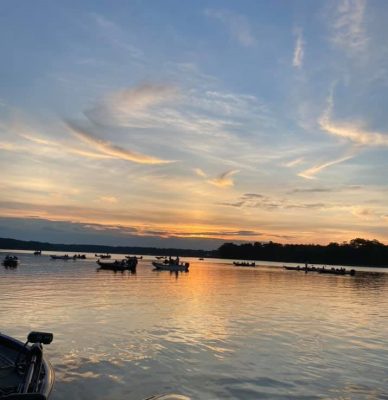 2nd Place along with the 2nd BONUS $ went to Tripp & Brent Mistr with a limit weighing 17.92 lbs worth $950.00!
Marshall Johnson & Ryan Lachinet 3rd with 16.41 lbs!
Check out the rest of the results! Thanks for fishing!
| | | | | |
| --- | --- | --- | --- | --- |
| 42 Teams | BF | Weight | Winnings | Points |
| Audie Murphy-Monte Aleman | 6.13 | 18.08 | $1,961.00 | 110 |
| Tripp Mistr-Brent Mistr | 0.00 | 17.92 | $950.00 | 109 |
| Marshall Johnson-Ryan Lachniet | 5.84 | 16.41 | $510.00 | 108 |
| Mickey Anderson-Bo Bolts | 0.00 | 16.22 | $360.00 | 107 |
| Dave Carney-Andy Bolhorst | 5.36 | 15.95 | $280.00 | 106 |
| Brian Brooks-Avery Powelson | 0.00 | 15.22 | $200.00 | 105 |
| Duane Hodge-Brad Colgin | 6.87 | 14.92 | $454.00 | 104 |
| Joseph Carr-Larry Whitt | 4.53 | 14.62 | $130.00 | 103 |
| Chace huffman-Harrison Baker | 0.00 | 14.01 | | 102 |
| Clayton Robens-Nathan Seymore | 0.00 | 13.86 | | 101 |
| Ray Hogge-Donnie Daniel | 0.00 | 13.49 | | 100 |
| James Bland-Randy Ruffin | 0.00 | 13.42 | | 99 |
| Luke Carson-Darrin Zollar | 0.00 | 13.26 | | 98 |
| Jacob Moore-Tommy Hauser | 0.00 | 13.22 | | 97 |
| Ryan Drewery-Wayne Drewery | 0.00 | 13.20 | | 96 |
| Richard Bates-Scott Randall | 0.00 | 12.54 | | 95 |
| John Barnes-Ryan Barksdale | 0.00 | 12.47 | | 94 |
| Jamie Nealy-Greg Ball | 0.00 | 12.44 | | 93 |
| Ronnie Slaughter-Landon Tucker | 3.83 | 12.30 | | 92 |
| Jeff Valentin-Daryl Moody | 0.00 | 12.20 | | 91 |
| William Clemenst-Jimmy Cornett | 0.00 | 11.93 | | 90 |
| stacey vasser-steve webb | 0.00 | 11.37 | | 89 |
| Charles Ramer-Ernest Revels | 0.00 | 11.05 | | 88 |
| Roger Walters-David Fox | 0.00 | 11.03 | | 87 |
| Ted Lempke-Barry Cobb | 0.00 | 11.02 | | 86 |
| Brian Bersik-Justin Faison | 0.00 | 10.98 | | 85 |
| burley langford | 0.00 | 10.75 | | 84 |
| Edward Milton-Thomas Milton | 0.00 | 10.08 | | 83 |
| Wilson Burton-Jeff Powers | 0.00 | 9.61 | | 82 |
| James Condrey-Jimmy Condrey | 0.00 | 8.52 | | 81 |
| Trey Goodman-Tim Chaffin | 0.00 | 8.51 | | 80 |
| Brandon Roberts-Brandon slaughter | 0.00 | 8.09 | | 79 |
| Chris Cockrell-Brian Snipes | 0.00 | 7.80 | | 78 |
| John Hinkley-Mike Hinkley | 0.00 | 6.38 | | 77 |
| James Tilley-James Walker | 0.00 | 2.25 | | 76 |
| Leidy Clark-Ricky West | 0.00 | 0.00 | | 75 |
| Charles James-John Conway | 0.00 | 0.00 | | 75 |
| Christopher Wingfield-Benny Wingfield | 0.00 | 0.00 | | 75 |
| Jordan Heineman-Steve Heineman | 0.00 | 0.00 | | 75 |
| Linwood Shores-neal allen | 0.00 | 0.00 | | 75 |
| Thomas Hodge-Brad Calgin | 0.00 | 0.00 | | 75 |
| Matthew Kite | 0.00 | 0.00 | | 75 |
| Total Entrys | | | $5,040.00 | |
| BONUS $ | | | $350.00 | |
| Total Paid At Ramp | | | $4,845.00 | |
| James River 2019 Final Fund | | | $420.00 | |
| 2019 CATT Championship Fund | | | $75.00 | |
| 2019 James River Final Fund Total | | | $420.00 | |
| 2019 CATT Championship Fund Total | | | $3,850.00 | |