Next James River CATT is July 13th at Riverfront Park!

Purchase a NEW 2019 Skeeter From Anna's Marine Center and Anna's Marine Center will pay all your CATT James River Regular Season events! If purchase is made later in 2019 this offer will extend over into the 2020 CATT James River season!
The James River continues to produce solid 5 bass limits & whooping Big Uns! Also guys I don't usually announce it but we had a polygraph test ran!
Robert Whitehurst & Parker Hinks won their 2nd 2019 CATT James River Qualifier with 5 bass weighing up at 22.01 lbs! They collected $2,000.00! Great job!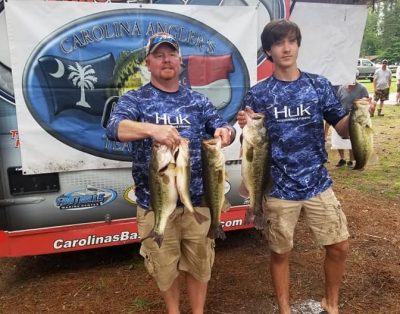 2nd went to Will Vickery & Dee Kidd with 5 bass weighing 20.72 lbs and they weighed in the 1st BF at 10.38 lbs! They earned $1,420.00!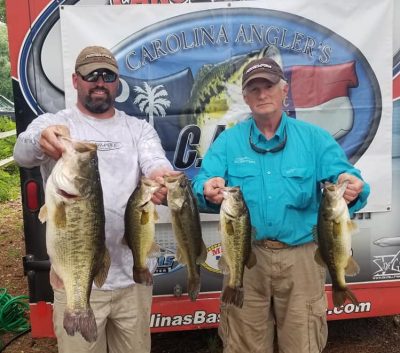 60 Teams
BF
Weight
Winnings
Points
Robert Whitehurst and Parker Hinks
6.54
22.01
$2,000.00
220
Will Vickory and Dee Kidd
10.38
20.72
$1,420.00
219
Audie Murphy and Monte Aleman
4.82
18.93
$1,035.00
218
Paul Morris and Chris Schroder
0.00
18.52
$560.00
217
Kelly Robinette and Dave Collins
5.34
17.56
$425.00
216
Scott Rodgers and Mike Mitten
0.00
17.09
$315.00
215
Micky Anderson and Bo Boltz
0.00
16.95
$490.00
214
Tripp Mistr and Brent Mistr

6.99

16.90
$380.00
213
Trey Goodman and Tim Chaffin
0.00
16.53
$180.00
212
Jake Eheart and Ethan Morrison
0.00
16.51
$150.00
211
Roger Walters and David Fox
0.00
16.37
$130.00
210
Jerry Britt and Howard Austin
0.00
16.34
$120.00
209
Tim Byres and Craig Ferguson
0.00
15.59
208
Bryan Keane
0.00
15.47
207
Chris Atwell and Gary Atwell
0.00
15.21
206
Matthew Kite
0.00
14.23
205
Leidy Clark and Ricky West
0.00
14.00
204
Ryan Drewery and Wayne Drewery
0.00
13.83
203
William Clement and Jimmy Cornett
0.00
13.69
202
Andy Semonico and Wayne Andrews
0.00
13.66
201
Craig Fagan and Torry Aiken
0.00
13.62
200
Jason Bishop
0.00
13.52
199
Stacy Vasser
5.50
13.49
198
Wayne Taylor and John Doyle
6.16
13.39
197
Robert Davis
0.00
13.21
196
David Owen and Kyle Owen
0.00
13.18
195
Tommy Little and Jerry Heffler
0.00
13.17
194
Chris Fiore
0.00
13.13
193
Francis Martin and Ray Griffin
0.00
12.94
192
Tri Nguyen
6.00
12.71
191
John Barnes
0.00
12.59
190
Dave Carney and Andy Bollhorst
0.00
12.17
189
Ray Hogge and Donnie Daniel
5.23
12.14
188
Jeff Valentin and Daryl Moody
0.00
11.86
187
Ron Studer and Nelson Marshall
0.00
11.85
186
Brandon Hill and Kevin King
0.00
11.84
185
Justin Hodges
0.00
11.67
184
Marshall Johnson and Ryan Lachniet
0.00
11.57
183
Donnie Bowman and Mike Wright
0.00
11.55
182
Jamie Nealy and Greg Ball
0.00
11.37
182
Guy Fairweather and Jared Williams
0.00
11.32
180
Doug Wharton and Ben Kendrick
0.00
11.26
179
Bud Mason and Charles Crowder
4.62
11.15
178
Louis Britos and Jonthan Ceaser
0.00
10.96
177
Caleb Burrus
0.00
10.49
176
Ronnie Slaughter and Landon Tucker
0.00
10.28
175
Chris Burnett and Chris Powell
0.00
10.11
174
Mike Hinkley and Matt Pulley
0.00
9.34
173
Richard Bates and Chad Holms
0.00
9.00
172
Harvey Reece and Anthony Weithers
0.00
8.89
171
Charles James
0.00
8.34
170
Mike Caul and Alexis Caul
0.00
8.05
169
Robert Taylor and Steve Webb
0.00
7.42
168
Michael Green and Dylan Gore
0.00
7.40
167
Zack Whitt and Phill Brewer
0.00
7.35
166
Charles Ramer and Paul Brock
0.00
5.84
165
Brian Snipes and Chris Cockrell
0.00
0.00
164
James Griffin and Charles Kline
0.00
0.00
164
Bobby and Robbie Harris
0.00
0.00
164
Robert Sutton and Mark Adams
0.00
0.00
164
Willy Hicks
0.00
0.00
164
Total Entrys
$7,200.00
BONUS $
$600.00
Total Paid At Ramp
$7,205.00
James River 2019 Final Fund
$500.00
2019 CATT Championship Fund
$50.00
2019 James River Final Fund Total
$2,300.00
2019 CATT Championship Fund Total
$1,355.00