Next James River CATT Qualifier is April 10 at Osbourne!
To view the James River Points go to the James River Division page and scroll down!
2021 James River Point Winners Receive Free Entry Into All 2022 James River Qualifiers Excluding the Final!
2nd In the James River Points $500
3rd In the James River Points $250
4th In the James River Points $150
5th In the James River Points $100
Justin Hall & Joey Cooke claimed 1st Place with 5 bass weighing 22.70 lbs! Kick in the 2nd BF at 6.94 lbs and they took home $2,195.00!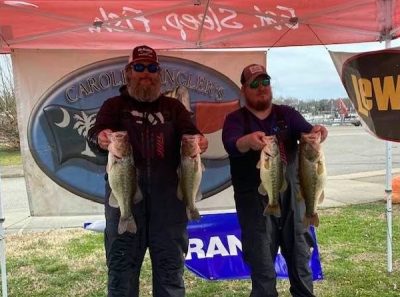 2nd Place went to Bubba Whitehurst & Parker Hinks with a limit weighing 19.64 lbs worth $1,390.00!
Wayne Tyler-Ed Jordan took 3rd worth $725.00!
Barry Brandt Jr- Robert Bandt 4th with 19.36 lbs $860.00
Bryan Keane- Evan Anderson 5th Place 19.27 lbs! $500.00
6th Paul Martin- Francis Martin 19.26 lbs $350.00!
Steve Webb with the BF of the tournament at 7.81 lbs worth $455.00!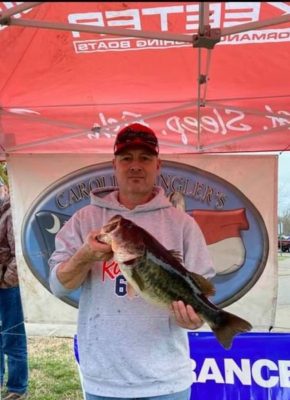 Check out the rest of the money winning teams. Top 6 teams weighed in over 19 lbs!
Matt Funk with some of his bass he brought in!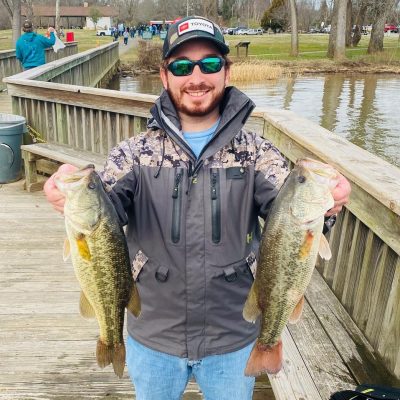 Jared Williams put a nice one in the boat!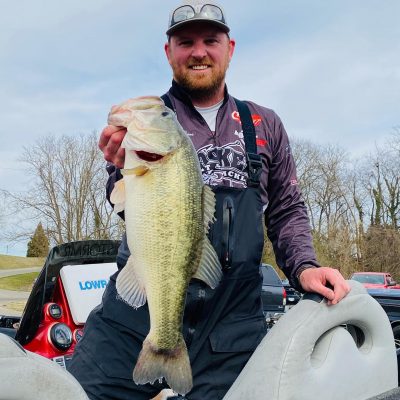 Melissa Watson showing off  health James River bass!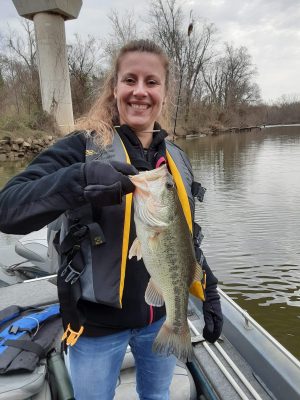 Wilson Burton set the hook on few!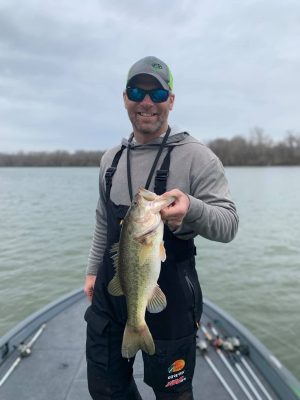 | | | | | |
| --- | --- | --- | --- | --- |
| 66 Teams | BF | Weight | Winnings | Points |
| Joey Cooke- Justin Hall | 6.94 | 22.70 | $2,195.00 | 110 |
| Bubba Whitehurst- Parker Hinks | 0.00 | 19.64 | $1,390.00 | 109 |
| Wayne Tyler-Ed Jordan | 5.86 | 19.50 | $725.00 | 108 |
| Barry Brandt Jr- Robert Bandt | 0.00 | 19.36 | $860.00 | 107 |
| Bryan Keane- Evan Anderson | 5.97 | 19.27 | $500.00 | 106 |
| Paul Martin- Francis Martin | 6.56 | 19.26 | $350.00 | 105 |
| Mike Gibson- Rocky Stone | 0.00 | 19.22 | $325.00 | 104 |
| Jacob Compton-Michael  Brannon | 6.56 | 18.60 | $250.00 | 103 |
| Clyde Baldwin- Jeff Davis | 4.06 | 18.40 | $225.00 | 102 |
| Bobby Harris- Robert Harris | 0.00 | 17.46 | $200.00 | 101 |
| Jacob Kupselaitis-Joseph Kupselaitis | 0.00 | 17.38 | $160.00 | 100 |
| Frank Poirier- Brian Durham | 0.00 | 16.73 | $150.00 | 99 |
| Marshall Johnson-Ryan Lachniet | 0.00 | 16.14 | $125.00 | 98 |
| Harris Baker- Chase Huffman | 0.00 | 16.06 | | 97 |
| Jason Bishop- Jeff Hamilton | 0.00 | 16.05 | | 96 |
| Charles James- John Conway | 0.00 | 16.05 | | 95 |
| Jared Williams-Matt Funk | 0.00 | 16.02 | | 94 |
| Donnie Meade- Travis Daniels | 0.00 | 15.53 | | 93 |
| Tommy Miller-Jerry Heffler | 0.00 | 15.52 | | 92 |
| Steve Webb- Stacy Vasser | 7.81 | 15.47 | $455.00 | 91 |
| Cory Dunnavant-Kennon Ball | 0.00 | 15.42 | | 90 |
| Scott Rogers- Bucth Cooner | 0.00 | 14.99 | | 89 |
| Wilson Burton-Jeff Powers | 0.00 | 14.91 | | 88 |
| John Barnes | 0.00 | 14.89 | | 87 |
| Zack Whitt-Larry Whitt | 0.00 | 14.78 | | 86 |
| Jeff Valentine- Daryl Moody | 0.00 | 14.57 | | 85 |
| Christopher Wingfield-Benny Wingfield | 0.00 | 14.53 | | 84 |
| Clay Lewis- David Bivins | 0.00 | 14.33 | | 83 |
| Mike Caul- Bill Petzild | 0.00 | 14.26 | | 82 |
| Ryan Drewery- Wayne Drewery | 0.00 | 14.19 | | 81 |
| Tim Chaffin- Trey Goodman | 0.00 | 14.10 | | 80 |
| Ray Hogge – Donnie Daniles | 0.00 | 14.04 | | 79 |
| Mike Grogan- Garrett Geouge | 0.00 | 14.00 | | 78 |
| Brian Snipes-Chris Cockrell | 0.00 | 13.72 | | 77 |
| Luke Carson- Darrin Zoller | 0.00 | 13.69 | | 76 |
| Avery Powelson-Brian Brooks | 0.00 | 13.57 | | 75 |
| J Davis- RJ Davis | 0.00 | 13.29 | | 74 |
| Greg Cooper- Billy Allen | 0.00 | 12.73 | | 73 |
| Jay Teasley- Patrick Jones | 0.00 | 12.45 | | 72 |
| Chris Mcdaniel- Matt Kite | 5.86 | 12.23 | | 71 |
| Curtis Combns- CJ Combs | 0.00 | 12.16 | | 70 |
| Alex King – Matt Noraas | 5.41 | 12.14 | | 69 |
| Kelly Robinette-David Barlow | 0.00 | 12.00 | | 68 |
| Mike Rowe- Addison Rowe | 0.00 | 11.98 | | 67 |
| Aaron Lucy | 6.44 | 11.84 | | 66 |
| Rusty Alley- Dan Robinson | 0.00 | 11.02 | | 65 |
| Roger-Renee | 0.00 | 10.77 | | 64 |
| Jacob Moore | 0.00 | 10.39 | | 63 |
| Rodney Allen- Neal Allen | 0.00 | 10.15 | | 62 |
| Chris Bryant- Matt Dunnigan | 0.00 | 9.86 | | 61 |
| Billy Boyd- Aaron Novitski | 0.00 | 8.37 | | 60 |
| Richard Mistr- Tom Owens | 0.00 | 8.21 | | 59 |
| Alexander Woodruff- Dylan Cross | 0.00 | 7.59 | | 58 |
| Dave Carney-Andy Bollhorst | 0.00 | 7.22 | | 57 |
| James Tilley-Andy Walker | 0.00 | 5.77 | | 56 |
| Brian Warshawsky-Mike Campbell | 0.00 | 5.75 | | 55 |
| Todd Fisher- Matt Chisholm | 0.00 | 5.59 | | 54 |
| Charles Ramar- Ernest Revels | 0.00 | 2.97 | | 53 |
| Paul Watson- Melissa Watson | 0.00 | 2.85 | | 52 |
| Casey Logan- Skeet Dalton | 0.00 | 0.00 | | 42 |
| Sammy Yates- Steve Colgin | 0.00 | 0.00 | | 42 |
| Nathaniel Killgore | 0.00 | 0.00 | | 42 |
| Linwood Shore | 0.00 | 0.00 | | 42 |
| Mikey Anderson- Bo Bolts | 0.00 | 0.00 | | 42 |
| Harvey Reese | 0.00 | 0.00 | | 42 |
|  Adam Lathan – Robert Lathan | 0.00 | 0.00 | | 42 |
| Total Entrys | | | $7,800.00 | |
| BONUS $ | | | $650.00 | |
| Total Paid At Ramp | | | $7,910.00 | |
| James River 2021 Final Fund | | | $490.00 | |
| 2021 CATT Championship Fund | | | $50.00 | |
| 2021 James River Final Fund Total | | | $490.00 | |
| 2021 CATT Championship Fund Total | | | $1,640.00 | |