Next up on Lake Wateree is the Spring Final April 14th at Clearwater Cove Marina! 66 teams are eligible to enter!
Shane Cantley & Michael Richardson took 1st Place this past Saturday with a limit weighing 15.29 lbs and they weighed in the 1st BF at 6.24 lbs! Add in the BONUS $ and they took home $1,694.00! PLUS they also received an Academy Gift Card!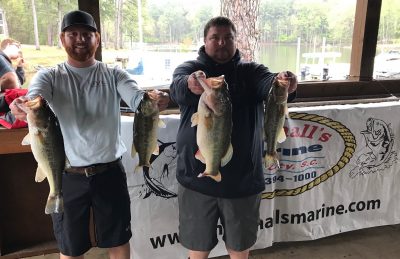 Craig Haven & Tim Haven took 2nd with another limit weighing 14.88 lbs! They took home $500.00!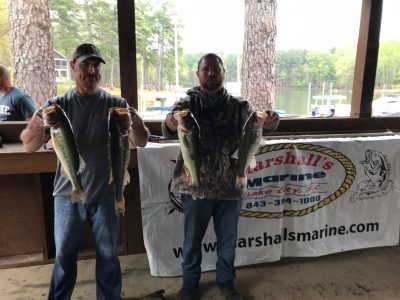 Matt Ross & Bobby Purvis finished 3rd with 5 bass weighing 14.71 lbs worth $225.00!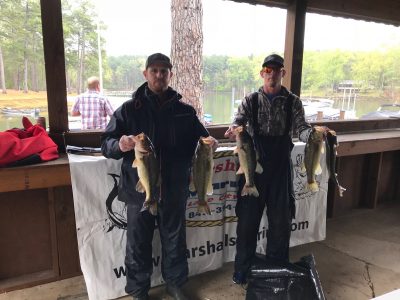 Last Money paying place went to Donald & Paul Wells with 14.11 lbs and they took home $150.00!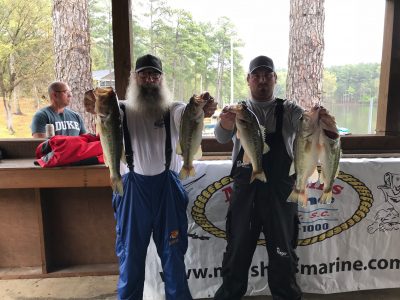 | | | | | |
| --- | --- | --- | --- | --- |
| 22 Boats | Big   | Total |   |   |
| Team | Fish | Weight | Winnings | Points |
| Shane Cantley – Michael Richardson  BONUS $ & 1st BF | 6.24 | 15.29 | $1,694.00 | 220 |
| Craig Haven – Tim Haven | 5.03 | 14.88 | $500.00 | 218 |
| Bobby Purvis – Matt Ross | 3.82 | 14.71 | $225.00 | 216 |
| Donald Wells – Paul Wells | 3.72 | 14.11 | $150.00 | 214 |
| David F Canupp – David L Canupp | 3.92 | 13.81 | | 212 |
| Mike King – Chris Crawford | 2.99 | 13.65 | | 210 |
| Chad Gainey – Todd Butler | 4.04 | 13.33 | | 208 |
| Phillip Anderson – Andy Lake | 3.29 | 13.21 | | 206 |
| Butch Williams – Sonny Beam | 3.22 | 12.09 | | 204 |
| Dean Benfield – Keith Hargett | 2.90 | 12.02 | | 202 |
| Mark Healon – Tony Truett | 3.70 | 11.51 | | 200 |
| Jerry Freezon                                 2nd BF | 5.41 | 9.55 | $66.00 | 198 |
| Bubba Jackson – Wesley Jackson | 2.66 | 8.52 | | 196 |
| Bob Weaver – Scott Floyd | 2.96 | 5.03 | | 194 |
| Mike Ware – Bryan Holmes | 0.00 | 0.00 | | 192 |
| Lee Royson – Jeff Reynolds | 0.00 | 0.00 | | 192 |
| Timmy & River Squires | 0.00 | 0.00 | | 192 |
| Brent Neal – Lassy Taylor | 0.00 | 0.00 | | 192 |
| Clint Hunter – Daniel Jones | 0.00 | 0.00 | | 192 |
| Greg Sigmon – Jeff Sigge | 0.00 | 0.00 | | 192 |
| Johnny Player – John Gardenhire | 0.00 | 0.00 | | 192 |
| Taner Fletcher – Kateland | 0.00 | 0.00 | | 192 |
| Total Entrys |   |   | $2,640.00 |   |
| BONUS $ |   |   | $440.00 |   |
| Total Paid At Ramp |   |   | $2,635.00 |   |
| Wateree 2018 Spring Final Fund |   |   | $390.00 |   |
| 2018 CATT Championship Fund |   |   | $55.00 |   |
|   |   |   |   |   |
| 2018 Wateree Spring Final Fund Total |   |   | $2,510.00 |   |
| 2018  CATT Championship Fund Total |   |   | $3,890.00 |   |