Next James River CATT is June 12th at RT 5!
2021 James River Point Winners Receive Free Entry Into All 2022 James River Qualifiers Excluding the Final!
2nd In the James River Points $500
3rd In the James River Points $250
4th In the James River Points $150
5th In the James River Points $100
CATT GOLD – $120 Entry $130 at Ramp
Final – $160 Entry $170 at Ramp
Optional Sidepot – $50
James River Membership – $35 Per Person
Blastoff Position is Determined By Order Of Payment
Must fish 3 of 7 Qualifiers to Fish Final
Fishing solo once & with sub once counts toward teams Qualification
You may fish solo and you can Qualify solo for the James River Final
Joey Cooke & Justin Hall took 1st Place at the May 1st James River CATT with 5 bass weighing 25.40  lbs! They earned $2,000.00!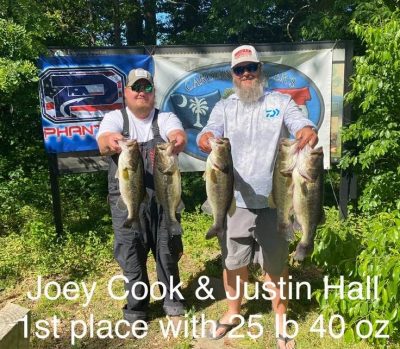 Guys check out the $$ the money teams took home! We only had $600 is the side pot!
| | | | | |
| --- | --- | --- | --- | --- |
| Team | BF | Weight | Winnings | Points |
| Joey Cooke – Justin Hall* | 0.00 | 25.40 | $2,000.00 | 110 |
| Ray Hogge – Donnie Daniel* | 6.07 | 23.58 | $1,360.00 | 109 |
| Tim Byers – Craig Ferguson | 6.47 | 21.53 | $775.00 | 108 |
| Wesley Creasey – Charles Crowder* | 8.38 | 21.50 | $1,405.00 | 107 |
| Rick Rodrigeze – Chuck rackley | 6.57 | 20.87 | $525.00 | 106 |
| Billy Allen – Craig Cheek | 7.63 | 18.82 | $610.00 | 105 |
| Bo Bolts – Mickey Anderson | 0.00 | 18.32 | $350.00 | 104 |
| Nathan Kilgore – Chaze Carington* | 0.00 | 18.05 | $290.00 | 103 |
| Jay & RJ Davis* | 5.46 | 17.56 | $240.00 | 102 |
| Avery Powelson – Brian Brooks* | 5.00 | 17.49 | $210.00 | 101 |
| Brian Bersik – Justin Basin | 0.00 | 17.19 | $180.00 | 100 |
| Kelly Robinette – David Barlow* | 0.00 | 17.15 | $160.00 | 99 |
| howard and mark austin | 4.75 | 17.13 | $140.00 | 98 |
| Mike Rowe – Jim Rowe | 0.00 | 16.69 | $125.00 | 97 |
| Bryan Keane – Evan anderson * | 6.41 | 16.26 | | 96 |
| Marshall Johnson – Ryan Lachniet* | 4.62 | 15.95 | | 95 |
| Paul Martin – Francis Martin* | 5.73 | 15.79 | | 94 |
| Clay Lewis – David Bivins* | 0.00 | 15.69 | | 93 |
| Kevin Best – Andy Koon | 0.00 | 15.69 | | 92 |
| Chase Huffman – Harrison Baker | 0.00 | 15.69 | | 91 |
| Kelly Pratt – Richard Addy | 0.00 | 15.42 | | 90 |
| Tim Chaffin – Trey Goodman* | 0.00 | 15.40 | | 89 |
| Audie Murphy – Chris Dorman* | 5.15 | 15.36 | | 88 |
| Richard Bates – Scott Randall* | 4.71 | 15.27 | | 87 |
| Sammy Yates – Brian Yates * | 0.00 | 15.21 | | 86 |
| Adam Lathan – Robert Lathan | 0.00 | 15.21 | | 85 |
| Marcus Chandler – John Maanseany | 0.00 | 14.89 | | 84 |
| Chris McDaniel – Matt Kite* | 0.00 | 14.71 | | 83 |
| Casy Logan – Skeet Dalton | 0.00 | 14.61 | | 82 |
| Michael Brannon – Jacob Compton* | 0.00 | 14.59 | | 81 |
| Don Warren – Chuck Comer | 0.00 | 14.58 | | 80 |
| Rodney Allen – Neal Allen* | 0.00 | 14.53 | | 79 |
| Wayne Drewery – Ryan Drewery* | 0.00 | 14.52 | | 78 |
| Dave Carney – Andy Bollhorst* | 0.00 | 14.10 | | 77 |
| Don Doverspike – Jonathan Cobb* | 0.00 | 13.83 | | 76 |
| Greg Ball-Jamie Nealy | 0.00 | 13.81 | | 75 |
| Jason Bishop – Jeff Hamilton* | 0.00 | 13.70 | | 74 |
| Wayne Taylor – Chris Whittaker* | 0.00 | 13.66 | | 73 |
| Joseph Carr – Bob Timberlake * | 0.00 | 13.63 | | 72 |
| Charles Ramer – Ernest Revels* | 0.00 | 13.24 | | 71 |
| Brandon Smith – Lee Smith | 0.00 | 13.22 | | 70 |
| Jeff Valentine – Daryl Moody* | 0.00 | 13.08 | | 69 |
| Landon Tucker – Brady Tucker* | 0.00 | 13.01 | | 68 |
| John Barnes* | 0.00 | 12.89 | | 67 |
| Richard Mistr* | 4.60 | 12.86 | | 66 |
| Don Gregg – Kurt Hildebrand* | 0.00 | 12.72 | | 65 |
| Boddy Harris – Robby Harris* | 0.00 | 12.69 | | 64 |
| Jared Williams – Guy Fairweather* | 0.00 | 12.67 | | 63 |
| Stacy Vasser – Steve Webb* | 0.00 | 12.62 | | 62 |
| Donnie Meade – Travis Daniels* | 0.00 | 12.61 | | 61 |
| Keith Langford – Tim Richmond* | 0.00 | 12.49 | | 60 |
| Charles James – John Conway | 0.00 | 12.48 | | 59 |
| Curtis Combs – CJ Combs* | 6.31 | 12.40 | | 58 |
| Wayne Andrew – Tim Tait | 0.00 | 12.14 | | 57 |
| Clyde Baldwin – Jeff Davis* | 0.00 | 11.37 | | 56 |
| Mike Caul – Bill Petzild* | 0.00 | 10.29 | | 55 |
| Ben Knapp – Scott Schaffer | 0.00 | 10.17 | | 54 |
| Duane Hodge – Brad Colgin* | 0.00 | 9.97 | | 53 |
| Rusty Alley – Dan Robinson* | 0.00 | 8.72 | | 52 |
| Brian Snipes – Chris Cockrell* | 0.00 | 7.87 | | 51 |
| William Clements – Jimmy Cornett* | 0.00 | 6.93 | | 50 |
| William Gibson – Chris Coan | 0.00 | 6.82 | | 49 |
| Alexander Woodroff – Dillon Cross | 0.00 | 5.31 | | 48 |
| Allen Williams – Brad Redden* | 0.00 | 4.83 | | 47 |
| Aaron Novitski – Billy Boyd | 0.00 | 4.16 | | 46 |
| James Tilley – Andy Walker* | 0.00 | 3.46 | | 45 |
| Lenwood Shores* | 0.00 | 0.00 | | 35 |
| Cory Dunnavant – Kennon Ball* | 0.00 | 0.00 | | 35 |
| Rogers Walters – Renee Walters* | 0.00 | 0.00 | | 35 |
| Kevin Davis – Lawrence Davis* | 0.00 | 0.00 | | 35 |
| Jimmy Taylor – Tom Vaughan | 0.00 | 0.00 | | 35 |
| Total Entrys | | | $8,400.00 | |
| BONUS $ | | | $600.00 | |
| Total Paid At Ramp | | | $8,370.00 | |
| James River 2021 Final Fund | | | $505.00 | |
| 2021 CATT Championship Fund | | | $75.00 | |
| 2021 James River Final Fund Total | | | $1,485.00 | |
| 2021 CATT Championship Fund Total | | | $2,970.00 | |