Next up is the James River Fall Final Dec 13 out of Rockahock! You only had to enter 1 Fall Qualifier to be eligible to enter!
Roger & Renee Walters win the Fall Points and will fish the Final Free!
Steve Colger & Sammy Yates win with 17.31 lbs and BF at 5.92 lbs!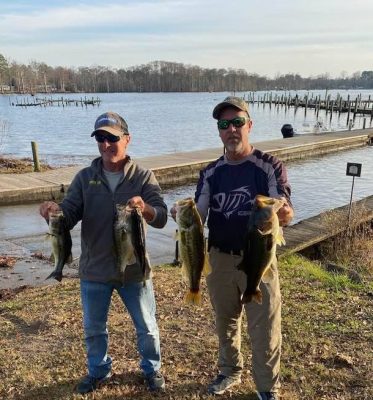 | | | | | |
| --- | --- | --- | --- | --- |
| Team | BF | Weight | Winnings | Points |
| Steve Colger – Sammy Yates | 5.92 | 17.31 | $614.00 | 110 |
| MikeGunn – Frank Pridemore | 5.02 | 13.66 | $210.00 | 109 |
| Matt Kite – Chris McDaniel | 5.83 | 13.11 | $151.00 | 108 |
| Roger & Renee Walters | 5.21 | 12.68 | | 107 |
| David Bivens – Clay Lewis | 0.00 | 12.65 | | 106 |
| William Clements – Jimmy Cornett | 0.00 | 9.81 | | 105 |
| Mike Martinez – William Allen | 0.00 | 9.23 | | 104 |
| Ray Hogge – Donnie Daniel | 0.00 | 8.39 | | 103 |
| Charles Ramer – Paul Brock | 0.00 | 8.23 | | 102 |
| Richard Griswold | 0.00 | 7.55 | | 101 |
| Noah Williams – Dylan Gore | 0.00 | 5.89 | | 100 |
| Steve Webb – Staey Casser | 0.00 | 5.63 | | 99 |
| Mike & David Barlow | 0.00 | 5.62 | | 98 |
| Scott Randall – Richard Bates | 0.00 | 4.93 | | 97 |
| Avery Neely | 0.00 | 0.00 | | 96 |
| Marshall Johnson-Ryan Lachniet | 0.00 | 0.00 | | 96 |
| Tripp & Brent Mistr | 0.00 | 0.00 | | 96 |
| Jay Teasley – P Jones | 0.00 | 0.00 | | 96 |
| Total Entrys | | | $1,440.00 | |
| BONUS $ | | | $0.00 | |
| Total Paid At Ramp | | | $975.00 | |
| James River 2020 Fall Final Fund | | | $365.00 | |
| 2020 CATT Championship Fund | | | $50.00 | |
| 2020 James River Fall Final Fund Total | | | $870.00 | |
| 2020 CATT Championship Fund Total | | | $415.00 | |