Next and last James River Qualifier is Sept 26! Keep in mind you only had to enter 3 James River Qualifiers to be eligible to enter the James River Final! Team with 2 Qualifiers must enter the Sept 26 Qualifier to get their 3 in! Also keep in mind a team only had to enter 2 CATT events to be eligible to enter the 2020 CATT Championship on Kerr Lake Nov 7-9 $10,000 1st Place!
Blake & James Condrey collected $1,450.00 with a 1st Place 5 bass bag weighing up at 18.78 lbs this past Saturday at Osbourne!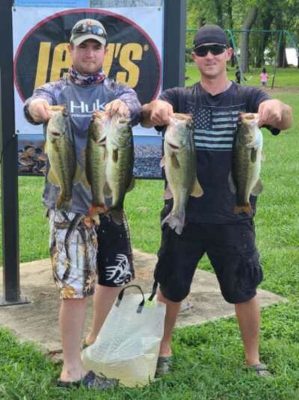 2nd Place went to Curtis Combs & CJ Combs with a limit weighing 17.52 lbs worth $710.00!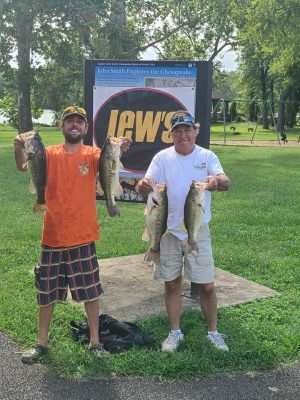 Brian Bereik & Justin Faison claimed 3rd with 16.52 lbs! They also weighed in the 2nd BF at 5.44 lbs and earned the BONUS $ for a total of $765.00!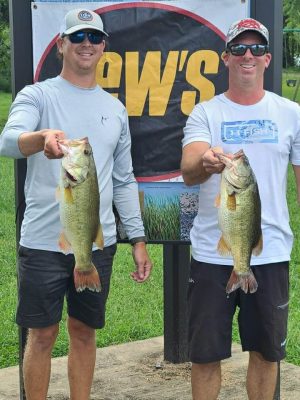 Richard Bates % Scott Randall finished 4th with 16.50 lbs and collected $310.00!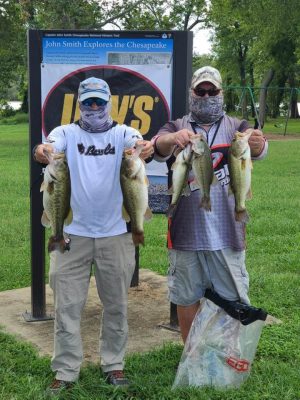 Check out the rest of our $$ winners!
| | | | | |
| --- | --- | --- | --- | --- |
| 36 Teams | BF | Weight | Winnings | Points |
| Blake condrey & James Condrey | 5.10 | 18.78 | $1,450.00 | 110 |
| curtis combs-cj combs | 4.99 | 17.52 | $710.00 | 109 |
| brian berseik- justin faison | 5.44 | 16.52 | $765.00 | 108 |
| richard bates – scott randall | 4.77 | 16.50 | $310.00 | 107 |
| jay teasley pat jones | 4.01 | 15.37 | $210.00 | 106 |
| tommy little – jerry heifler | 4.18 | 15.24 | $155.00 | 105 |
| luke carson | 5.45 | 15.19 | $370.00 | 104 |
| stacey vasser- steve webb | 4.93 | 13.87 | | 103 |
| brian brooks – avery powelson | 0.00 | 13.74 | | 102 |
| roger walters- david fox | 4.97 | 13.62 | | 101 |
| edward and thomas milton | 0.00 | 13.33 | | 100 |
| chase huffman- harrison baker | 0.00 | 12.58 | | 99 |
| david bivens clay lewis | 0.00 | 12.53 | | 98 |
| walter emerson brody webb | 0.00 | 10.82 | | 97 |
| travis heath- kevin gregory | 0.00 | 10.77 | | 96 |
| anvery neely | 0.00 | 10.74 | | 95 |
| william clements-jimmy cornet | 0.00 | 9.87 | | 94 |
| marshall johnson- ryan locktight | 0.00 | 8.87 | | 93 |
| paul watson – melissia watson | 4.29 | 8.83 | | 92 |
| liedy clark -ricky west * | 0.00 | 8.22 | | 91 |
| bryan keane | 0.00 | 7.99 | | 90 |
| dave carney-andy bollhorst | 0.00 | 6.63 | | 89 |
| chris cockrall -brian snipes | 0.00 | 4.01 | | 88 |
| james tilley-andy walker | 0.00 | 3.64 | | 87 |
| tim chaffin trey goodman* | 0.00 | 0.00 | | 86 |
| Ray Hogge- donnie daniles | 0.00 | 0.00 | | 86 |
| jeffery banko-erik williamson | 0.00 | 0.00 | | 86 |
| clayton robens- | 0.00 | 0.00 | | 86 |
| jason bishop | 0.00 | 0.00 | | 86 |
| jeff valentin-daryl moody | 0.00 | 0.00 | | 86 |
| kelly robinette-david barlow | 0.00 | 0.00 | | 86 |
| kevin davis kevin helton | 0.00 | 0.00 | | 86 |
| jamie neally greg ball | 0.00 | 0.00 | | 86 |
| frank poirier brian durahm | 0.00 | 0.00 | | 86 |
| chris bryant- matt dunnigan | 0.00 | 0.00 | | 86 |
| casey logan- keaton dalton | 0.00 | 0.00 | | 86 |
| Total Paid At Ramp | | | $4,200.00 | |
| James River 2020 Final Fund | | | $480.00 | |
| 2020 CATT Championship Fund | | | $0.00 | |
| 2020 James River Final Fund Total | | | $2,195.00 | |
| 2020 CATT Championship Fund Total | | | $4,540.00 | |