**Remember guys you have to enter 3 CATT Qualifiers to be able to enter the June 2-3 CATT Championship on Kerr $10,000 1st Place! You can make your 3 by having fished any FALL 2017 CATT Trails and by fishing any SPRING CATT Trails—the 3 don't have to be in the same Division!
You only have to enter 1 Kerr Qualifier to be eligible to enter the Kerr Final!
Next and last CATT Kerr Spring Qualifier is May 20th at Occoneechee State Park and is a GOLD! Lets get 50 and pay back a huge bag of cash!
Sorry guys but we had a storm at weigh in so fish pics this time!!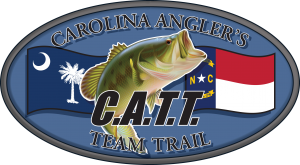 Calvin Young & Roberts Wells took the top spot this past weekend at Kerr with 5 bass weighing 19.55 lbs! They weighed in the 1st BF at 5.87 lbs and took home $1,632.00!
Check out the rest of the money winners and we'll see you May 20th!
| | | | | |
| --- | --- | --- | --- | --- |
|   | Big | Total |   |   |
| 36 Teams | Fish | Weight | Winnings | Points |
| Calvin Young – Robert Wells     1st BONUS $  & 1st BF | 5.87 | 19.55 | $1,632.00 | 110 |
| Cullen Ports – Justin Bobbitt     2nd BONUS $ | 4.22 | 16.99 | $740.00 | 109 |
| Dennis Reedy – Tommy Morrow     3rd BONUS $ | 3.11 | 16.65 | $465.00 | 108 |
| Monte Alemon – Brandon Alemon | 0.00 | 16.55 | $200.00 | 107 |
| Donnie Avant – Randy Watermand | 3.99 | 16.22 | $130.00 | 106 |
| Mark Winn – Mike Nichols | 3.93 | 15.30 | $110.00 | 105 |
| Blake Gilespee – Ben Dalton | 0.00 | 15.26 | $100.00 | 104 |
| Mark Inman – Bryan Welch | 3.71 | 14.87 | | 103 |
| Kevin Cheatum – Johnny Wilder | 3.24 | 14.69 | | 102 |
| Clay Ausely – Ken McNeil | 3.64 | 14.50 | | 101 |
| Terry Easter – Dave Farrington | 0.00 | 13.87 | | 100 |
| Joe Dehart – David Dehart | 3.97 | 13.79 | | 99 |
| Ricky Trent – Tyler Trent | 0.00 | 13.50 | | 98 |
| Brian Calloway – William Hubbard | 4.64 | 13.33 | | 97 |
| Mark Cooper – Steve Roberts | 4.46 | 13.07 | | 96 |
| Wally Szuba – Tony Woodard | 4.58 | 12.91 | | 95 |
| Robert Perkins – Eric Royster | 3.16 | 12.74 | | 94 |
| Kevin Dawson – Joey Dawson | 0.00 | 12.52 | | 93 |
| Paul Smith – Jason Lloyd | 2.87 | 12.44 | | 92 |
| Dennis Duncan – Garth Joyce | 3.18 | 11.86 | | 91 |
| Jeff Edwards – Brandon Slaughter | 3.79 | 11.70 | | 90 |
| Adam Hathcock – Greg Taylor | 3.51 | 11.38 | | 89 |
| Lary Inman – Ronwolfarth | 0.00 | 11.37 | | 88 |
| Mike Marchant – Brad McLaurin | 0.00 | 11.15 | | 87 |
| Trip Emerson – Kevin Hyler                 2nd BF | 5.16 | 10.70 | $108.00 | 86 |
| Vern Fleming – Glenn Long | 0.00 | 10.09 | | 85 |
| Scott Moser – Tony Milliam | 3.22 | 9.97 | | 85 |
| James Freeland | 0.00 | 9.63 | | 85 |
| Gary Colewell | 0.00 | 9.63 | | 85 |
| Darrell Wyatt | 0.00 | 8.72 | | 85 |
| David Bullock – Scott Adcock | 0.00 | 7.98 | | 85 |
| Alex King – Matt Norris | 0.00 | 7.07 | | 84 |
| Everett Rigsbee – Clint Johnson | 0.00 | 0.00 | | 83 |
| Tom Wilkerson – Denny Gilbert | 0.00 | 0.00 | | 83 |
| Chase Robinson – Bob Mattress | 0.00 | 0.00 | | 83 |
| Lewis Williamson – Marcus Williamson | 0.00 | 0.00 | | 83 |
| Total Entrys |   |   | $2,880.00 |   |
| BONUS $ |   |   | $1,125.00 |   |
| Total Paid At Ramp |   |   | $3,485.00 |   |
| Kerr 2018 Spring Final Fund |   |   | $470.00 |   |
| 2018 CATT Championship Fund |   |   | $50.00 |   |
| 2018 Kerr Spring Final Fund Total |   |   | $2,270.00 |   |
| 2018 CATT Championship Fund Total |   |   | $4,125.00 |   |