Guys this was our best year to date! The total payback for the 2018 Kerr Spring and Fall season totaled up to $50,715.00! Thanks for fishing with us and hope to see you in 2019! The 2019 Kerr Spring Trail schedule is posted and the 1st Qualifier is Feb 19th!
Also keep in mind the 2019 CATT Championship on Kerr! in 2018 1st Place took home $25,000 with the Triton Gold Bonus added in!
2019 Academy Sports CATT Championship June 1-2 Kerr Lake!!!
$10,000.00 1st Place GUARANTEED!
(Stay Tuned – 1st Place $$ May be Increased!)
New Nutbush Ramp – Kerr State Park!
A team or solo angler must fish 3 CATT events to Qualify!
You can get in your 3 events by fishing any CATT Fall 2018 and CATT Spring 2019!
The 3 events do not have to be in the same CATT Trail!
$200 Per Team Entry
Optional Platinum BONUS $100
Optional BONUS $50
Dennie Gilbert & Charlie Reed took 1st on a very tough day on Kerr! They weighed in 5 bass at 14.51 lbs and took home $2,140.00!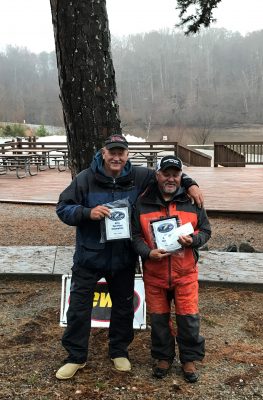 2nd went to Tyler Trent & Jacob Lloyd with 14.03 lbs! They also weighed in the Lews 1st BF at 5.15 lbs. They took home $1,313.00 and Lews Mach Speed Spool Baitcaster!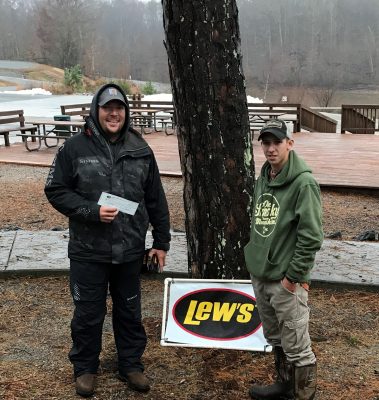 Jay & Tate Fogleman eared 3rd and $648 .00! They weighed in the 2nd Lews BF at 4.60 lbs and received a Lews Mach Speed Stick!
Brian Howard & David Ford won the Points!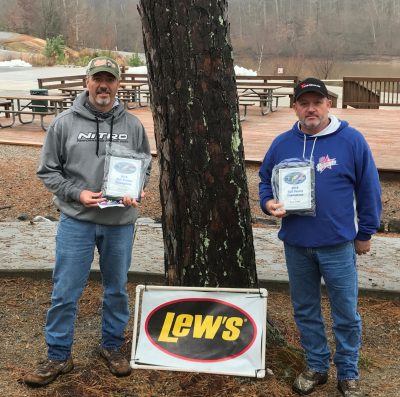 | | | | |
| --- | --- | --- | --- |
| CATT Kerr Fall Final Dec 15, 2018 | Big | Total | Total |
| 17 Teams | Fish | Weight | Winnings |
| Dennie Gilbert – Charlie Reed | 4.02 | 14.51 | $2,140.00 |
| Tyler Trent – Jacob Lloyd | 5.15 | 14.03 | $1,312.00 |
| Jay Fogleman – Tate Fogleman | 4.60 | 10.40 | $648.00 |
| Brian Calloway – William Hubbard | 0.00 | 6.34 | |
| Clay Ausley – Ken McNeil | 0.00 | 0.00 | |
| Derrick Bowden – Mathew Little | 0.00 | 0.00 | |
| Mike Knapp – Aydin Knapp | 0.00 | 0.00 | |
| Gary Colewell – Ryan Roller | 0.00 | 0.00 | |
| Donnie Avant – Randy Waterman | 0.00 | 0.00 | |
| KC Choosakal – Tim Pinhollow | 0.00 | 0.00 | |
| Jake Osbourne – Keith Dutton | 0.00 | 0.00 | |
| Gene Williams – Edward Towens | 0.00 | 0.00 | |
| Tommy Marrow – Dennis Reedy | 0.00 | 0.00 | |
| Mike Burr – Joe Triho | 0.00 | 0.00 | |
| Billy Orr – John Parson | 0.00 | 0.00 | |
| Brendan Kent – Jeremy Kent | 0.00 | 0.00 | |
| Brian Howard – David Ford | 0.00 | 0.00 | |
| Total Entrys | | | $1,920.00 |
| BONUS $ | | | $540.00 |
| Kerr 2018 Fall Final Fund | | | $1,640.00 |
| Kerr 2018 Fall Final Total Payback | | | $4,100.00 |
| Kerr 2018 Fall Total Payback | | | $12,535.00 |
| Kerr 2018 Grand Total Paid | | | $50,715.00 |