We had a great crowd this past weekend at Kerr with 50 teams entering the 2nd Kerr Spring Qualifier! This was a Gold event so the $$ was spread around with the top team taking home some serious cash! Next Kerr CATT is March 10th at Occoneechee and is a regular CATT…$80 by mail or $90 at the ramp! Optional $50 BONUS $
Keep this in mind guys! We're going to have a huge crowd at the June CATT Championship on Kerr~!
Enter 1  Kerr  Qualifier & Qualify for the Kerr Final!
Enter 3 Kerr Spring Qualifiers to be eligible to enter the June 2-3, 2018 CATT Championship on Kerr – $10,000.00 1st Place!
Our big winners were Ryan Roller & Gary Colwell! They weighed in 5 bass at 19.63 lbs and bought in the 2nd BF at 6.62 lbs! Add in the 1st BONUS $ and they took home $2,720.00!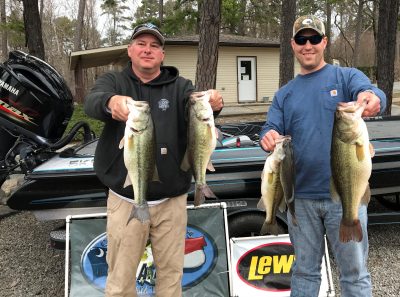 Gary & Ryan with their winning catch!
2nd went to Bryan Cotrell & Ellis Jones with 18.56 lbs! they collected $1,300.00!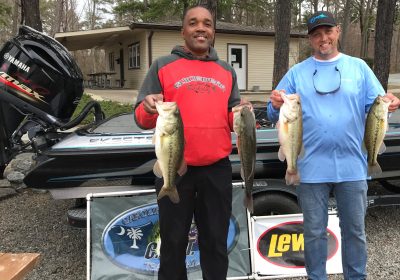 Ellis & Bryan with 18 lbs of Kerr Lake bass!
Monte Alemon & Kevin Alemon took 3rd with 17.14 lbs and earned $775.00!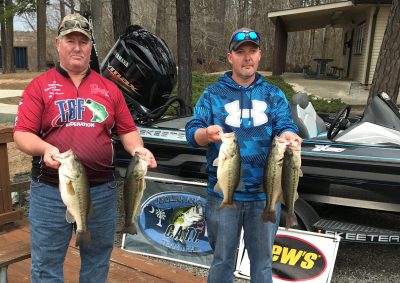 BF was brought in by Ben Dalton & Blake Gullispe  7.12 lbs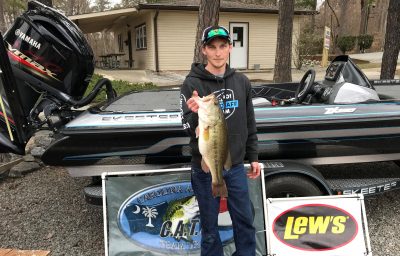 | | | | | | | |
| --- | --- | --- | --- | --- | --- | --- |
|   |   | Big | Total |   |   | |
| Place | Team | Fish | Weight | Winnings | Points | |
| 1 | Ryan Roller – Gary Colwell  2nd BF | 6.62 | 19.63 | $2,720.00 | 110 | |
| 2 | Bryan Cotrell – Ellis Jones | 4.65 | 18.56 | $1,300.00 | 109 | |
| 3 | Kevin Alemon – Monte Alemon | 4.67 | 17.14 | $775.00 | 108 | |
| 4 | Donnie Avant – Randy Waterman | 5.17 | 16.00 | $475.00 | 107 | |
| 5 | Jerry Bono – Marty Williams | 4.26 | 15.82 | $350.00 | 106 | |
| 6 | Mark Inman – Bryan Welch | 4.71 | 15.80 | $250.00 | 105 | |
| 7 | Wally Szuba | 3.96 | 15.03 | $200.00 | 104 | |
| 8 | Jacob Lloyd – Joey Tablott | 4.70 | 14.27 | $160.00 | 103 | |
| 9 | Michael Barr – Dexter Andrews | 0.00 | 13.91 | $140.00 | 102 | |
| 10 | Shawn Hammock – Flash Butts | 3.83 | 13.60 | $120.00 | 101 | |
| 11 | Kevin Cheatham – Johnny Wilder | 3.93 | 13.32 | | 100 | |
| 12 | Keith Redd – Don Baretta | 4.59 | 13.25 | | 99 | |
| 13 | Tyler Galloway – Chris Smoott | 3.75 | 13.22 | | 98 | |
| 14 | KC Choosakul – Tim Pinhollow | 4.40 | 12.45 | | 97 | |
| 15 | Jimmy Henderson – David Bullock | 3.74 | 12.23 | | 96 | |
| 16 | Justin Dalton – James Joiner | 4.53 | 12.16 | | 95 | |
| 17 | Brian Kirckpatrick – Eddie Fore | 4.06 | 11.92 | | 94 | |
| 18 | Ben Dalton – Blake Gullispe  1st BF | 7.12 | 11.83 | $350.00 | 93 | |
| 19 | Brian Morgan – Jose Goble | 0.00 | 11.64 | | 92 | |
| 20 | Brian Calloway – William Hubbard | 4.09 | 11.05 | | 91 | |
| 21 | Eddie Glascok – Billy Dunn | 0.00 | 10.77 | | 90 | |
| 22 | Larry Inman – Ron Wolfarth | 0.00 | 10.73 | | 89 | |
| 23 | Billy Bledsoe – Brian McDonald | 4.98 | 10.60 | | 88 | |
| 24 | Mick McMillan – Brayden McMillan | 0.00 | 10.12 | | 87 | |
| 25 | Gary Dickerson – Rodney Irving | 3.47 | 9.72 | | 86 | |
| 26 | Steve Roberts – Mark Cooper | 0.00 | 9.54 | | 85 | |
| 27 | Larry Gunn – Hal Calwell | 0.00 | 9.53 | | 84 | |
| 28 | Landon Siggers – Dennie Gilbert | 0.00 | 9.42 | | 83 | |
| 29 | Matt Noraas – Alex King | 0.00 | 9.24 | | 82 | |
| 30 | Dennis Duncan | 5.45 | 9.11 | | 81 | |
| 31 | Ron Rousseau  – Svetlana Pavlova | 0.00 | 7.42 | | 80 | |
| 32 | Tony Milian – Scott Moser | 0.00 | 7.00 | | 79 | |
| 33 | Robert Taylor – Anthony Taylor | 3.11 | 6.63 | | 78 | |
| 34 | Trip Emerson – Kevin Hyler | 0.00 | 6.01 | | 77 | |
| 35 | Chase Robinson – Bob Mattress | 5.89 | 5.89 | | 76 | |
| 36 | Johnathan Capps – Shawn Evans | 0.00 | 2.56 | | 75 | |
| 37 | Jim Freeland | 0.00 | 0.00 | | 74 | |
| 38 | Mark Winn – Mike Nichols | 0.00 | 0.00 | | 74 | |
| 39 | Ray Emerson – Tammy Siggers | 0.00 | 0.00 | | 74 | |
| 40 | Jerry Griswall – Gordon Griffin | 0.00 | 0.00 | | 74 | |
| 41 | Roger Clary – Justin Rhew | 0.00 | 0.00 | | 74 | |
| 42 | Matt Dean – Charles Stewart | 0.00 | 0.00 | | 74 | |
| 43 | Wesley Harris – Shawn Lewis | 0.00 | 0.00 | | 74 | |
| 44 | Alan White – Michael Vanghan | 0.00 | 0.00 | | 74 | |
| 45 | Scott Davies – Tony Shawler | 0.00 | 0.00 | | 74 | |
| 46 | Terry Easter – Dave Farrington | 0.00 | 0.00 | | 74 | |
| 47 | Joe Dehart – Tyler Rorak | 0.00 | 0.00 | | 74 | |
| 48 | Dylan Gauldin – Austin Carter | 0.00 | 0.00 | | 74 | |
| 49 | Derrick Bowden – Danny Bucklin | 0.00 | 0.00 | | 74 | |
| 50 | Darrell Wyatt | 0.00 | 0.00 | | 74 | |
| | Total Entrys |   |   | $6,000.00 | | |
| | BONUS $ |   |   | $1,395.00 | | |
| | Total Paid At Ramp |   |   | $6,840.00 | | |
| | Kerr 2018 Spring Final Fund |   |   | $480.00 | | |
| | 2018 CATT Championship Fund |   |   | $75.00 | | |
| |   |   |   |   | | |
| | 2018 Kerr Spring Final Fund Total |   |   | $940.00 | | |
| | 2018 CATT Championship Fund Total |   |   | $2,800.00 | | |