The Kerr Lake Spring Final is April 23 at Occoneechee Park!
We concluded the Kerr Spring Qualifiers this past weekend! Gary Colwell – Brandon Grey won the Kerr Spring Points and will fish the Spring Final Free!
Steve Lucy & Todd Dorton weighed in a limit at 16.47 lbs good enough for 1st Place & $1,550.00!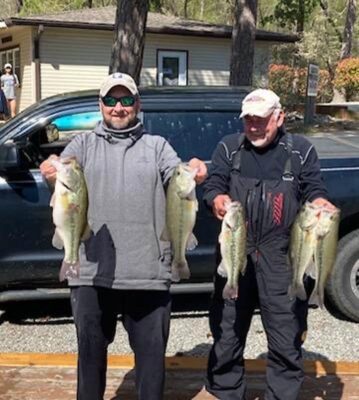 Jason & Danny Houchins 2nd with 16.20 lbs!
Kenny Wilson – Lycia Niethammer with their catch!
| | | | | |
| --- | --- | --- | --- | --- |
| Team | BF | Weight | Winnings | Points |
| Steve Lucy – Todd Dorton | 0.00 | 16.47 | $1,550.00 | 110 |
| Danny Houchins – Jason Houchins | 4.30 | 16.20 | $950.00 | 109 |
| Randy Waterman – Donnie Avant | 0.00 | 15.95 | $545.00 | 108 |
| Matthew Little – Derrick Bowden | 0.00 | 14.78 | $200.00 | 107 |
| Ryan Clark – Matt Harmon | 4.71 | 14.60 | $140.00 | 106 |
| Greg Lahr – Sherry Lahr | 0.00 | 14.56 | $110.00 | 105 |
| Johnny Wilder – Kevin Cheatham | 5.03 | 14.55 | $380.00 | 104 |
| Bryan Calloway – Marty Warren | 4.40 | 14.50 | $90.00 | 103 |
| Eddie Fore | 4.02 | 13.70 | | 102 |
| Monty Alman – Ernie Whitby | 0.00 | 13.60 | | 101 |
| Gary Colwell – Brandon Grey | 0.00 | 12.94 | | 100 |
| Dean Dalton – Ben Dalton | 0.00 | 12.83 | | 99 |
| Jerry Bono – Shane Linberger | 0.00 | 12.63 | | 98 |
| Mark Major – Ben Major | 4.74 | 12.23 | | 97 |
| Eric Christian – Matt Harrison | 0.00 | 12.01 | | 96 |
| David Glenn – Jeff Stanton | 0.00 | 11.93 | | 95 |
| Paul Worthington – Jay Ramsey | 0.00 | 11.84 | | 94 |
| Kenny Wilson – Lycia Niethammer | 3.97 | 11.53 | | 93 |
| Parker Mills – Brock Rouse | 4.85 | 11.52 | $120.00 | 92 |
| Lynn Fox – Seth Ballard | 0.00 | 11.26 | | 91 |
| Logan Thornton – Daniel Jenkins | 0.00 | 11.24 | | 90 |
| Dave Farrington – Robbie Kennon | 0.00 | 11.20 | | 89 |
| Derrick Currin | 0.00 | 11.11 | | 88 |
| David Bullock – Jimmy Henderson | 0.00 | 10.94 | | 87 |
| Terry Freeman – Teddy Freeman | 0.00 | 10.89 | | 86 |
| Randy Goss – Ethan Goss | 0.00 | 10.82 | | 85 |
| Charlie Gunter – Dan Jackson | 0.00 | 10.80 | | 84 |
| Mark King – Steve Bowling | 0.00 | 10.77 | | 83 |
| Dyllon Powers | 3.88 | 10.47 | | 82 |
| Joseph Sharpe – Glenn Eskin | 0.00 | 10.12 | | 81 |
| Bobby Crisman – Will Crisman | 0.00 | 9.99 | | 80 |
| Sammy Barrow – Scott Combs | 0.00 | 9.89 | | 79 |
| David Mathews – Bobby Mathews | 0.00 | 9.67 | | 78 |
| Donald Coleman – Brian Cantrell | 0.00 | 9.51 | | 77 |
| Lonnie Whitfield – Phillip Smith | 0.00 | 9.45 | | 76 |
| Kris Goin – Jason Tinsley | 0.00 | 8.68 | | 75 |
| Spencer Barrow | 0.00 | 8.68 | | 74 |
| Michael Dikun – Jenny Li | 0.00 | 8.03 | | 73 |
| Kevin Kane – Kelli Krane | 0.00 | 0.00 | | 63 |
| Clifton Holt | 0.00 | 0.00 | | 63 |
| Travis Owens – Mark Hatcher | 0.00 | 0.00 | | 63 |
| Total Entrys | | | $3,280.00 | |
| BONUS $ | | | $1,400.00 | |
| Total Paid At Ramp | | | $4,085.00 | |
| Kerr 2023 Spring Final Fund | | | $415.00 | |
| CATT | | | $50.00 | |
| 2023 CATT Championship Fund | | | $50.00 | |
| 2023 Kerr Spring Final Fund Total | | | $1,635.00 | |