The 2022 Spring Kerr Lake CATT Trail is posted! The 2022 CATT Championship is May 21-22, 2022 on Kerr Lake! So come on out and let's fish for some BIG MONEY!
Dennie Gilbert & Charlie Redd weighed in 5 bass at 16.66 lbs  taking 1st Place worth $3,155.00!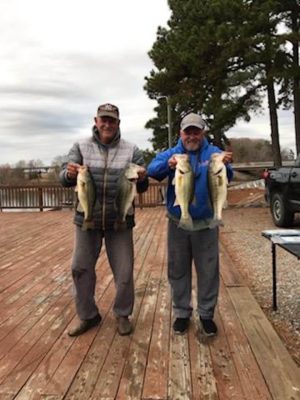 Check out the rest of the money winners!
| | | | |
| --- | --- | --- | --- |
| Team | BF | Weight | Winnings |
| Dennie Gilbert – Charlie Reed | 3.50 | 16.66 | $3,155.00 |
| Ben Dalton – Tyler Calloway | 4.48 | 15.39 | $1,000.00 |
| Brandon Prichett | 4.85 | 14.86 | $1,390.00 |
| Clay Ross – Jeff Ross | 0.00 | 14.37 | $680.00 |
| Kenny Beale – Brian Calloway | 4.73 | 13.61 | $400.00 |
| Steven Griggs -Tim Parker | 3.50 | 12.11 | $200.00 |
| Samuel Porter – Jimmy Porter | 3.87 | 11.80 | |
| Ryan Roller | 3.19 | 11.56 | |
| Tyler Trent – Ricky Trent | 0.00 | 11.07 | |
| Jef Taylor – Mike Connely | 0.00 | 10.50 | |
| Bobby Kennon – Ross Kennon | 0.00 | 10.45 | |
| Donald Coleman | 0.00 | 8.80 | |
| Elton Clements – Rick Clements | 0.00 | 8.45 | |
| Wayne Andrews – Tim Tae | 3.98 | 7.98 | |
| Randy Waterman – Eddie Fore | 0.00 | 0.00 | |
| Bobby Overby – Tony Milam | 0.00 | 0.00 | |
| Wesley Harris – Travis Garrett | 0.00 | 0.00 | |
| Kurt Poythress – Steve Loper | 0.00 | 0.00 | |
| Mike McMillen – Terry Easter | 0.00 | 0.00 | |
| Paul Worthington | 0.00 | 0.00 | |
| Reggie Norfleet – Charlie Gunter | 0.00 | 0.00 | |
| Mike Riggs | 0.00 | 0.00 | |
| Matt Norras – Kevin Kane | 0.00 | 0.00 | |
| Jay Fogleman – Doug Stallings | 0.00 | 0.00 | |
| Tommy Marrow – Dennis Reedy | 0.00 | 0.00 | |
| Greg Lahr – Jackson Lahr | 0.00 | 0.00 | |
| Brandon Curtis | 0.00 | 0.00 | |
| Kenny Wilson Lycia Niethammer | 0.00 | 0.00 | |
| Tom Wilkerson | 0.00 | 0.00 | |
| Charles Burton – Vick Matthews | 0.00 | 0.00 | |