Next Kerr Lake CATT is Feb 26th!
Mark your calendar! The 2022 CATT Championship on Kerr is May 21-22! $10,000 MINIMUM 1st Place!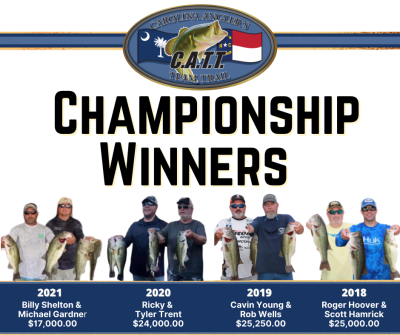 Ricky Trent & Tyler Trent top the 46 boat field with 5 bass weighing 20.23 lbs! They took home $1,665.00! Great Job!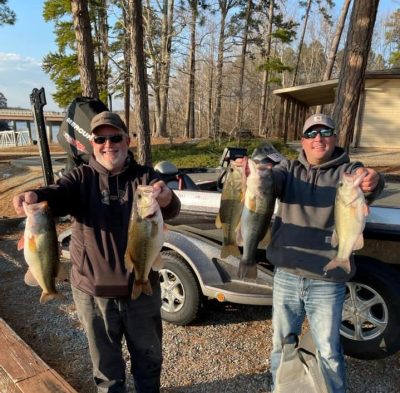 Ryan Roller & Gary Caldwell earned 2nd with a limit weighing 18.10 lbs! They collected $1,050.00!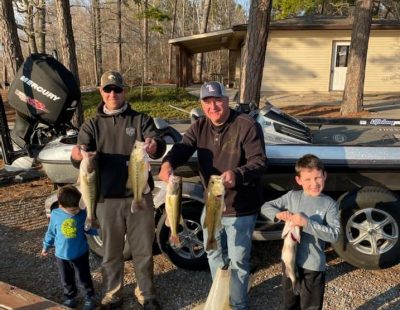 The BF was weighed in by Russell Rigsbee & Shane Robbins at 6.95 lbs! They weighed in a total of 15.37 lbs to finish 3rd worth $912.00!

| | | | | |
| --- | --- | --- | --- | --- |
| Team | BF | Weight | Winnings | Points |
| Tyler Trent – Ricky Trent | 5.33 | 20.23 | $1,665.00 | 110 |
| Ryan Roller – Gary Caldwell | 4.62 | 18.10 | $1,050.00 | 109 |
| Russell Rigsbee – Shane Robbins | 6.95 | 15.37 | $912.00 | 108 |
| Peter Carter – Donald Cumbina | 0.00 | 14.77 | $260.00 | 107 |
| Tyler Dunn – Blaine Brogden | 0.00 | 14.59 | $165.00 | 106 |
| Tyler Percell – Keith Wray | 5.46 | 14.08 | $263.00 | 105 |
| Fred Linenfelter – KC Choosakal | 0.00 | 13.93 | $115.00 | 104 |
| Billy Bledsoe – Scoptt Canady | 0.00 | 13.75 | $110.00 | 103 |
| Mike Garner – Billy Shelton | 0.00 | 13.21 | $90.00 | 102 |
| Jacob Lloyd – Judy Lloyd | 0.00 | 11.67 | | 101 |
| Aaron Falwell – Steven Coleman | 0.00 | 11.40 | | 100 |
| Jay Riggens – Josh Barnes | 0.00 | 11.09 | | 99 |
| Mathew Little – Derek Bowden | 4.04 | 11.00 | | 98 |
| Kenny Reynolds – Ryan Reynolds | 0.00 | 10.90 | | 97 |
| Andrew Kern | 5.10 | 10.86 | | 96 |
| Randy Waterman – Paul Worthington | 0.00 | 10.81 | | 95 |
| Ellis Jones – Brian Cantrell | 0.00 | 9.81 | | 94 |
| Bryce Calloway – Marty Warren | 0.00 | 8.63 | | 93 |
| Charle Reed – Dennie Gilbert | 4.41 | 7.88 | | 92 |
| Lonnie Whitfield – Phillip Smith | 4.31 | 6.86 | | 91 |
| Roger Clary – Jonathna Rhew | 0.00 | 6.51 | | 90 |
| Michael Stewart – Buck Clark | 0.00 | 6.12 | | 89 |
| Jesse Stanley | 3.43 | 6.04 | | 88 |
| Charles Stewart – Chuck Stewart | 3.59 | 5.46 | | 87 |
| Cavin Young – Bryan Young | 0.00 | 5.29 | | 86 |
| Tommy Morrow – Dennis Reedy | 4.39 | 4.39 | | 85 |
| Charlie Gunter – Reggie Norflett | 0.00 | 2.88 | | 84 |
| Jeff Taylor – Mike Conneley | 0.00 | 2.04 | | 83 |
| Mike McMillan – Brice McMillan | 0.00 | 0.00 | | 73 |
| Wayne Andrews – Tim Tait | 0.00 | 0.00 | | 73 |
| Mark Winn – Mike Nichols | 0.00 | 0.00 | | 73 |
| Kevin Cheatham – Johnny Wilder | 0.00 | 0.00 | | 73 |
| Alexander Woodruff – Channing Dolen | 0.00 | 0.00 | | 73 |
| Russell Headley – Bert Smith | 0.00 | 0.00 | | 73 |
| Tom Wilkson | 0.00 | 0.00 | | 73 |
| Tyler Calloway | 0.00 | 0.00 | | 73 |
| Jerry Cullom – Ricky Todd | 0.00 | 0.00 | | 73 |
| Mark Jackson – Morris Mustain | 0.00 | 0.00 | | 73 |
| Mike Cox – Rick Lee | 0.00 | 0.00 | | 73 |
| Chris Boyer – Dacota Lucy | 0.00 | 0.00 | | 73 |
| Justin Rhew – Mike Rhew | 0.00 | 0.00 | | 73 |
| Kenny Wilson – Lycia Niethammer | 0.00 | 0.00 | | 73 |
| Billy Orr – John Parson | 0.00 | 0.00 | | 73 |
| Brandon Curtis | 0.00 | 0.00 | | 73 |
| Matt Norris – Kevin Kane | 0.00 | 0.00 | | 73 |
| Jay Fogleman – Robert Perkins | 0.00 | 0.00 | | 73 |
| Total Entrys | | | $3,680.00 | |
| BONUS $ | | | $1,500.00 | |
| Total Paid At Ramp | | | $4,620.00 | |
| Kerr 2022 Spring Final Fund | | | $450.00 | |
| 2022 CATT Championship/Phantom Fund | | | $50.00 | |
| 2022 Kerr Spring Final Fund Total | | | $450.00 | |