Next Yadkin CATT is March 23rd at High Rock Tamarac Marina!
Check out an Academy Sports near you!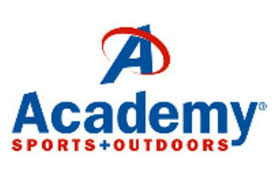 Mike Ray & Orlando Giles weighed up 19.012 lbs to take 1st and $1,066.00!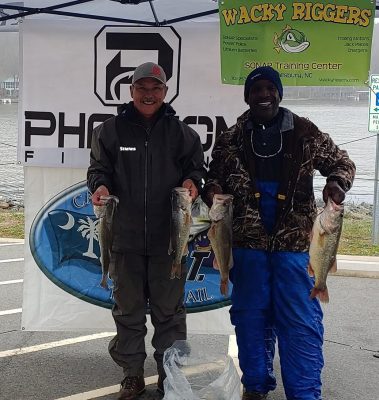 2nd went to Herby Young & George Lambeth with 18.46 lbs!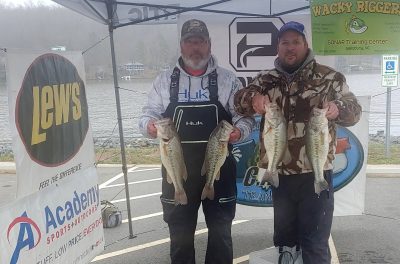 Andrew Wallace & Derek Livingston 3rd Place!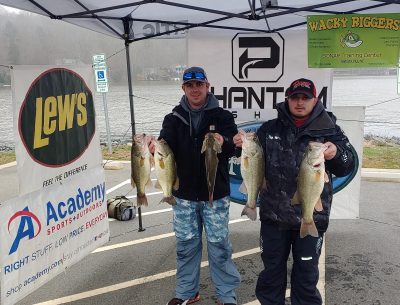 4th Place Mike Kiser & David Cheek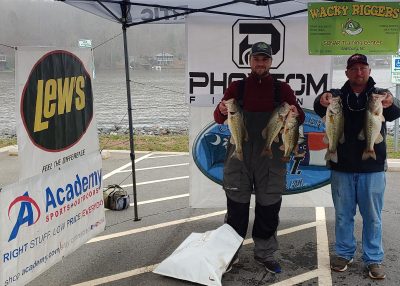 Wacky Riggers $50 Gift Certificate winners! Rodney Adams & Jeff Faircloth!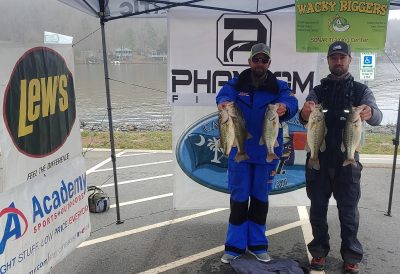 Bf Winners Greg & Zac Gooch!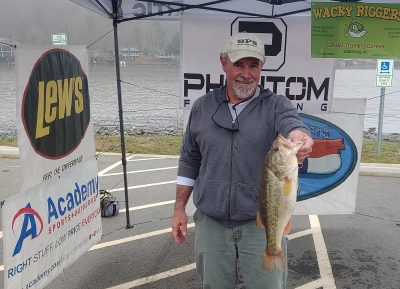 | | | | | |
| --- | --- | --- | --- | --- |
| | Big | Total | Total | |
| 22 Teams | Fish | Weight | Winnings | Points |
| Mike Ray – Orlando Giles | 4.65 | 19.01 | $1,066.00 | 110 |
| George Lambeth – Herby Young | 4.53 | 18.46 | $300.00 | 109 |
| Andrew Wallace – Derek Livingston | 4.34 | 18.12 | $200.00 | 108 |
| Mike Kiser – David Cheek | 0.00 | 15.15 | $100.00 | 107 |
| Rodney Adams – Jeff Faircloth | 0.00 | 14.15 | | 106 |
| Zac Gooch – Greg gooch | 5.55 | 12.32 | | 105 |
| Robbie Walser – Mack Lowe | 0.00 | 12.17 | $154.00 | 104 |
| Brice Hollis – July Moore | 2.92 | 11.89 | | 103 |
| Roy Barrow – April Barrow | 0.00 | 10.19 | | 102 |
| Kyle Whisnant | 3.11 | 9.45 | | 101 |
| Ryan Story – Alan Aufderhar | 4.13 | 7.84 | | 100 |
| Brian File – Wayne File | 0.00 | 7.42 | | 99 |
| Scott Henley – Robert Mixon | 3.91 | 6.15 | | 98 |
| RM Parker – Corey Gibson | 3.66 | 5.91 | | 97 |
| Todd Haynes – Jeremy Talbert | 2.49 | 4.75 | | 96 |
| Billy Lee – Christian Stevenson | 0.00 | 4.57 | | 95 |
| John Lancaster – Thomas Carroll | 0.00 | 2.15 | | 94 |
| Weston Lineberry – Dakota Livingston | 0.00 | 0.00 | | 93 |
| Marty Williams – Jerry Bono | 0.00 | 0.00 | | 93 |
| Jimmy Strckland – Walter Bundy | 0.00 | 0.00 | | 93 |
| Scott Wyatt – Todd Barbee | 0.00 | 0.00 | | 93 |
| James Davis – Deloris Davis | 0.00 | 0.00 | | 93 |
| Total Entrys | | | $1,760.00 | |
| BONUS $ | | | $500.00 | |
| Total Paid At Ramp | | | $1,820.00 | |
| Yadkin Spring 2019 Final Fund | | | $360.00 | |
| 2019 CATT Championship Fund | | | $50.00 | |
| 2019 Yadkin Spring Final Fund Total | | | $620.00 | |
| 2019 CATT Championship Fund Total | | | $3,365.00 | |