Next Kerr Lake CATT at Occoneechee State Park will be March 20th and is a GOLD! $120 entry fee so look for some BIG MONEY on the line!
We had another great crowd with 46 teams entering competing for over $4,400.00! Tyler & Ricky Trent make it 2 in a row weighing in 5 bass at 19.87 lbs worth $1,575.00! 1st Place and 1st Place Side Pot!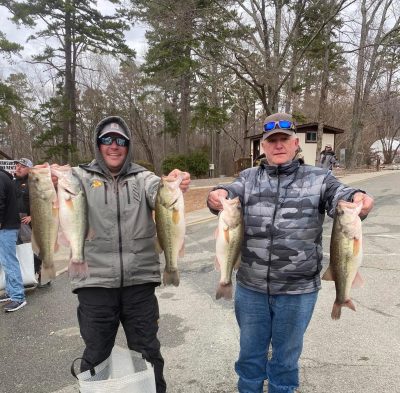 Johnny Wilder & Kevin Cheatham brought in 19.14 lbs and earned $1,118.00! 2nd Place and 2nd Side Pot with the 2nd BF at 5.28 lbs!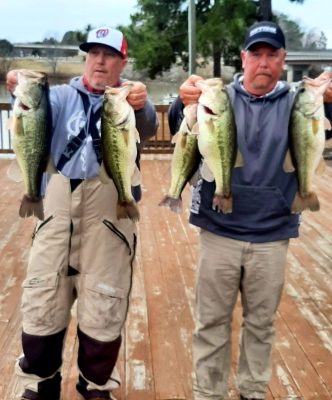 Team
BF
Weight
Winnings
Points
Ricky Trent – Tyler Trent
4.75
19.87
$1,575.00
110
Kevin Cheatham – Johnny Wilder
5.28
19.14
$1,118.00
109
Scott Rogers – Greg Fernando
0.00
16.06
$350.00
108
Steven Griggs – Jimmy Wall
4.38
15.94
$460.00
107
Brian Cotrell – Ellis Jones
0.00
15.33
$165.00
106
Evan White
0.00
15.12
$125.00
105
Brandon Curtis – Tom Wilkerson
0.00
14.62
$115.00
104
Josh Barnes – Jay Rignay
0.00
14.46
$110.00
103
Bryson Peed
0.00
14.04
$90.00
102
Jay Fogleman – Tate Fogleman
0.00
14.04
101
Brian Calloway – Marty Warren
0.00
13.77
100
Wayne Andrews – Tim Tait
5.33
12.65
99
Tim Pinhollow -Owen Pinhollow
0.00
12.65
98
Billy Bledsoe – Scott Canady
5.10
12.52
97
Mike Harris
0.00
12.44
96
Eddie Glascock – Billy Dunn
0.00
12.30
95
Keith Patterson – Aiden Patterson
0.00
12.20
94
Tyler Dunn – Blaine Brogden
0.00
11.84
93
Jason Houchins – Danny Houchins
0.00
11.55
92
Justin Rhew – Mike Rhew
0.00
11.49
91
Randy Goss – Mike Cox
0.00
10.68
90
Randy Waterman – Paul Worthington
0.00
10.40
89
Andrew Kerns – Gray Williams
0.00
10.21
88
Stump Bledsoe – Glenn Elliott
0.00
9.93
87
Michael Stewart – Buck Clark
0.00
9.80
86
Russell Rigsbee – Shane Robbins
0.00
9.55
85
Jeff Taylor – Mike Connley
0.00
9.42
84
Matthew Little – Derrick Bowden
0.00
9.32
83
Monty Alman – Kevin Alman
4.64
9.31
82
Jonathan Rhew – Roger Clary
0.00
9.07
81
Kenny Wilson
0.00
8.46
80
Cavin Young – Rob Wells
0.00
7.39
79
Jerry Cullom – Ricky Todd
0.00
7.38
78
Bailey Hollingsworth – Jake Frye
0.00
2.23
77
Emmitt Whitby – Justin Dalton
0.00
0.00
67
Don Gregg – Trey Gregg
0.00
0.00
67
Jesse Stanley
0.00
0.00
67
Jerry Wyatt – Donnie Bohannon
0.00
0.00
67
Mark Jackson – Morris Mustain
0.00
0.00
67
Charlie Gunter – Craig Compton
0.00
0.00
67
Nelson Mayton – Tim Daniels
0.00
0.00
67
Kevin Kane – Troy Pipkin
0.00
0.00
67
Paul Smith – Jason Lloyd
0.00
0.00
67
Peter Carter – Donald Coleman
0.00
0.00
67
Dennie Gilbert – Charlie Reed
0.00
0.00
67
Tyler Calloway
0.00
0.00
67
Total Entrys
$3,680.00
BONUS $
$1,300.00
Total Paid At Ramp
$4,430.00
Kerr 2022 Spring Final Fund
$450.00
2022 CATT Championship/Phantom Fund
$50.00
2022 Kerr Spring Final Fund Total
$900.00