Next CATT on Kerr out of Occoneechee is March 15th 8 am to 4 pm! This  a GOLD! Entry fee is $120 or $130 at the ramp!
Use PHANTOMCATT15 at checkout and receive 15% off your Phantom Outdoors Gear order! Click on the Phantom Logo and view the Phantom Gear!
Robby Butler & Michael Garner win the 2nd Kerr Spring Qualifier out of Occoneechee with 5 bass weighing 18.49 lbs! Robby & Michael collected $1,650.00!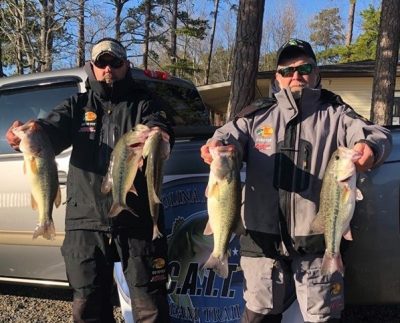 2nd went to Charlie Reed & Dennie Gilbert with a limit weighing 18.14 lb! They took home $1,020.00!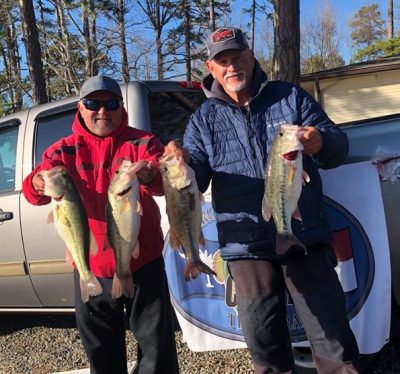 Another nice bag!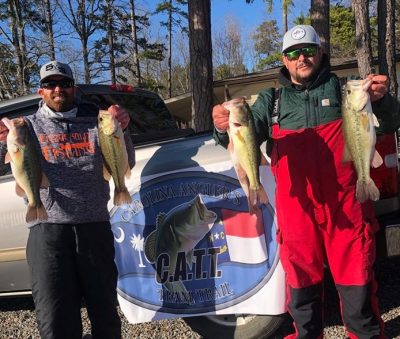 Ryan Roller & Gary Colwell weighed in the 1st BF at 5.22 lbs!

| | | | | |
| --- | --- | --- | --- | --- |
| 42 Teams | BF | Weight | Winnings | Points |
| Michael Garner – Robby Butler | 4.88 | 18.49 | $1,650.00 | 110 |
| Charlie Reed – Dennie Gilbert | 4.07 | 18.14 | $1,020.00 | 109 |
| Jason Grant – Robby Kennon | 4.92 | 18.02 | $575.00 | 108 |
| Paul Smith – Jason Lloyd | 4.43 | 17.50 | $205.00 | 107 |
| Eddie Glascock – Billy Dunn | 5.02 | 16.69 | $271.00 | 106 |
| Robbie Mayton – Kevin Bostic | 4.74 | 16.55 | $110.00 | 105 |
| Brian Kirkpatrick – Eddie Fore | 4.69 | 16.54 | $100.00 | 104 |
| Benny Cannon – Jeff Haden | 4.32 | 16.50 | $90.00 | 103 |
| Matt Poteat – Billy Bagby | 5.00 | 16.35 | | 102 |
| Ryan Roller – Gary Colwell | 5.22 | 16.30 | $294.00 | 101 |
| Mike Nichols | 4.99 | 16.19 | | 100 |
| Wesley Harris – Travis Garrett | 4.46 | 16.03 | | 99 |
| Kevin Alemon – Monte Alemon | 3.79 | 15.76 | | 98 |
| Derrek Bowden – Matt Little | 4.31 | 15.67 | | 97 |
| Don Gregg – Chris Merritt | 4.37 | 15.53 | | 96 |
| Ricky Trent  – Tyler Trent | 0.00 | 15.30 | | 95 |
| Ryan Reynolds – Kenny Reynolds | 3.95 | 14.83 | | 94 |
| Donnie Avant – Randy Waterman | 4.27 | 14.73 | | 93 |
| Andrew Kerns – Eddie Gordon | 3.57 | 14.65 | | 92 |
| Phillip Smith – Lonnie Whitfield | 4.36 | 14.62 | | 91 |
| Wilton Rogerson – Bobby Harris | 4.62 | 13.79 | | 90 |
| Michael Carden – Mike Cox | 3.48 | 13.51 | | 89 |
| Paul Rigsbee – Russell Rigsbee | 4.43 | 13.49 | | 88 |
| Jason Suggs – Calton Hall | 3.78 | 13.33 | | 87 |
| Tyler Calloway- Kevin Powell | 0.00 | 13.29 | | 86 |
| Sammy Barrow – Spencer Barrow | 4.18 | 13.28 | | 85 |
| Dan Jackson – John Yager | 3.63 | 12.47 | | 84 |
| Roger Clary – Justin Rhew | 0.00 | 12.04 | | 83 |
| Justin Dalton – Emitt Whitby | 3.77 | 11.78 | | 82 |
| Hal Blackwelder-Cliff Swann | 0.00 | 11.63 | | 81 |
| Charlie Gunter – Mark Whitman | 0.00 | 11.20 | | 80 |
| Kevin Fore – Matthew Fore | 3.30 | 10.92 | | 79 |
| Flash Butts – Shawn Hammock | 0.00 | 8.40 | | 78 |
| Ben Dalton – Ben Nichols | 0.00 | 7.79 | | 77 |
| Brandon Slaughter – Brandon Curtis | 3.83 | 6.41 | | 76 |
| Paul Worthington | 0.00 | 5.68 | | 75 |
| Chuck Morton – Mike Riggs | 0.00 | 5.63 | | 74 |
| Bryan Welch | 0.00 | 4.25 | | 73 |
| Mike White | 0.00 | 0.00 | | 72 |
| Carl Enos – David Enos | 0.00 | 0.00 | | 72 |
| Marty Warren – Lynn Fox | 0.00 | 0.00 | | 72 |
| Tim Thurman – Thomas Jerrel | 0.00 | 0.00 | | 72 |
| Total Entrys | | | $3,360.00 | |
| BONUS $ | | | $1,550.00 | |
| Total Paid At Ramp | | | $4,315.00 | |
| Kerr 2020 Spring Final Fund | | | $495.00 | |
| 2020 CATT Championship Fund | | | $50.00 | |
| 2020 Kerr Spring Final Fund Total | | | $1,035.00 | |
| 2020 CATT Championship Fund Total | | | $2,510.00 | |