Guys we are looking over what we can do about the rest of the Kerr Spring schedule! The Core has revoked all permits through April 30 on Kerr Lake! You can fish but just not an organized tournament! If we get the all clear by then we'll schedule what we can on the best date or dates available!
To view the Kerr Spring Points go to the Kerr Division page and scroll all the way down!
Use PHANTOMCATT15 at check out and receive 15% off your order!
Click on the Phantom Logo to view the Phantom Outdoor Gear!
Kerr was just beginning to show out this Spring! We had 2 bass 7 lbs or better weighed in with another pushing 7 lbs! Top 12 teams weighed in over 17 lbs!
Andrew Kerns & Edward Gordon weighed in 5 bass at 23.60 lbs and took the win! They also weighed in the 2nd BF at 7.00 lbs and took home $2,071.00!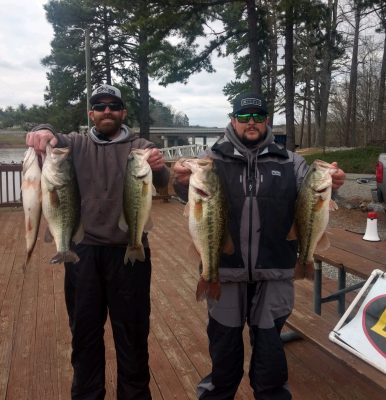 2nd Place went to Gary Colwell & Ryan Roller with a limit weighing 19.93 lbs worth $1,915.00!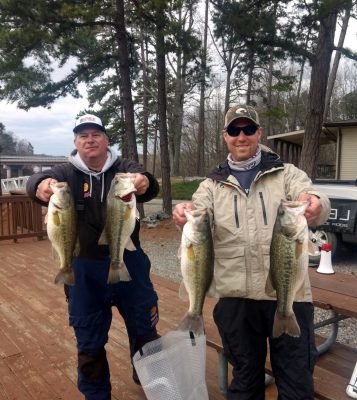 Ricky & Tyler Trent claimed 3rd with 18.74 lbs and took home $1,300.00!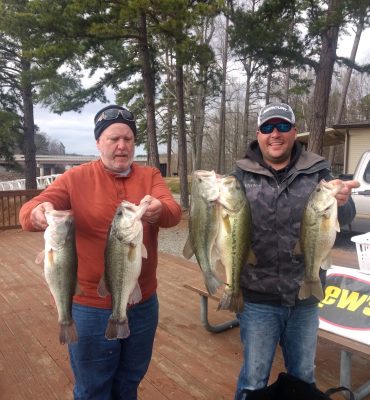 | | | | | |
| --- | --- | --- | --- | --- |
| 57 Teams | BF | Weight | Winnings | Points |
| Andrew Kerns – Edward Gordon | 7.00 | 23.60 | $2,071.00 | 110 |
| Ryan Roller – Gary Colwell | 4.78 | 19.93 | $1,915.00 | 109 |
| Ricky Trent  – Tyler Trent | 4.81 | 18.74 | $1,300.00 | 108 |
| Dannie Jenkins – Jason Copp | 7.22 | 18.69 | $949.00 | 107 |
| Dennis Reedy – Tommy Marrow | 5.51 | 18.24 | $710.00 | 106 |
| Kevin Cheatham – Johnny Wilder | 4.39 | 17.70 | $300.00 | 105 |
| Jason Houchins – Danny Houchins | 4.12 | 17.48 | $235.00 | 104 |
| Kevin Alemon – Monte Alemon | 4.99 | 17.46 | $190.00 | 103 |
| Emitt Whitby – Justin Dalton | 6.54 | 17.45 | $175.00 | 102 |
| Michael Garner – Billy Shelton | 5.28 | 17.35 | $145.00 | 101 |
| Dave Farrington – Mike Belter | 4.46 | 17.22 | $125.00 | 100 |
| Justin Rhew – Roger Clary | 4.03 | 17.18 | | 99 |
| Kenny Beale – Jay Rigney | 6.42 | 16.75 | | 98 |
| Kevin Bostic – Robbie Mayton | 4.31 | 16.39 | | 97 |
| Brian Kirkpatrick – Eddie Fore | 5.07 | 16.33 | | 96 |
| Ralph Taylor – Jimmy Taylor | 4.77 | 16.26 | | 95 |
| Rodney Sorrell – Gerald Beck | 4.33 | 16.19 | | 94 |
| Eddie Glascock – Billy Dunn | 3.55 | 15.93 | | 93 |
| Calvin Young – Rob Wells | 4.43 | 15.75 | | 92 |
| Allen White – Mike Vaughn | 4.63 | 15.49 | | 91 |
| Chris Barns – Carmon  Linerich | 0.00 | 14.95 | | 90 |
| Lyn Fox – Marty Warren | 5.77 | 14.89 | | 89 |
| Paul Worthington | 0.00 | 14.68 | | 88 |
| Charlie Reed – Dennie Gilbert | 0.00 | 14.32 | | 87 |
| Chuck Morton – Mike Riggs | 4.05 | 14.28 | | 86 |
| Sammy Barrow – Spencer Barrow | 3.23 | 14.14 | | 85 |
| Donnie Avant – Randy Waterman | 0.00 | 14.09 | | 84 |
| Jimmy Condrey – James Condrey | 3.94 | 13.96 | | 83 |
| Scott Moser – Bobby Overby | 3.43 | 13.89 | | 82 |
| Joey Dawson – Kevin Dawson | 0.00 | 13.75 | | 81 |
| Robbie Kennon – Ross Kennon | 0.00 | 13.73 | | 80 |
| Tom Wilkerson – Tyler Purcell | 0.00 | 13.58 | | 79 |
| Ben Dalton – Ben Nichols | 0.00 | 13.49 | | 78 |
| Jimmy Wall – Steven Griggs | 3.76 | 13.43 | | 77 |
| Clay Ausley – Ken McNeil | 0.00 | 13.27 | | 76 |
| Jason Suggs – Calton Hall | 0.00 | 13.07 | | 75 |
| Richard Owen – Austin Mintor | 3.47 | 13.03 | | 74 |
| Wesley Harris – Travis Garrett | 0.00 | 12.92 | | 73 |
| Jeff hayden – Bennie Cannon | 0.00 | 12.81 | | 72 |
| Danny Moss – April Willis | 0.00 | 12.62 | | 71 |
| Jacob Lee – Sam Terry | 0.00 | 12.54 | | 70 |
| Derrek Bowden – Matt Little | 0.00 | 12.39 | | 69 |
| Don Greg – Trey Greg | 0.00 | 12.10 | | 68 |
| Bryan Welch – Mark Inman | 0.00 | 12.02 | | 67 |
| Brian Calloway – William Hubbard | 0.00 | 11.79 | | 66 |
| Phillip Smith – Lonnie Whitfield | 0.00 | 11.27 | | 65 |
| Aaron Falwell | 0.00 | 11.17 | | 64 |
| Tyler Calloway – Kevin Powell | 0.00 | 10.68 | | 63 |
| Andy Semonico – Wayne Andrews | 4.76 | 10.64 | | 62 |
| Glenn Long – Vernon Fleming | 0.00 | 9.08 | | 61 |
| Nicky Ezell – Jim Freeland | 0.00 | 6.05 | | 60 |
| Mike White | 0.00 | 1.60 | | 59 |
| Donnie Wyatt – Kenny Haley | 0.00 | 0.00 | | 58 |
| Travis Owen – Mark Hatcher | 0.00 | 0.00 | | 58 |
| Billy Orr – John Parson | 0.00 | 0.00 | | 58 |
| Mike Nichols | 0.00 | 0.00 | | 58 |
| Jay Fogleman – Brice Peed | 0.00 | 0.00 | | 58 |
| Total Entrys | | | $6,840.00 | |
| BONUS $ | | | $1,900.00 | |
| Total Paid At Ramp | | | $8,115.00 | |
| Kerr 2020 Spring Final Fund | | | $485.00 | |
| 2020 CATT Championship Fund | | | $90.00 | |
| 2020 Kerr Spring Final Fund Total | | | $1,520.00 | |
| 2020 CATT Championship Fund Total | | | $3,180.00 | |