Next Kerr Lake Qualifier is April 10 at Ivy Hill!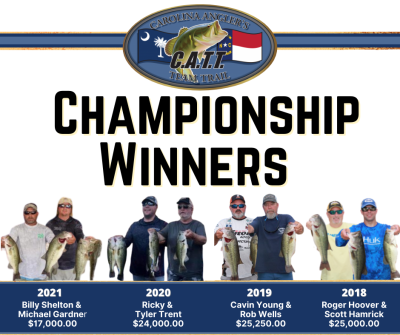 May 21-22 at Kerr! CATT Championship weekend! A minimum of $10,000.00 1st Place! BE THERE!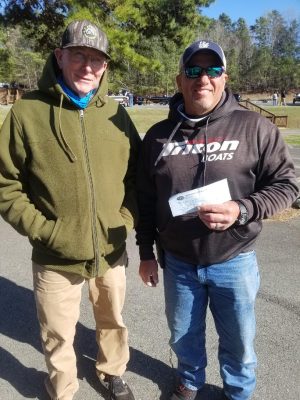 Gerald Beck & Rodney Sorrell claimed 1st place on a cold, windy day on Kerr Lake with 5 bass weighing 16.91 lbs! worth $2,100.00!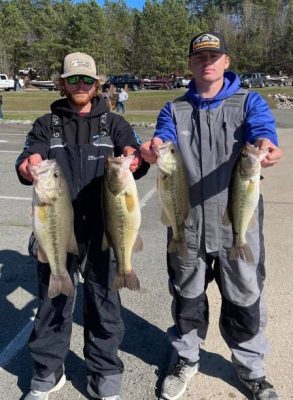 Alden Patterson & Zach Smith finished 2nd with 16.79 lbs!
| | | | | |
| --- | --- | --- | --- | --- |
| Team | BF | Weight | Winnings | Points |
| Rodney Sorrell – Gerald Beck | 0.00 | 16.91 | $2,100.00 | 110 |
| Alden Patterson – Zack Smith | 4.72 | 16.79 | $1,170.00 | 109 |
| Bryan Roberts | 5.13 | 15.07 | $852.00 | 108 |
| Matt Powers – Maurice Oakes | 0.00 | 13.73 | $310.00 | 107 |
| Tyler Trent – Ricky Trent | 0.00 | 13.71 | $225.00 | 106 |
| Aaron Falwell – Johnathan Kraus | 0.00 | 13.55 | $155.00 | 105 |
| Lonnie Whitfield – Philip Smith | 0.00 | 13.35 | $125.00 | 104 |
| Pete Church – Tony Tombs | 3.47 | 12.38 | | 103 |
| Randy Waterman – Paul Worthington | 0.00 | 11.49 | | 102 |
| Josh Barnes – Jay Rigney | 0.00 | 11.40 | | 101 |
| Mathew Little – Derek Bowden | 4.96 | 11.15 | $108.00 | 100 |
| Justin Rhew – Mike Rhew | 0.00 | 10.17 | | 99 |
| Tyler Purcell – Keith Wray | 0.00 | 10.03 | | 98 |
| Keith Joyce – Mark Robertson | 0.00 | 9.97 | | 97 |
| Paul Smith – Jason Lloyd | 0.00 | 9.97 | | 96 |
| Daniel Jenkins – Logan Thornton | 0.00 | 8.47 | | 95 |
| Johnny Wilder – Michael Harris | 0.00 | 7.84 | | 94 |
| Drew Mathews – Alden Kerrlin | 0.00 | 7.63 | | 93 |
| Brian Cantrell – Brandon Cantrell | 0.00 | 6.91 | | 92 |
| Kevin Sheppard – Jerry Sheppard | 0.00 | 6.90 | | 91 |
| Michael Dikun – Jenny Li | 0.00 | 2.40 | | 90 |
| Tom Wilkerson – Brandon Curtis | 0.00 | 0.00 | | 80 |
| Dylan Gauldin – Ron Blackstock | 0.00 | 0.00 | | 80 |
| Cody Lucy – Chris Bowan | 0.00 | 0.00 | | 80 |
| Jay Fogleman – Doug Stallings | 0.00 | 0.00 | | 80 |
| Billy Orr – John Parson | 0.00 | 0.00 | | 80 |
| Michael Garner – Billy Shelton | 0.00 | 0.00 | | 80 |
| Brian Calloway – Marty Warren | 0.00 | 0.00 | | 80 |
| David Farrington – Chuck Morton | 0.00 | 0.00 | | 80 |
| Kenny Wilson | 0.00 | 0.00 | | 80 |
| Wayne Andrews – Tim Tait | 0.00 | 0.00 | | 80 |
| Don Gregg – Trey Gregg | 0.00 | 0.00 | | 80 |
| Gray Williams – Derrick Durrin | 0.00 | 0.00 | | 80 |
| Joey Talbott – Curtis Talbott | 0.00 | 0.00 | | 80 |
| Tyler Calloway – Ben Dalton | 0.00 | 0.00 | | 80 |
| Michael Stewart | 0.00 | 0.00 | | 80 |
| Total Entrys | | | $4,320.00 | |
| BONUS $ | | | $1,250.00 | |
| Total Paid At Ramp | | | $5,045.00 | |
| Kerr 2022 Spring Final Fund | | | $400.00 | |
| 2022 CATT Championship/Phantom Fund | | | $75.00 | |
| 2022 Kerr Spring Final Fund Total | | | $1,740.00 | |