Next Kerr Fall CATT Qualifier is Oct 18 at Occoneechee!
Off to a great start 48 teams entered and we paid back over $4,700.00! The 2020 CATT Championship on Kerr si Nov 7-8! You only have to enter 2 CATT events to be eligible! GO to the Division page and and tap on Championships!
Gerald Beck and Rodney Sorrell win with 17.06 lbs! Great bag for the Fall!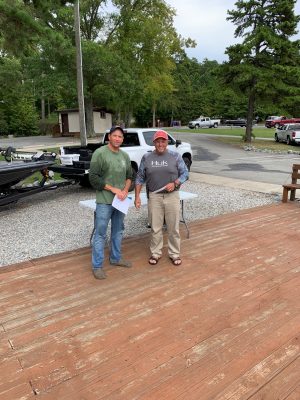 | | | | | |
| --- | --- | --- | --- | --- |
| 48 Teams | BF | Weight | Winnings | Points |
| Gerald Beck/Rodney Sorrell | 5.07 | 17.06 | $1,854.00 | 110 |
| Nathan Webber/Brandon Gray | 4.81 | 16.61 | $1,050.00 | 109 |
| Jeff Ross/Clay Ross | 4.59 | 15.97 | $640.00 | 108 |
| Doug Stalling/Seth Ellis | 5.18 | 15.22 | $641.00 | 107 |
| Tommy Marrow/Dennis Reedy | 4.21 | 13.60 | $175.00 | 106 |
| Dennie Gilbert/Charlie Reed | 3.24 | 13.10 | $130.00 | 105 |
| Ryan Roller/Gary Calwell | 3.12 | 12.57 | $120.00 | 104 |
| Tom Wilkerson/Tyler Purcell | 4.19 | 12.50 | $115.00 | 103 |
| Tim Wilfong/Ray Griffin | 3.42 | 12.32 | $90.00 | 102 |
| Chuck Morton/Mike Riggs | 3.86 | 11.89 | | 101 |
| Derrick Bowden/Matt Littles | 2.84 | 11.35 | | 100 |
| Eddie Glascock/Billy Dunn | 3.29 | 11.29 | | 99 |
| Mark Inman/Bryan Welch | 2.93 | 11.16 | | 98 |
| Jason Houchins/Danny Houchins | 2.92 | 10.97 | | 97 |
| William Hubbard/Jeff Newman | 0.00 | 10.83 | | 96 |
| Michael Garner/Billy Shelton | 2.79 | 10.81 | | 95 |
| Gary Creech/Chris McDuffe | 0.00 | 10.65 | | 94 |
| Donnie Avant/Randy Waterman | 3.01 | 10.56 | | 93 |
| Lonnie Whitfield/Phillip Smith | 0.00 | 10.10 | | 92 |
| Brian Young/Evan Young | 4.41 | 9.60 | | 91 |
| Marty Williams/Jerry Bono | 0.00 | 9.51 | | 90 |
| Mike Connelly/Jeff Taylor | 0.00 | 9.22 | | 89 |
| Cavin Young/Rob Wells | 4.43 | 8.82 | | 88 |
| Tim Thurman/Chad Baldwin | 0.00 | 8.32 | | 87 |
| Clay Ansley/Ken McNeil | 0.00 | 7.67 | | 86 |
| Phillip Dunn/Evan Fleming | 0.00 | 6.72 | | 85 |
| Mike Mcillan/Brice McMillan | 0.00 | 6.42 | | 84 |
| Brandon Slaughter/Brandon Curtis | 0.00 | 4.00 | | 83 |
| Howard Midkiff/David Herndon | 0.00 | 0.00 | | 82 |
| Dillon Thornton/Jerry Bragg | 0.00 | 0.00 | | 82 |
| Mark Winn/Mike Nichols | 0.00 | 0.00 | | 82 |
| Scott Moser/Chase Moser | 0.00 | 0.00 | | 82 |
| Andrew Kerns/Gary Williams | 0.00 | 0.00 | | 82 |
| Derrick Currin/David Langley | 0.00 | 0.00 | | 82 |
| Joey Dawson/Kevin Dawson | 0.00 | 0.00 | | 82 |
| Ernest Howell Jr./Randy Taylor | 0.00 | 0.00 | | 82 |
| James Byrd | 0.00 | 0.00 | | 82 |
| Robert Cook/Anthony Yarbourg | 0.00 | 0.00 | | 82 |
| Don Warren/Jack Gorton | 0.00 | 0.00 | | 82 |
| Terry Easter/Dave Farrington | 0.00 | 0.00 | | 82 |
| Mike Eggers/Rich Olsen | 0.00 | 0.00 | | 82 |
| Ben Dalton/Dean Dalton | 0.00 | 0.00 | | 82 |
| Collin Bennett/Blake Gillispie | 0.00 | 0.00 | | 82 |
| Hal Blackweilder/Cliff Swan | 0.00 | 0.00 | | 82 |
| L. Blanks/James Graves | 0.00 | 0.00 | | 82 |
| Tyler Calloway/Trevor Powell | 0.00 | 0.00 | | 82 |
| Jay Folgman/Jeff Clifton | 0.00 | 0.00 | | 82 |
| Thomas Jarrold | 0.00 | 0.00 | | 82 |
| Total Entrys | | | $3,840.00 | |
| BONUS $ | | | $1,500.00 | |
| Total Paid At Ramp | | | $4,765.00 | |
| Kerr 2020 FALL Final Fund | | | $455.00 | |
| 2020 CATT Championship/Phantom Fund | | | $50.00 | |
| 2020 Kerr FALL Final Fund Total | | | $455.00 | |
| 2020 CATT Championship/Phantom Total | | | $4,800.00 | |