**Remember guys you have to enter 3 CATT Qualifiers to be able to enter the June 2-3 CATT Championship on Kerr. You can make your 3 by having fished any FALL 2017 CATT Trails and by fishing any SPRING CATT Trails—the 3 don't have to in the same Division!
Next Kerr CATT is Mar 18 at Occonccechee! This is a GOLD event and the payback increases!
Ryan Roller & Gary Colwell make it 2 in a row on Kerr! Ryan & Gary weighed in 5 bass at 19.15 lbs topping the 34 boat field! They also collected the 1st BONUS $ and took home a total of $1,220.00! They also take the point lead!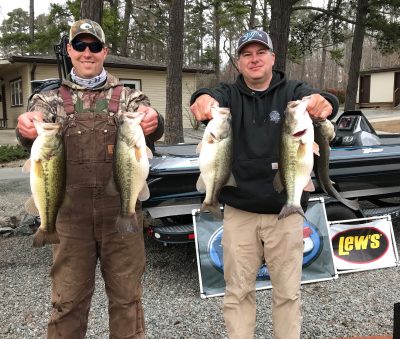 Ryan & Gary!
2nd went to Brian Calloway & William Hubbard with 5 bass weighing 16.33 lbs and they took the 2nd BONUS $. Add in the 2nd BF at 5.04 lb s and they earned $782.00!
Darrell Wyatt took 3rd with 16.10 lbs and received $300.00!
Ricky & Tyler Trent claimed the 4th spot with 15.17 lbs and they weighed the 1st BF at 5.17 lbs! They collected $413.00!
Dwayne Bingham & Alan Micaux finished 5th with 15.06 lbs and took the 3rd BONUS worth $265.00!
Last money spot went to Eddie Glascock & Billy Dunn with 15.06 lbs. They took home $100.00!
| | | | | | |
| --- | --- | --- | --- | --- | --- |
|   |   | Big | Total |   |   |
| Place | Team | Fish | Weight | Winnings | Points |
| 1 | Ryan Roller – Gary Colwell   1st BONUS $ | 4.21 | 19.15 | $1,220.00 | 110 |
| 2 | Brian Calloway – William Hubbard     2nd BONUS $ & 2nd BF | 5.04 | 16.33 | $782.00 | 109 |
| 3 | Darrell Wyatt | 4.02 | 16.10 | $300.00 | 108 |
| 4 | Ricky Trent – Tyler Trent   1st BF | 5.17 | 15.17 | $413.00 | 107 |
| 5 | Dwayne Bingham – Alan Michaux   3rd BONUS $ | 4.28 | 15.06 | $265.00 | 106 |
| 6 | Eddie Glascok – Billy Dunn | 4.14 | 15.06 | $100.00 | 105 |
| 7 | Rodney Sorrel – Gerald Beck | 3.39 | 14.30 | | 104 |
| 8 | Clay Samples – Tyler Purcell | 4.96 | 14.20 | | 103 |
| 9 | Cory Leonard – Paul Rigsby | 4.20 | 13.95 | | 102 |
| 10 | Tim Grein – Richard Cooper | 3.59 | 12.39 | | 101 |
| 11 | Chris Smoot – Tyler Calloway | 3.53 | 11.77 | | 100 |
| 12 | Dylan Gauldin – Austin Carter | 0.00 | 11.49 | | 99 |
| 13 | James Joyner – Ricky Powell | 3.66 | 11.28 | | 98 |
| 14 | Alex King – Matt Noraas | 3.14 | 10.63 | | 97 |
| 15 | Trip Emerson – Kevin Hyler | 0.00 | 10.41 | | 96 |
| 16 | Scott Moser – Tony Milliam | 3.33 | 9.58 | | 95 |
| 17 | Joe Dehart – Tyler Rorak | 0.00 | 9.09 | | 94 |
| 18 | Kevin Cheatham – Jimmy Cheatham | 4.01 | 8.33 | | 93 |
| 19 | Jeff Edwards – Brandon Slaughter | 0.00 | 7.89 | | 92 |
| 20 | Gordon Griffin – Jerry Criswell | 0.00 | 7.68 | | 91 |
| 21 | Dennis Duncan | 3.50 | 6.89 | | 90 |
| 22 | Donnie Avant – Randy Waterman | 4.38 | 6.52 | | 89 |
| 23 | Jacob Floyd – Joey Talbott | 0.00 | 6.29 | | 88 |
| 24 | Monte Allemon – Kevin Allemon | 0.00 | 4.39 | | 87 |
| 25 | Matthew Fuhr – Evan Fleming | 0.00 | 2.92 | | 86 |
| 26 | Eddie Fore – Bryan Kirkpatrick | 0.00 | 0.00 | | 85 |
| 27 | Flash Butts – Shawn Hammock | 0.00 | 0.00 | | 85 |
| 28 | Larry Inman – Ron Wolfarth | 0.00 | 0.00 | | 85 |
| 29 | Robert Bristow – Alan Thomerson | 0.00 | 0.00 | | 85 |
| 30 | Terry Easter – Dave Farrington | 0.00 | 0.00 | | 85 |
| 31 | Donna Wilson – Michael Whitehurst | 0.00 | 0.00 | | 85 |
| 32 | Eric Royster – Robert Perkins | 0.00 | 0.00 | | 85 |
| 33 | Jacob Lee – Sam Terry | 0.00 | 0.00 | | 85 |
| 34 | Mick McMillan – Brayden McMillan | 0.00 | 0.00 | | 85 |
| | Total Entrys |   |   | $2,720.00 | |
| | BONUS $ |   |   | $945.00 | |
| | Total Paid At Ramp |   |   | $3,080.00 | |
| | Kerr 2018 Spring Final Fund |   |   | $535.00 | |
| | 2018 CATT Championship Fund |   |   | $50.00 | |
| |   |   |   |   | |
| | 2018 Kerr Spring Final Fund Total |   |   | $1,475.00 | |
| | 2018 CATT Championship Fund Total |   |   | $3,120.00 | |