The Kerr Qualifiers are a wrap and what a Spring we've had on Kerr! 103 teams are eligible to enter the June 16th Kerr Spring Final! You looking at some big money if we can get at least 80 to show!
Remember Guys you only had to enter 1 Kerr Spring Qualifier to be eligible to enter the Kerr Spring Final!
** You have to enter 3 CATT Qualifiers to be able to enter the June 2-3 CATT Championship on Kerr. $10,000 1st Place! You can make your 3 by having fished any FALL 2017 CATT Trails and by fishing any SPRING CATT Trails—the 3 don't have to in the same Division!
If you entered 2 Kerr Spring Qualifier and you need to get another Qualifier in we have an Old North Qualifier this Saturday May 26th at the New Nutbush Ramp. You don't have to pay another membership to enter the Old North Qualifier
William Hubbard and Brian Calloway win the Kerr Points and will fish the Kerr Final Free and blast off boat #1!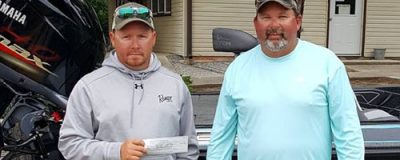 51 teams fought it out on Kerr this past weekend with several limits weighed in! When it was all said and done Calvin Young & Robert Wells came out on top with 18.05 lbs and took home $2,580.00!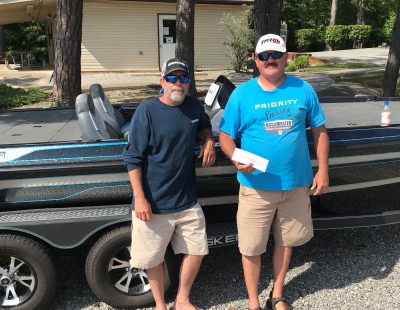 2nd went to Brian Calloway & William Hubbard with 16.49 lbs and they took home $1,325.00!
Anthony Shawler & Scott Davies took 3rd with 16.11 lbs worth $800.00!
Sam Terry & Jacob Lee weighed in the 1st BF at 5.77 lbs!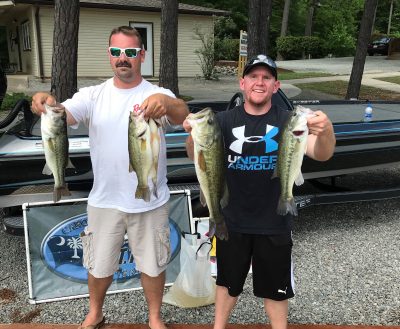 Check out the rest of the money winners! We paid back $6,940.00!
 
Big
Total
 
 
51 Teams
Fish
Weight
Winnings
Points
Calvin Young – Robert Wells       1st BONUS $
4.60
18.05
$2,580.00
220
Brian Calloway – William Hubbard   2nd BONUS $
4.88
16.49
$1,325.00
218
Anthony Shawler – Scott Davies   3rd BONUS $
4.38
16.11
$800.00
216
Daniel Jenkins – Jason Kopp
4.50
15.79
$480.00
214
Donnie Avant – Randy Watermand
5.19
15.35
$350.00
212
Dave Farrington – Terry Easter
4.54
15.08
$260.00
210
Dylan Gauldin – Austin Carter
4.36
14.86
$200.00
208
Sam Terry – Jacob Lee                 

1st BF

5.77
14.33
$522.00
206
Denny Gilbert – Charlie Reed
3.79
14.26
$145.00
204
Joey Dawson – Kevin Dawson
0.00
14.18
$125.00
202
Ray Hogg – Kevin Whitehurst
4.23
13.11
 
200
Walt Bowen – Joseph Sharpe       

2nd BF

5.38
13.10
$153.00
198
Mike Marchant – Brad McLaurin
0.00
12.71
196
Cory Leonard – Paul Rigsbee
4.12
12.58
194
Dan Jackson – Manley Jones
0.00
12.57
192
Dennis Duncan – Garth Joyce
0.00
12.52
190
Robert Perkins – Eric Royster
3.81
12.50
188
Scooter Lilly – Powell Kemp
3.41
12.37
186
Clay Samples – Tyler Purcell
3.74
12.13
184
Aaron Sadler – Carl Sadler
0.00
11.97
182
Eddie Glascock – Billy Dunn
0.00
11.78
180
Kevin Cheatam – Johnny Wilder
3.58
11.39
178
Bubba Haywood – David Fry
0.00
11.19
176
Matt Dean – Charles Stewart
0.00
10.95
174
Michael Barr – Dexter Andrews
0.00
10.86
172
Monte Alemon – Kevin Alemon
0.00
10.61
170
Gordon  Griffin – Jerry Criswell
0.00
10.58
168
Howard Bohannon – Justin Bohannon
0.00
10.46
166
Matthew Little – Derrick Bowden
2.78
10.41
164
Vern Fleming – Glenn Long
0.00
10.37
162
Marty Williams – Jerry Bono
0.00
10.35
160
Jacob Lloyd – TJ Creamer
0.00
10.33
158
Scott Moser – Tony Milliam
2.90
10.21
156
Casey Logan – Keaton Logan
4.25
10.15
154
Mark Cooper – Steve Roberts
0.00
9.76
152
Thanos Tsoumbos – Mike Ditterman
0.00
9.48
150
Trip Emerson – Kevin Hyler
0.00
9.16
148
Burley Langford – Danny Ashton
0.00
8.07
146
Paul Watson – Melissa Watson
0.00
2.30
144
Doug Stallings – Barry Spell
0.00
0.00
142
Randy Weddington – Ronnie Smith
0.00
0.00
142
Ray Emerson
0.00
0.00
142
John Koren – Sarah Mason
0.00
0.00
142
Audie Murphy
0.00
0.00
142
Gary Colewell – Ryan Roller
0.00
0.00
142
Tyler Calloway – Chris Smoot
0.00
0.00
142
Joey Talbott – Michael Dean
0.00
0.00
142
Aaron Falwell – Zack Burton
0.00
0.00
142
Alex King – Matt Norris
0.00
0.00
142
James Freeland
0.00
0.00
142
Chase Robertson – Robert Mattress
0.00
0.00
142
Total Entrys
 
 
$6,120.00
BONUS $
 
 
$1,395.00
Total Paid At Ramp
 
 
$6,940.00
Kerr 2018 Spring Final Fund
 
 
$500.00
2018 CATT Championship Fund
 
 
$75.00
2018 Kerr Spring Final Fund Total
 
 
$2,770.00
2018 CATT Championship Fund Total
 
 
$4,655.00