Next CATT Kerr Qualifier is Nov 10th at Occoneechee!
Dennie Gilbert & Charlie Reed took the win this past weekend with 5 bass weighing 17.54 lbs! Add in a 5.70 lb BF and they took home $995.00!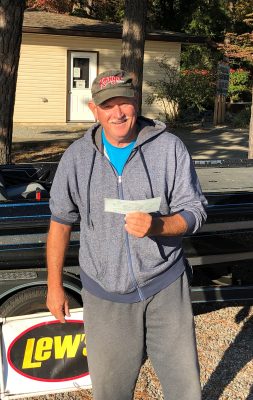 Tyler Trent & Jacob Lloyd finished 2nd with 5 bass weighing 15.51 lbs!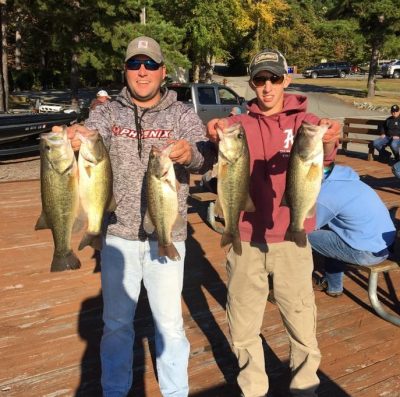 Come on out and join us! Remember the Fall season counts toward qualification of the June 1-2, 2019 CATT Championship on Kerr! $10,000 1st Place!
| | | | | |
| --- | --- | --- | --- | --- |
| | Big | Total | Total | |
| 25 Teams | Fish | Weight | Winnings | Points |
| Dennie Gilbert – Charlie Reed | 5.70 | 17.54 | $995.00 | 110 |
| Tyler Trent – Jacob Lloyd | 4.21 | 15.51 | $480.00 | 109 |
| Terry Easter – Dave Farrington | 4.15 | 13.84 | $200.00 | 108 |
| Donnie Avant – Randy Waterman | 3.15 | 13.81 | $110.00 | 107 |
| Chris Cannady – Houston Cash | 2.99 | 13.58 | $100.00 | 106 |
| Tony Tombs – David Jones | 3.21 | 13.12 | | 105 |
| Kyle Moore | 3.48 | 12.96 | | 104 |
| Derrick Bowden – Mathew Little | 3.89 | 12.72 | | 103 |
| Dennis Reedy – Tommy Marrow | 4.31 | 12.70 | | 102 |
| Gavin Colwell – Gary Colwell | 4.30 | 12.60 | | 101 |
| Clay Ausley – Ken McNeil | 3.90 | 12.51 | | 100 |
| Brian Calloway – William Hubbard | 0.00 | 11.97 | | 99 |
| Tom Brown | 3.27 | 11.66 | | 98 |
| Phil Smith – Lonnie Whitfield | 0.00 | 11.49 | | 97 |
| Jimmy Wallace – Steven Griggs | 0.00 | 11.41 | | 96 |
| Bryan Cottrell – Brandon Cottrell | 0.00 | 10.75 | | 95 |
| Brian Howard – David Ford | 0.00 | 9.33 | | 94 |
| Trip Emerson – Ray Emerson | 4.75 | 9.23 | $75.00 | 93 |
| John Parsons – Billy Orr | 3.56 | 8.81 | | 92 |
| David Dehart – Gary Horsley | 0.00 | 7.12 | | 91 |
| Gary Dickerson | 0.00 | 5.24 | | 90 |
| Jeremy Kent – Brandon Kent | 0.00 | 0.00 | | 89 |
| Mike Knapp – Aydin Knapp | 0.00 | 0.00 | | 89 |
| Randy Black – Justin Egitto | 0.00 | 0.00 | | 89 |
| Reggie Norfolk | 0.00 | 0.00 | | 89 |
| Total Entrys | | | $2,000.00 | |
| BONUS $ | | | $450.00 | |
| Total Paid At Ramp | | | $1,960.00 | |
| Kerr 2018 Fall Final Fund | | | $415.00 | |
| 2018 CATT Championship Fund | | | $50.00 | |
| 2018 Kerr Fall Final Fund Total | | | $785.00 | |
| 2018 CATT Championship Fund Total | | | $1,825.00 | |