Next up on Lake Anna is the CATT Spring Final this coming Saturday June 27 th at Sturgeon Creek Marina! We have $1,000.00 in the Anna Final Fund and a team only had to enter 1 Anna Qualifier to be eligible to enter the Anna Final! Gonna be a great payday!
Thanks to Alvin Piliani for starting CATT up on Lake Anna! Al is moving so next year he won't be able to run the Lake Anna Series! Thanks again Al!
Taylor McCann & John Doyle win with a heavy 5 bass limit at 23.60 lbs! They also weighed in the 1st BF at 6.65 lbs and took home a total of $859.00! Taylor & John win the Anna Points and will fish the Anna Final FREE plus receive 2 Point Winner plaques!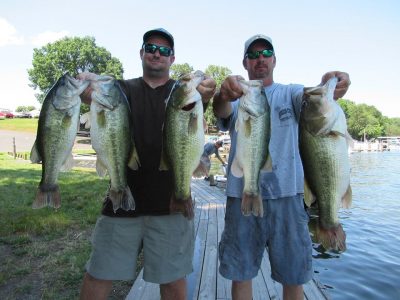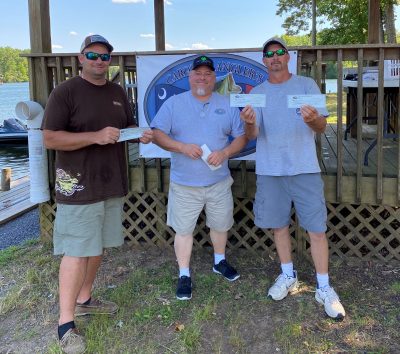 2nd went to Preston Cox & Larry Wollershein with 5 bass weighing 21.50 lbs and they weighed in the 2nd BF at 5.07 lbs!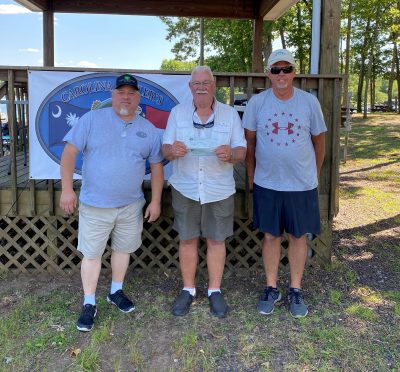 | | | | | |
| --- | --- | --- | --- | --- |
| 13 Teams | BF | Weight | Winnings | Points |
| John Doyle  Taylor McCann | 6.65 | 23.60 | $859.00 | 110 |
| Preston Cox  Larry Wollershein | 5.07 | 21.50 | $336.00 | 109 |
| Trey Perring  Dean Perring | 4.38 | 16.63 | | 108 |
| Clayton Gatewood  Jeff Parish | 4.13 | 15.20 | | 107 |
| David Lakeman Tye Guyse | 3.90 | 11.79 | | 106 |
| Sonny Gleason Larry Blanks | 0.00 | 10.72 | | 105 |
| Gene Hall  Scott Taylor | 0.00 | 10.44 | | 104 |
| Travis Lugar  Matt Martin | 0.00 | 9.43 | | 103 |
| Will Vickery  Dee Kidd | 0.00 | 8.52 | | 102 |
| Matt Noraas  Andreas Noraas | 2.80 | 4.59 | | 101 |
| Wayne Doorman  Glen Vico | 0.00 | 0.00 | | 100 |
| Ken Garr  Mike Smith | 0.00 | 0.00 | | 100 |
| Sam Taylor & Partner | 0.00 | 0.00 | | 100 |
| Total Entrys | | | $1,560.00 | |
| BONUS $ | | | $175.00 | |
| Total Paid At Ramp | | | $1,195.00 | |
| Anna Spring 2020 Final Fund | | | $440.00 | |
| 2020 CATT Championship/Phantom Fund | | | $50.00 | |
| 2020 Anna Spring Final Fund Total | | | $1,000.00 | |
| 2020 CATT Championship/Phantom Fund Total | | | $3,650.00 | |