Next Lake Anna CATT is March 28 at Sturgeon Creek Marina 7 am to 3 pm!
To view the Lake Anna Spring Points go to the Lake Anna Division page and scroll all the way down!

We are off to a great Start on Lake Anna with 30 teams entering the 1st 2021 Spring CATT Lake Anna Qualifier! Remember guys you only have to enter 1 Anna Qualifier to be eligible to enter the Lake Anna Spring Final! Enter 2 and your team is eligible to enter the the 2021 CATT Academy Championship on Kerr Lake May 22-23, 2021! $10,000 1st Place!
Clay Gatewood & Jeff Parrish weighed in 20.10 lbs taking 1st place and the 1st BF with a 6.17 lbs bass! All total they took home $1,760.00! Great job guys!

Eric Johnson & Nate Sullivan finished 2nd with 15.23 lbs and took home $625.00!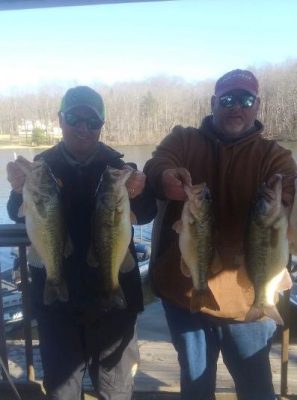 Travis Lugar & Costas Melendez claimed 3rd with 14.85 lbs!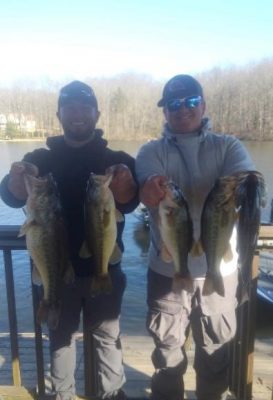 Larry Blanks & James Graves 4th with 13.43 lbs!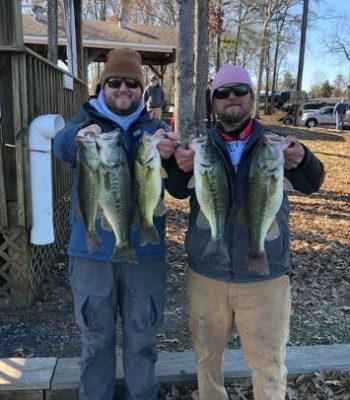 | | | | | |
| --- | --- | --- | --- | --- |
| 30 Teams | BF | Weight | Winnings | Points |
| Clay Gatewood – Jeff Parish | 6.17 | 20.10 | $1,760.00 | 110 |
| Eric Johnson – Nate Sullivan | 4.49 | 15.23 | $625.00 | 109 |
| Travis Lugar – Costas Melendez | 5.73 | 14.85 | $440.00 | 108 |
| Larry Blanks – James Graves | 4.27 | 13.43 | $225.00 | 107 |
| Rob Grike – Rob Fincham | 3.75 | 13.34 | $175.00 | 106 |
| Glenn Vico – Wayne Dorman | 3.52 | 11.79 | $120.00 | 105 |
| Wilson Bradley – Tyson Mastin | 0.00 | 9.04 | | 104 |
| Ken Presely – Keith Lupo | 3.03 | 8.41 | | 103 |
| Chris Jones – Tom Toews | 5.48 | 7.25 | | 102 |
| Tim Covington – Nick Covington | 0.00 | 6.43 | | 101 |
| Mike Townsend – Sam Ciclakie | 0.00 | 5.35 | | 100 |
| David Lakeman – Dave Verner | 0.00 | 4.54 | | 99 |
| Nathan Keller – John Doyle | 2.68 | 4.31 | | 98 |
| Skeeter Gray – Anthony Gray | 0.00 | 2.79 | | 97 |
| Erich Kuntz | 0.00 | 2.53 | | 96 |
| Wesley Olinger – Thomas Lee | 0.00 | 0.00 | | 86 |
| Kevin Simpson – Thomas Simpson | 0.00 | 0.00 | | 86 |
| Roy Dodson – Turner Heart | 0.00 | 0.00 | | 86 |
| Bill Powers – Brad Baber | 0.00 | 0.00 | | 86 |
| Scott Conners – Troy Perry | 0.00 | 0.00 | | 86 |
| Gene Hall – Scott Taylor | 0.00 | 0.00 | | 86 |
| Matt Martin – Ethan Martin | 0.00 | 0.00 | | 86 |
| David Collins Jr. – Davis Collins Sr. | 0.00 | 0.00 | | 86 |
| Jeffrey Muller – David Blount | 0.00 | 0.00 | | 86 |
| Dean Perrin – Trey Perrin | 0.00 | 0.00 | | 86 |
| Mike Giles – Jeremy Shifflet | 0.00 | 0.00 | | 86 |
| Tim Garner – Martin Villa | 0.00 | 0.00 | | 86 |
| Mike Hurdle | 0.00 | 0.00 | | 86 |
| Mike Rakes – Steven Cinewiske | 0.00 | 0.00 | | 86 |
| Wil Vickery – Dee Kidd | 0.00 | 0.00 | | 86 |
| Total Entrys | | | $3,600.00 | |
| BONUS $ | | | $250.00 | |
| Total Paid At Ramp | | | $3,345.00 | |
| Anna Spring 2021 Final Fund | | | $430.00 | |
| 2021 CATT Championship/Phantom Fund | | | $75.00 | |
| 2021 Anna Spring Final Fund Total | | | $430.00 | |
| 2021 CATT Championship/Phantom Fund Total | | | $1,390.00 | |