Next up on Lake Anna is the Anna Spring Final! June 12 at Sturgeon Creek Marina!
**NO NEW SUBS AT FINAL & NO PAIRING UP AT FINAL WITH ANOTHER MEMBER**
Must fish Final with your partner or a sub your team used
Blastoff Position is Determined By Order Of Payment
You may fish solo at the Lake Anna 2022 SPRING Final.
Enter 1 2022 Lake Anna SPRING Qualifier and qualify for the Lake Anna 2022 SPRING Final!
1st – Clay Gatewood and Jeff Parrish with a weight of 17.52 worth $775 anchored with the 1st big fish of the day @ 6.15 earning $105. They also had 1st in side pot adding another $175 totaling $1,055.00 for the day.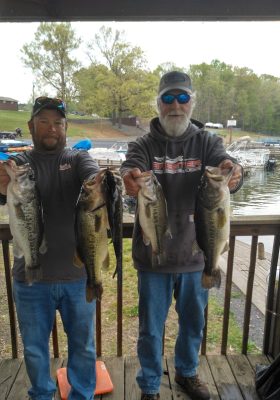 2nd – Larry Wollershiem and Preston Cox with a weight of 15.48 worth $350 and 2nd BF adding another $45 totaling $395 for the day. Larry & Preston also won the Anna Spring Points and will fish the Final Free!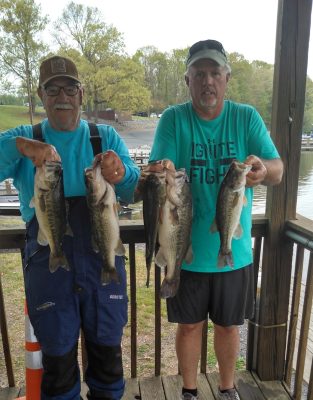 3rd – Wil Vickery and Dee Kidd with a weight of 15.16 worth $120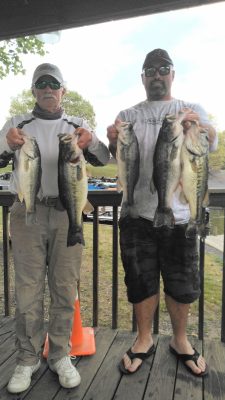 Thanks to all who participated and congrats to our winners!
| | | | | |
| --- | --- | --- | --- | --- |
| Team | BF | Weight | Winnings | Points |
| Clay Gatewood – Jeff Parish | 6.15 | 17.52 | $1,055.00 | 110 |
| Larry Wollershiem – Preston Cox | 5.55 | 15.48 | $395.00 | 109 |
| Wil Vickery – Dee Kidd | 4.15 | 15.16 | $120.00 | 108 |
| Larry Blanks – Josh Hall | 4.13 | 14.24 | | 107 |
| Wayne Dorman – Elzie Dorman | 4.73 | 14.23 | | 106 |
| Jonathan Mullins – Mason Sullivan | 4.72 | 12.72 | | 105 |
| Erich Kunz – Joe Kunz | 3.45 | 10.76 | | 104 |
| Mike Webster – Mike Wandel | 3.70 | 10.39 | | 103 |
| Brian Green – Chris Armstrong | 0.00 | 10.23 | | 102 |
| B ill Powers – Dave Mossberg | 0.00 | 9.43 | | 101 |
| Scott Conners – Troy Perry | 0.00 | 9.05 | | 100 |
| Skeeter Gray – Tommy Mills | 0.00 | 8.81 | | 99 |
| Chris Jones – Tom Toews | 0.00 | 8.75 | | 98 |
| Gene Hall – Scott Taylor | 0.00 | 6.06 | | 97 |
| Dean Perrin – Trey Perrin | 0.00 | 0.00 | | 87 |
| Total Entrys | | | $1,800.00 | |
| BONUS $ | | | $175.00 | |
| Total Paid At Ramp | | | $1,570.00 | |
| Anna Spring 2022 Final Fund | | | $300.00 | |
| 2022 CATT Championship/Phantom Fund | | | $75.00 | |
| 2022 Anna Spring Final Fund Total | | | $1,300.00 | |