Next and Last 2023 Spring Lake Gaston CATT Qualifier is this coming weekend May 7th at Summit Landing!
We are a few weeks away from the 2023 CATT Academy Championship on Kerr Lake May 20-21! $10,000 GUARANTEED to 1st Place but your winnings can be a lot more! 2020 Winners took home $24,000.00! 2021 Winners took home $17,00.00! 2022 Winners took home $29,000.00! Tap on the link to view details!
2023 CATT Academy Championship – Carolina Anglers Team Trail (cattteamtrail.com)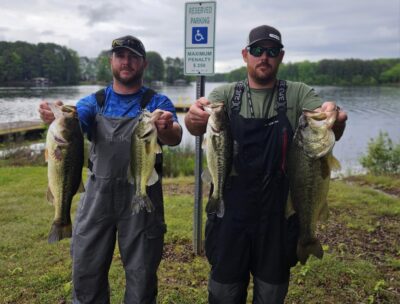 Land Weaver & John Edwards Jr win Gaston with 5 bass weighing 17.40 lbs! They collected $1,411.00!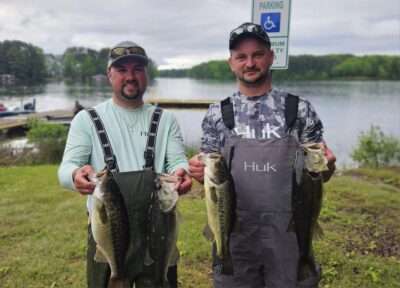 Jay Wright & Mickey Anderson took 2nd with 15.16 lbs!
| | | | | |
| --- | --- | --- | --- | --- |
| Team | BF | Weight | Winnings | Points |
| Land Weaver John Edwards Jr | 6.04 | 17.40 | $1,411.00 | 110 |
| Jay Wright Mikey Anderson | 3.66 | 15.16 | $690.00 | 109 |
| Kevin Jones Tyler Jones | 0.00 | 14.62 | $190.00 | 108 |
| Powell Kemp Michael Chlomoudis | 3.44 | 13.76 | | 107 |
| Joey Scott Dylan Lynch | 3.28 | 13.64 | | 106 |
| Jesse Medlin Scott Golden | 3.90 | 13.40 | | 105 |
| Walt Goff Brian Stalls | 0.00 | 12.34 | | 104 |
| Andy Liles Cason Price | 0.00 | 12.06 | | 103 |
| Shane Doughtie Evan White | 3.08 | 12.04 | | 102 |
| Jake Murdock John Murdock | 3.92 | 11.73 | $54.00 | 101 |
| Chris Bishop Tim Byers | 0.00 | 11.06 | | 100 |
| Randy Robson Brian Robson | 0.00 | 10.71 | | 99 |
| Scott Griffin Jay Allen | 0.00 | 10.58 | | 98 |
| Ryan Hobbs Steven Smith | 0.00 | 9.58 | | 97 |
| Lee Allred Cameron Laxton | 0.00 | 8.16 | | 96 |
| Allen Lifsey Caleb Eller | 0.00 | 5.42 | | 95 |
| Kevin Young Harold Foster | 0.00 | 0.00 | | 85 |
| Scooter Lilly Eric Galasso | 0.00 | 0.00 | | 85 |
| Rick Morris Dave Waack | 0.00 | 0.00 | | 85 |
| Total Entries | | | $2,160.00 | |
| BONUS $ | | | $600.00 | |
| Total Paid At Ramp | | | $2,345.00 | |
| 2023 Gaston Spring Final Total | | | $315.00 | |
| CATT | | | $50.00 | |
| 2023 CATT Championship Fund | | | $50.00 | |
| 2023 Gaston Spring Final Total | | | $1,335.00 | |