Next & Last Gaston Qualifier is Sept 21 at Summit Landing!
For those of you who missed the action Saturday, some pretty fish were weighed in and I'm proud to say that only 1 dead fish….
A beautiful day yielded some tough fishing for most, as we only had 8 limits of the 21 boats who competed…
Keeper bites were few and far between but some nice quality fish were brought to the scales…
CONGRATULATIONS to CHUCK MURRAY & RANDY GROVES who pulled out a blow out win with 20.82lbs!!!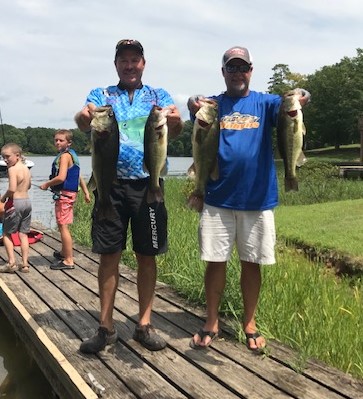 Runner team(bout time!) Gene and Adam Richardson with 15.58lbs….
3rd place finishing team were the new comers, Clay Ausley & Ken McNeil… 13.05 lbs!!!
4rth place team, the rising team of Gregory Kropp & Dave Fowler….11.74lbs….
Make sure you have qualified for the November 2 Day Final…(2 paired events required)
Use PHANTOMCATT15 at checkout when ordering your Phantom Gear & receive 15% off!
| | | | | |
| --- | --- | --- | --- | --- |
| 21 Teams | BF | Weight | Winnings | Points |
| Chuck Murray- Randy Groves | 5.23 | 20.82 | $1,500.00 | 110 |
| Adam Richardson- Gene Richardson | 4.72 | 15.58 | $785.00 | 109 |
| Clay Ausley- Ken McNeil | 4.65 | 13.05 | $310.00 | 108 |
| Gregory Kropp – Dave Fowler | 0.00 | 11.74 | $140.00 | 107 |
| Eric Schell- Todd Smith | 0.00 | 11.67 | | 106 |
| Ryan Harrell- Carter Harrell | 3.39 | 11.57 | | 105 |
| Scott Griffin- Kyle Griffin | 3.40 | 11.12 | | 104 |
| Billy Patrick- Allen Mitchell | 0.00 | 10.34 | | 103 |
| Scott Golden- Jessie Medlin | 3.45 | 9.38 | | 102 |
| Shane Doiughtie – Evan White | 0.00 | 6.89 | | 101 |
| Rich Hartman- Roger Castillo | 0.00 | 6.83 | | 100 |
| Lee Gay- John Jackson | 0.00 | 6.49 | | 99 |
| JT Palmore – Bobby Crisman | 0.00 | 2.75 | | 98 |
| Ivan Morris- Janet Morris | 0.00 | 0.00 | | 97 |
| Mikey Anderson- Rock Gross | 0.00 | 0.00 | | 97 |
| Jim Sampson- David Collins | 0.00 | 0.00 | | 97 |
| Wesley Bennett – Chris Bishop | 0.00 | 0.00 | | 97 |
| Bobby Peedin – TJ Myrick | 0.00 | 0.00 | | 97 |
| Kent Pearson- Zach Lyons(sub) | 0.00 | 0.00 | | 97 |
| Ricky Todd | 0.00 | 0.00 | | 97 |
| Chris Bowen- Cody Rogers | 0.00 | 0.00 | | 97 |
| Total Entrys | | | $2,520.00 | |
| BONUS $ | | | $640.00 | |
| Total Paid At Ramp | | | $2,735.00 | |
| Gaston 2019 Final Fund | | | $395.00 | |
| 2019 CATT Championship Fund | | | $0.00 | |
| 2019 Gaston Spring Final Fund Total | | | $1,525.00 | |
| 2020 CATT Championships Fund Total | | | $0.00 | |