Next Lake Wateree CATT is Mar 7 at Clearwater Cove Marina!
We finally got to fish and the fishing is picking up! Donald Hinson & Carl Smith take 1st Place with 19.07 lbs!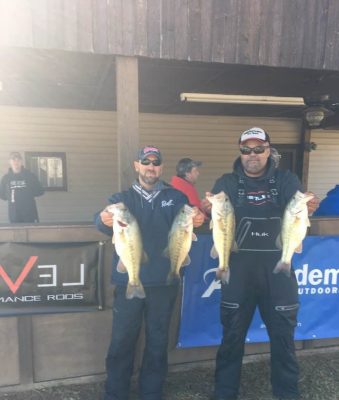 2nd Place went to Jim Davis & Mike Allman with 18.64 lbs!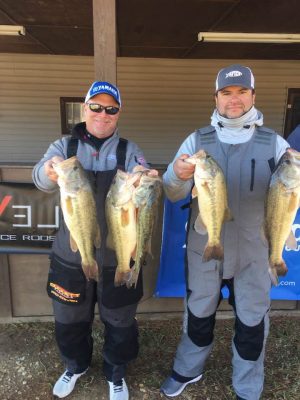 Jason McCoy & Casey Stevens 3rd with 18.08 lbs!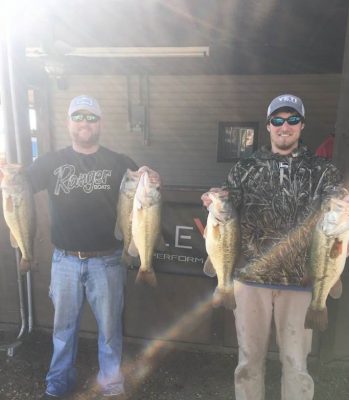 Paul Wells with the Academy BF at 6.01 lbs!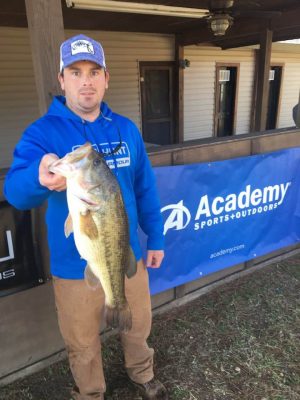 | | | | | |
| --- | --- | --- | --- | --- |
| | Big | Total | | |
| 20 Teams | Fish | Weight | Winnings | Points |
| Donald Hinson – Carl Smith | 5.31 | 19.07 | $1,510.00 | 110 |
| Jim Davis – Mike Allman | 4.35 | 18.64 | $450.00 | 109 |
| Jason McCoy – Casey Stevens | 3.72 | 18.08 | $200.00 | 107 |
| Jacob Norris – Jeff Norris | 4.45 | 17.83 | $120.00 | 108 |
| Craig Haven | 4.75 | 16.76 | | 106 |
| Mike King – Mike Traynum | 3.93 | 15.98 | | 105 |
| Allen Fletcher | 4.45 | 15.71 | | 104 |
| Jonathan Hilton – Michael Hilton | 4.34 | 14.35 | | 103 |
| Butch Williams – David Ethridge | 3.41 | 13.80 | | 102 |
| Garrett Brown | 3.74 | 11.63 | | 101 |
| Donald Wells – Paul Wells | 6.01 | 9.95 | $140.00 | 100 |
| Scott Williams – Robbie English | 3.56 | 8.58 | | 99 |
| Chad Gainey – Jeffrey Furr | 4.28 | 7.87 | | 98 |
| Dan Hostetler – Jake Hostetler | 2.99 | 6.93 | | 97 |
| Scott Floyd | 3.15 | 3.15 | | 96 |
| Kyle Westerman – | 0.00 | 0.00 | | 95 |
| Max Price – Brent Neal | 0.00 | 0.00 | | 95 |
| Greg Sigmon | 0.00 | 0.00 | | 95 |
| Greg Atkinson – Randy Humphries | 0.00 | 0.00 | | 95 |
| Bubba Baker – Colden Baker | 0.00 | 0.00 | | 95 |
| Total Entrys | | | $2,400.00 | |
| BONUS $ | | | $450.00 | |
| Total Paid At Ramp | | | $2,420.00 | |
| Wateree 2020 Spring Final Fund | | | $330.00 | |
| 2020 CATT Championship Fund | | | $50.00 | |
| 2020 Wateree Spring Final Fund Total | | | $330.00 | |
| 2020  CATT Championship Fund Total | | | $2,610.00 | |