Next up is the Gaston Fall Final Dec 11 at Summit Landing!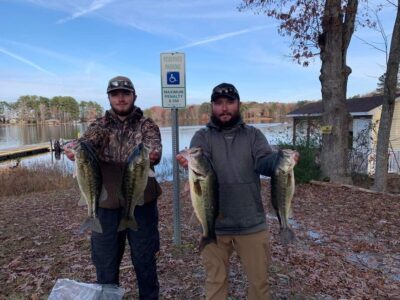 Shane Doughtie & Evan White win the last Fall Gaston Qualifier with 5 bass weighing 14.19 lbs! They also win the Fall Gaston Points and will fish the 2023 Fall Gaston Qualifiers Free!
We had a tie in the points but total weight for the year breaks the tie!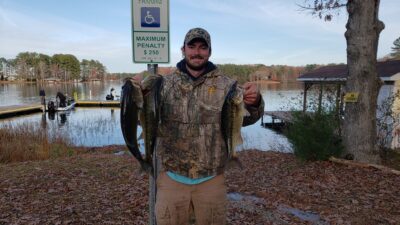 Ryan Harrell & Ryan Brown 2nd with 13.24 lbs!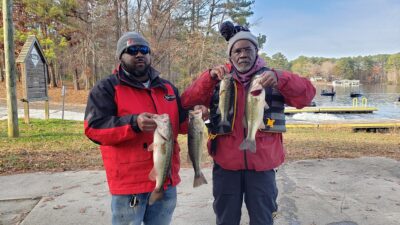 John & Jake Murdock 3rd with 13.09 lbs!
| | | | | |
| --- | --- | --- | --- | --- |
| Team | BF | Weight | Winnings | Points |
| Shane Doughtie – Evan White | 4.47 | 14.19 | $1,185.00 | 110 |
| Ryan Harrell – Ryan Brown | 0.00 | 13.24 | $595.00 | 109 |
| John & Jake Murdock | 0.00 | 13.09 | $140.00 | 108 |
| Flash Butts – Shawn Hammack | 0.00 | 12.46 | | 107 |
| Larry Freeman Jr – Larry Freeman | 4.07 | 12.43 | | 106 |
| Rick Morris – Dave Waack | 3.19 | 11.95 | | 105 |
| Chuckie Creech – Adam Pritchard | 0.00 | 11.24 | | 104 |
| Allen White – Chris Inscoe | 0.00 | 10.25 | | 103 |
| Mike Gunn – Mike Caul | 0.00 | 10.24 | | 102 |
| Todd Smith – Eric Schell | 0.00 | 9.74 | | 101 |
| Land Weaver – John Edwards Jr | 0.00 | 9.56 | | 100 |
| Ivan Morris – Janet Morris | 0.00 | 9.54 | | 99 |
| James Joyner – Nelson Mayton | 4.16 | 9.38 | $45.00 | 98 |
| Jeff Bradley – Travis West | 0.00 | 9.26 | | 97 |
| Joey Scott – Chris Clary | 0.00 | 8.87 | | 96 |
| Lee Gay – Justin Ingle | 3.23 | 8.27 | | 95 |
| Total Entrys | | | $1,800.00 | |
| BONUS $ | | | $550.00 | |
| Total Paid At Ramp | | | $1,965.00 | |
| Gaston 2022 Fall Final Fund | | | $260.00 | |
| 2022 CATT Championship Fund | | | $50.00 | |
| 2022 Gaston Fall Point Total | | | $100.00 | |
| 2022 Gaston Fall Final Fund Total | | | $875.00 | |