Next Lake Gaston CATT is March 19th launching from Summitt Landing!
To view the Lake Gaston Points go to the Lake Gaston Division page and scroll all the way down!
The 2023 CATT Academy Championship will take place on Kerr Lake May 20-21, 2023 and we are guaranteeing $10,000.00 to 1st Place!
Nutbush Ramp Kerr Lake State Park – 115 Jack Wade Farm Road, Henderson, NC. Tap on the link to view more info!
2023 CATT Academy Championship – Carolina Anglers Team Trail (cattteamtrail.com)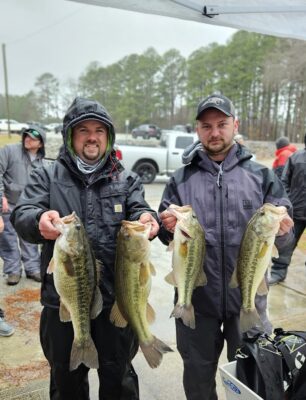 Jay Wright & Mikey Anderson win the 1st 2023 Spring Lake Gaston Qualifier with 5 bass weighing 21.88 lbs worth $1,750.00!
Great bags weighed in on a wet day!
| | | | | |
| --- | --- | --- | --- | --- |
| Team | BF | Weight | Winnings | Points |
| Jay Wright – Mikey Anderson | 5.70 | 21.88 | $1,750.00 | 110 |
| Chris Bishop – Tim Byers | 6.14 | 20.60 | $828.00 | 109 |
| Jordan Hughes – Daniel Bowman | 5.22 | 20.44 | $335.00 | 108 |
| Joey Scott – Dillon Lynch | 5.82 | 18.84 | $672.00 | 107 |
| Scott Griffin – Jay Allen | 0.00 | 17.96 | $310.00 | 106 |
| Michael Garner – Billy Shelton | 4.12 | 16.78 | $120.00 | 105 |
| Jake Murdock – John Murdock | 0.00 | 16.74 | | 104 |
| Shane Doughtie – Evan White | 0.00 | 16.42 | | 103 |
| Jesse Medlin – Scott Golden | 0.00 | 16.40 | | 102 |
| Rick Morris – Dave Waack | 0.00 | 16.02 | | 101 |
| Ryan Harrell – Ryan Brown | 0.00 | 15.86 | | 100 |
| Andy Liles – Cason Price | 0.00 | 15.64 | | 99 |
| Mike Gunn – Frank Pridemore | 4.92 | 15.36 | | 98 |
| James Joyner – Nelson Mayton | 0.00 | 15.06 | | 97 |
| Dennis Phillips – Craig Phillips | 0.00 | 14.78 | | 96 |
| Allen White – Mike Vaughn | 0.00 | 14.64 | | 95 |
| Cody Rogers – Colby Allen | 0.00 | 14.60 | | 94 |
| Land Weaver – John Edwards Jr | 5.34 | 14.30 | | 93 |
| Jason Hughes | 0.00 | 13.72 | | 92 |
| Caleb Horn – Parish Malone | 0.00 | 13.12 | | 91 |
| Derrik Wynkoop | 0.00 | 12.84 | | 90 |
| Artie Jones – Anthony Jones | 3.84 | 12.12 | | 89 |
| Jeremy Maye | 0.00 | 11.82 | | 88 |
| Kevin Dickens – Shawn Evans | 0.00 | 11.18 | | 87 |
| Allen Lifsey – Caleb Eller | 0.00 | 11.14 | | 86 |
| Tanner Durham – Dawson Medlin | 0.00 | 10.24 | | 85 |
| Tyler Garner | 0.00 | 9.08 | | 84 |
| Nick Thomas – Gavin Barbour | 0.00 | 8.26 | | 83 |
| Dennis Bradley – Allen Mitchell | 0.00 | 0.00 | | 73 |
| Tyler Dix – Michael Midgett | 0.00 | 0.00 | | 73 |
| Total Entries | | | $3,600.00 | |
| BONUS $ | | | $1,000.00 | |
| Total Paid At Ramp | | | $4,015.00 | |
| 2023 Gaston Spring Final Total | | | $365.00 | |
| CATT | | | $50.00 | |
| 2023 CATT Championship Fund | | | $50.00 | |
| 2023 Gaston Spring Final Total | | | $365.00 | |