Next Lake Gaston CATT is August 1st at Summit Landing!
Anytime you fish a 23 boat field and win $1,644.00 I would say that's a great day on the water! Chuck Murray & Randy Groves weighed in 15.53 lbs to take 1st place at Lake Gaston!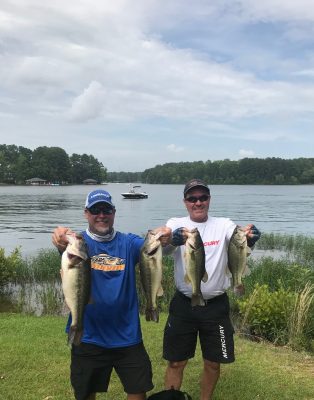 Top weights were tight and measured by less than ounces…
2nd place Danny Wicker and Doug Washburn…15.17lbs
3rd Greg Fernandez & John Letusick …15.06 after DF penalty
4th Tyler Dix ……13.68lbs….
Honorable mention at 5th…Alan Mitchell & Billy Patrick…13.47lbs…
Everyone did a good job at waiting for key fobs for weigh in, this allowed for Spacing and kept a steady flow of bags at the scales…
Thanks to everyone for doing their best to social distance and take care of our beautiful resource….
*** pay attention to Facebook and the CATT website as we plan to add on a make up Friday event sometime in JULY** …
Should have permit this week… STAY TUNED…

| | | | | |
| --- | --- | --- | --- | --- |
| 23 Teams | BF | Weight | Winnings | Points |
| Chuck Murray – Randy Groves | 4.60 | 15.53 | $1,644.00 | 110 |
| Danny Wicker- Doug Washburn | 3.62 | 15.17 | $765.00 | 109 |
| Greg Fernandez- John Letusick | 3.50 | 15.06 | $370.00 | 108 |
| Tyler Dix | 4.44 | 13.68 | $241.00 | 107 |
| Alan Mitchell- Billy Patrick | 3.18 | 13.47 | | 106 |
| Ron McMillian- Damian Nicholson | 3.31 | 12.48 | | 105 |
| Jt Palmore – Bobby Crisman | 0.00 | 11.95 | | 104 |
| Keith Joyce- Mark Roberson | 0.00 | 11.75 | | 103 |
| Chris Bishop- Wesley Bennett | 0.00 | 11.37 | | 102 |
| Adam Richardson- Gene Richardson | 3.12 | 10.44 | | 101 |
| Scott Griffin- Jay Allen | 0.00 | 10.43 | | 100 |
| Jay Wright | 0.00 | 10.41 | | 99 |
| Shane Doughtie | 0.00 | 10.25 | | 98 |
| Ivan Morris- Janet Morris | 0.00 | 9.79 | | 97 |
| Scott Golden- Jessie Medlin | 0.00 | 9.66 | | 96 |
| Garrison Vick – Abigail Leonard | 3.79 | 8.67 | | 95 |
| Lee Allred- Eric Massey | 0.00 | 8.57 | | 94 |
| Bobby Peeden- TJ Myrick | 3.85 | 6.09 | | 93 |
| Greg Krop- Dave Fowler | 0.00 | 0.00 | | 92 |
| David Collins- Jacob Falhauer | 0.00 | 0.00 | | 92 |
| Clay Ausley – Ken McNeil | 0.00 | 0.00 | | 92 |
| Brandon Hendricks- Kenny Miller | 0.00 | 0.00 | | 92 |
| Josh Lanaville- Timmy Davis | 0.00 | 0.00 | | 92 |
| Total Entrys | | | $2,760.00 | |
| BONUS $ | | | $800.00 | |
| Total Paid At Ramp | | | $3,020.00 | |
| Gaston 2020 Final Fund | | | $320.00 | |
| 2020 CATT Championship Fund | | | $50.00 | |
| 2020 Gaston Final Fund Total | | | $320.00 | |
| 2020 CATT Championships Fund Total | | | $4,025.00 | |