Next and last Lake Gaston Spring CATT Qualifier is June 5th!
Mark your calendar! 2022 Academy CATT Championship!

$250 Academy Gift Card Drawing! For every $50 you spend at Academy you will get a raffle ticket at Kerr Lake to go into a drawing for a $250 Academy Gift Card! Bring your Academy receipts to Kerr 1st day of the Championship! Drawing will be held at final weigh in and you do not have to be present to win! PLUS we will raffle another $250 Academy Gift Card and award to the lucky winner!
The 2022 Academy CATT  Championship will take place on Kerr Lake May 21-22, 2022 and we are guaranteeing $10,000.00 to 1st Place!
Nutbush Ramp Kerr Lake State Park – 115 Jack Wade Farm Road, Henderson, NC
Either NC & VA License are valid. You do not need both.
**2018 & 2019 1st Place Winners Have Taken Home $25,000.00! 2020 Winners took home $24,000.00!
A team or solo angler must fish 2 CATT events to Qualify! You may fish the Championship solo or with your partner or alternate partner your team used in any CATT event.
You can get in your 2 events by fishing any CATT Fall 2021 and CATT Spring 2022! Any CATT event after June 1st , 2021 will count!
How To Qualify
Must enter 2 CATT Events to be eligible! Enter 1 or more CATT event as a team – Entering solo or with a Sub also counts toward your teams Championship Qualification! The 2 events do not have to be in the same CATT Trail! If you entered 2  2022 CBC Qualifiers you are eligible to enter!
Entry Fees
$200 Per Team Entry – $210 At Ramp
Optional Platinum BONUS $100  – Paying Up to 3 Places
Optional Gold BONUS $50 – Paying Up to 3 Places
Optional Silver BONUS $25 –  Paying Up to 2 Places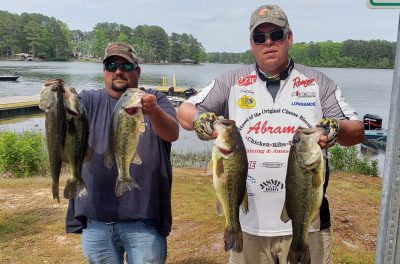 Michael Chlomoudis & Powell Kemp take the win at Lake Gaston with 5 bass weighing 18.88 lbs! They collected $2,175.00!
| | | | | |
| --- | --- | --- | --- | --- |
| Team | BF | Weight | Winnings | Points |
| Michael Chlomoudis Powell Kemp | 4.72 | 18.88 | $2,175.00 | 110 |
| Chris Bishop | 5.60 | 18.06 | $1,016.00 | 109 |
| Jay Allen Scott Griffin | 4.06 | 16.66 | $910.00 | 108 |
| Ryan Harrell | 4.24 | 15.40 | $530.00 | 107 |
| Ivan Morris Janet Morris | 0.00 | 15.27 | $250.00 | 106 |
| Joey Scott Chris Clary | 4.20 | 14.62 | $200.00 | 105 |
| Jeff Price Cason Price | 0.00 | 14.60 | $140.00 | 104 |
| John Edwards Jr Carter Edwards | 0.00 | 14.58 | | 103 |
| Danny Moss April Moss | 0.00 | 14.44 | | 102 |
| Robert Todd Chanler Todd | 0.00 | 14.36 | | 101 |
| Bennett Owen BK Kelly | 4.94 | 14.02 | $114.00 | 100 |
| Carl Enos David Enos | 3.66 | 13.66 | | 99 |
| Shane Doughtie Evan White | 0.00 | 13.18 | | 98 |
| Derrik Wynkoop Shaquille Freeman | 0.00 | 12.80 | | 97 |
| Rip Bass | 3.46 | 12.36 | | 96 |
| Jake Murdock John Murdock | 0.00 | 12.28 | | 95 |
| Michael Garner | 0.00 | 11.74 | | 94 |
| Randy Groves Keith Joyce | 0.00 | 11.48 | | 93 |
| Jesse Medlin Scott Golden | 0.00 | 11.06 | | 92 |
| Nathaniel Kilgore Bryce Henley | 0.00 | 10.24 | | 91 |
| Jay Wright Mikey Anderson | 0.00 | 10.14 | | 90 |
| Joshua Lanaville Timothy Davis | 0.00 | 9.56 | | 89 |
| Dennis Phillips Craig Phillips | 0.00 | 8.74 | | 88 |
| Steven Michaels Tony Ashtabridge | 0.00 | 8.62 | | 87 |
| Dennis Bradley Allen Mitchell | 0.00 | 8.00 | | 86 |
| Jim Sampson Mike Dunham | 0.00 | 7.44 | | 85 |
| Michael Scott William Scott | 0.00 | 7.19 | | 84 |
| Harold Caldwell John Caldwell | 0.00 | 7.04 | | 83 |
| John Blau Jeff Beachum | 0.00 | 6.30 | | 82 |
| Michael Hobbs Alexis Vaughn | 0.00 | 0.00 | | 72 |
| Kenny Reynolds Brandon Reynolds | 0.00 | 0.00 | | 72 |
| Brandon Hardy | 0.00 | 0.00 | | 72 |
| Glenn Tribble Grady Tribble | 0.00 | 0.00 | | 72 |
| Brandon Taylor David Lanaville | 0.00 | 0.00 | | 72 |
| Bobby Peedin TJ Myrick | 0.00 | 0.00 | | 72 |
| Joseph Sharp Nate Arrington | 0.00 | 0.00 | | 72 |
| Mike May Chris Cox | 0.00 | 0.00 | | 72 |
| Chris Bowen Cody Lucy | 0.00 | 0.00 | | 72 |
| Jerry Cullom Ricky Todd | 0.00 | 0.00 | | 72 |
| Total Entrys | | | $4,680.00 | |
| BONUS $ | | | $1,100.00 | |
| Total Paid At Ramp | | | $5,335.00 | |
| Gaston 2022 Spring Final Fund | | | $375.00 | |
| 2022 CATT Championship Fund | | | $50.00 | |
| 2022 Gaston Spring Final Fund Total | | | $1,135.00 | |