Thanks everyone for fishing with us this Fall! Congrats to our winners!  Billy Shelton and Michael Garner had an amazing bag of fish. 2024 Spring schedules will be out soon for Lake Gaston and Roanoke Rapids Lake!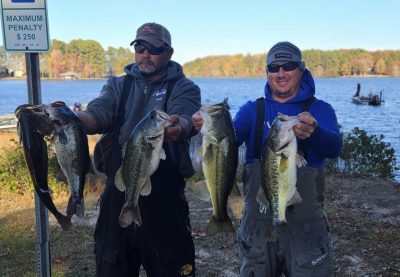 Michael Garner & Billy Shelton win the Fall Lake Gaston Final with 5 bass weighing 21.80 lbs! They earned $1,990.00!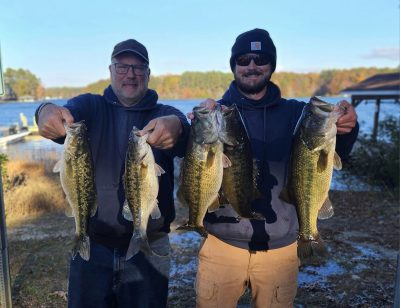 Jake Murdock & John Murdock 2nd Place with 15.34 lbs!
| | | | |
| --- | --- | --- | --- |
| Team | BF | Weight | Winnings |
| Michael Garner Billy Shelton | 5.36 | 21.80 | $1,990.00 |
| Jake Murdock John Murdock | 4.40 | 15.34 | $1,260.00 |
| Jerry Bono Dave Farrington | 3.76 | 13.10 | $300.00 |
| Ivan Morris Janet Morris | 0.00 | 12.10 | |
| James Joyner John Edwards Jr | 0.00 | 11.22 | |
| Greg Fernandez BK Kelly | 0.00 | 11.20 | |
| Eric Schell Todd Smith | 0.00 | 10.64 | |
| Doug Stallings Jay Fogleman | 4.74 | 10.42 | $50.00 |
| BRANDON Cross William Cross | 4.54 | 10.36 | |
| Shane Doughtie Evan White | 0.00 | 8.32 | |
| Jerry Cullom | 3.88 | 3.88 | |
| Flash Butts Shawn Hammack | 0.00 | 0.00 | |
| Rick Morris Dave Waack | 0.00 | 0.00 | |
| Mike Dinterman Glenn Long | 0.00 | 0.00 | |
| Nelson Mayton Chris McDaniel | 0.00 | 0.00 | |