Next Lake Gaston CATT Fall Qualifier is Oct 24 at Summit Landing!
The 2021 PHANTOM OUTDOORS Invitational Classic will take place on Lake Hartwell Nov 5-6 and we are guaranteeing $10,000.00 to 1st Place!
Green Pond Landing & Event Center – 470 Green Pond Rd, Anderson, SC 29625
A team or solo angler must fish 2 CATT events to Qualify! You may fish the Invitational solo or with your partner or alternate partner your team used in any CATT event.
You can get in your 2 events by fishing any CATT Fall 2020,  CATT Spring 2021, CATT Summer 2021 & CATT Fall 2021!
Go to the Division page and tap on 2021 Phantom Outdoor Invitational Classic!
Randy Groves & Chuck Murray win the 2nd Gaston Fall Qualifier this past weekend with 5 bass weighing 18.54 lbs! They also weighed in a 5.10 lb bass for 2nd BF and took home a total of $1,592.00!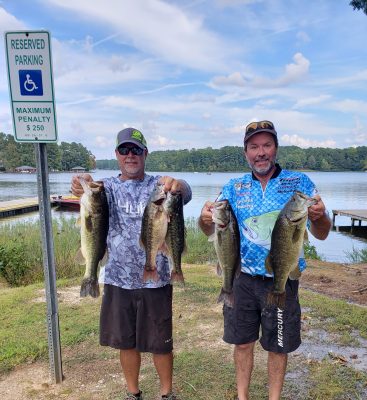 Kenneth McNeil & Al Greco finished 2nd with 5 bass weighing 17.13 lbs!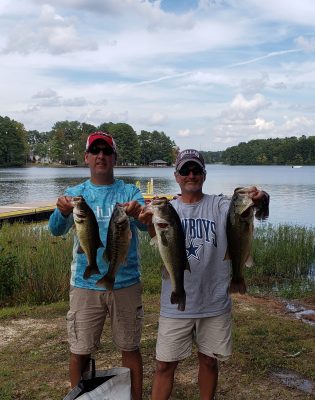 Scott Griffin & Jay Allen 3rd with 15.33 lbs!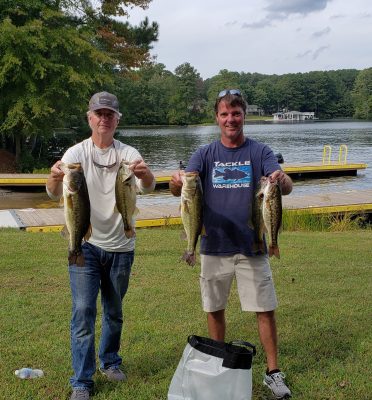 Ivan & Janet Morris with the BF of the day at 6.58 lbs!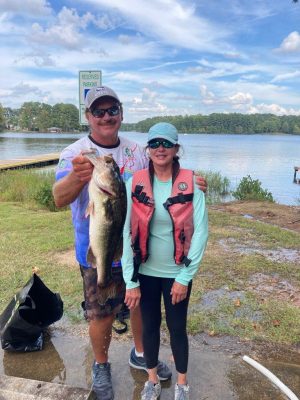 | | | | | |
| --- | --- | --- | --- | --- |
| Team | BF | Weight | Winnings | Points |
| Chuck Murry Randy Groves | 5.10 | 18.54 | $1,592.00 | 110 |
| Kenneth McNeil Al Greco | 4.98 | 17.13 | $830.00 | 109 |
| Scott Griffin Jay Allen | 4.83 | 15.33 | $370.00 | 108 |
| Michael Scott William Scott | 3.52 | 15.23 | $190.00 | 107 |
| Ivan Morris Janet Morris | 6.58 | 13.56 | $288.00 | 106 |
| Mark Wood Justin Miles | 0.00 | 12.99 | | 105 |
| Randy Waterman Terry Easter | 3.53 | 12.89 | | 104 |
| Robby Butler Michael Midgette | 3.92 | 12.74 | | 103 |
| Charlie Davis Bill Goots | 3.46 | 12.55 | | 102 |
| Shane Doughtie Evan White | 0.00 | 12.54 | | 101 |
| Michael Hobbs Larry Hobbs | 3.60 | 11.82 | | 100 |
| Eugene Barnes Mike Holland | 0.00 | 11.51 | | 99 |
| Justin Egitto Mikey Anderson | 3.09 | 10.84 | | 98 |
| Joey Scott Chris Clary | 0.00 | 10.21 | | 97 |
| Dennis Bradley Allen Mitchell | 0.00 | 10.21 | | 96 |
| Damian Nicholson Carter Rowland | 0.00 | 10.15 | | 95 |
| Michael Pembolton | 0.00 | 6.53 | | 94 |
| Chandler Todd Robert Todd | 0.00 | 6.04 | | 93 |
| Ryan Hobbs Brandon Lassiter | 0.00 | 5.46 | | 92 |
| Derrik Wynkoop | 0.00 | 0.00 | | 82 |
| Pat Borzi Brett Ewing | 0.00 | 0.00 | | 82 |
| Cory Byrum Jesse Medlin | 0.00 | 0.00 | | 82 |
| Wesley Caswell | 0.00 | 0.00 | | 82 |
| Andy Liles Ricky Todd | 0.00 | 0.00 | | 82 |
| James Joyner Stephen Rowland | 0.00 | 0.00 | | 82 |
| Total Entrys | | | $3,000.00 | |
| BONUS $ | | | $800.00 | |
| Total Paid At Ramp | | | $3,270.00 | |
| Gaston 2021 Fall Final Fund | | | $330.00 | |
| 2022 CATT Championship Fund | | | $50.00 | |
| 2021 Gaston Fall Final Fund Total | | | $765.00 | |
| 2022 CATT Championships Fund Total | | | $0 | |