Next up on Lake Gaston is the 2019 Gaston Fianl Nov 2 & 3 out of Summitt Landing!
JT Palimore & Bobby Crisman win the Gaston Points and will fish the 2020 Gaston Qualifiers free!
Chuck Murray & Randy Groves brought in 5 bass at 16.79 lbs good enough for the win and $1,4353.00!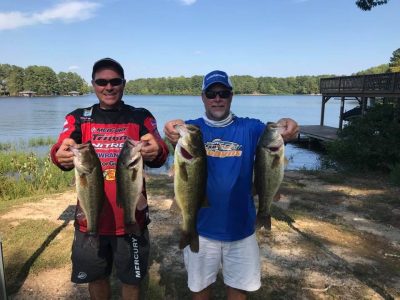 Todd Smith & Eric Schell 2nd with 16.46 lbs!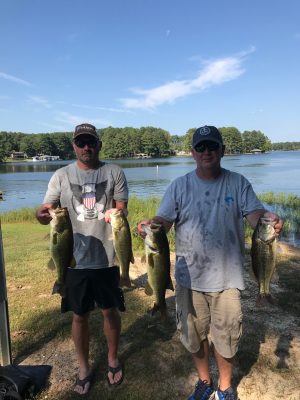 3rd Mark Roberson & Keith Joyce with 14.41 lbs!

4th Evan White & Shane Doughtie 14.12 lbs!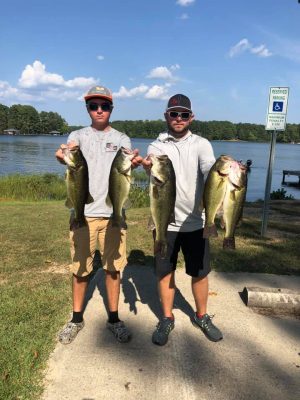 Ryan & Carter Harrell with some good ones!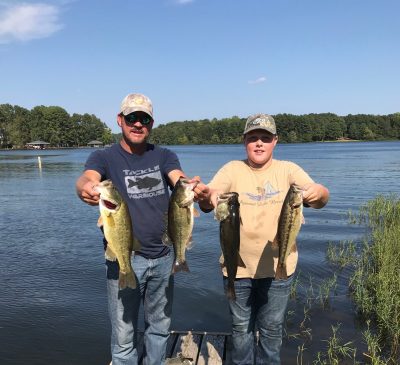 | | | | | |
| --- | --- | --- | --- | --- |
| 19 Teams | BF | Weight | Winnings | Points |
| Chuck Murray- Randy Groves | 4.99 | 16.79 | $1,453.00 | 110 |
| Eric Schell- Todd Smith | 4.38 | 16.46 | $630.00 | 109 |
| Mark Roberson- Keith Joyce | 4.57 | 14.41 | $247.00 | 108 |
| Shane Doughtie- Evan White | 0.00 | 14.12 | $220.00 | 107 |
| Ryan Harrell- Carter Harrell | 3.89 | 14.05 | | 106 |
| Ivan Morris- Janet Morris | 4.39 | 13.49 | | 105 |
| Spencer Barrows- Robert Perkins | 0.00 | 13.34 | | 104 |
| Adam Richardson- Gene Richardson | 0.00 | 12.95 | | 103 |
| Michael Gardner- Ryan Brown | 0.00 | 12.45 | | 102 |
| JT Palmore – Bobby Crisman | 0.00 | 10.55 | | 101 |
| John Caldwell- Robbie Thompson | 0.00 | 10.47 | | 100 |
| Wesley Bennett- Chris Bishop | 0.00 | 8.95 | | 99 |
| Scott Golden- Jessie Medlin | 0.00 | 8.22 | | 98 |
| Michael Hobbs- Robbie Butler | 0.00 | 7.40 | | 97 |
| Greg Kropp- Dave Fowler | 0.00 | 0.00 | | 96 |
| Brock Rouse | 0.00 | 0.00 | | 96 |
| Larry Gunn- Hal Caldwell | 0.00 | 0.00 | | 96 |
| Ricky Todd- Mike Barfield(sub) | 0.00 | 0.00 | | 96 |
| Billy Patrick – Allen Mitchell | 0.00 | 0.00 | | 96 |
| Total Entrys | | | $2,160.00 | |
| BONUS $ | | | $600.00 | |
| Total Paid At Ramp | | | $2,550.00 | |
| Gaston 2019 Final Fund | | | $210.00 | |
| 2019 CATT Championship Fund | | | $0.00 | |
| 2019 Gaston Spring Final Fund Total | | | $1,735.00 | |
| 2020 CATT Championships Fund Total | | | $405.00 | |