Next Lake Gaston CATT is August 3rd at Summitt Landing! Remember guys any CATT event you enter after June 1, 2019 goes toward your 2020 CATT Championship Qualification!
Ivan & Janet Morris claimed the top prize with a 5 bass limit weighing 20.51 lbs! They took home $1,725.00!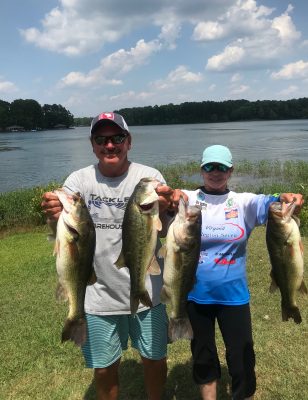 Michael Chlomoudis & Marty Warren claimed 2nd with 14.97 lbs and took home $780.00!
3rd went to Ryan & Carter Harrell with 14.72 lbs!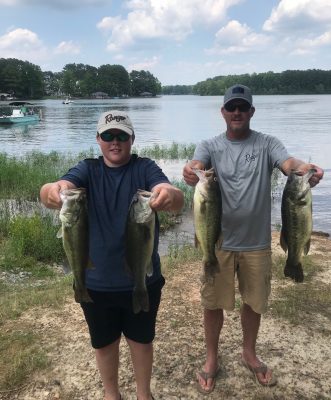 Randy Groves & Chuck Murray finished 4th with 14.23 lbs!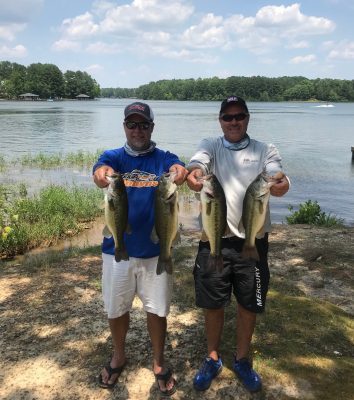 Gregory Kropp with the 2nd BF 5.44 lbs!
| | | | | |
| --- | --- | --- | --- | --- |
| 26 Teams | BF | Weight | Winnings | Points |
| Ivan & Janet Morris | 5.49 | 20.51 | $1,725.00 | 110 |
| Michael Chlomoudis- Marty Warren | 3.27 | 14.97 | $780.00 | 109 |
| Ryan Harrell & Carter Harrell | 3.91 | 14.72 | $440.00 | 108 |
| Chuck Murray- Randy Groves | 3.43 | 14.23 | $200.00 | 107 |
| Eric Schell- Todd Smith | 3.32 | 14.06 | $125.00 | 106 |
| Wesley Bennet Chris Bishop | 0.00 | 11.75 | | 105 |
| Jt Palmore- Bobby Crisman | 3.75 | 11.67 | | 104 |
| Lee Gay- John Jackson | 0.00 | 11.23 | | 103 |
| Scott Golden – Jessie Medlin | 3.90 | 11.18 | | 102 |
| Mikey Anderson – Randy Black | 0.00 | 10.43 | | 101 |
| Shawn Evans- William Cross | 0.00 | 9.46 | | 100 |
| Shane Doughtie- Evan White | 2.86 | 8.91 | | 99 |
| Gregory Kropp- Dave Fowler | 5.44 | 8.91 | $75.00 | 98 |
| Adam Richardson-Gene(Bentley sub) | 0.00 | 8.29 | | 97 |
| Bubba Haywood- David Frye | 0.00 | 7.43 | | 96 |
| David Enos- Carl Enos | 0.00 | 6.65 | | 95 |
| Greg Creech- Chris McDuffie | 0.00 | 5.98 | | 94 |
| Kent Pearson- Cris Wells | 0.00 | 5.55 | | 93 |
| Rich Hartman | 0.00 | 0.00 | | 92 |
| Clay Ausley – Ken McNeil | 0.00 | 0.00 | | 92 |
| Robert Carter- Larry Whitt | 0.00 | 0.00 | | 92 |
| Kevin Dickens- Justin Dalton | 0.00 | 0.00 | | 92 |
| Bobby Peedin- TJ Myrick | 0.00 | 0.00 | | 92 |
| Vincent Wells- Dustin Sturm | 0.00 | 0.00 | | 92 |
| Matthew Little – Derrick Bowden | 0.00 | 0.00 | | 92 |
| John Caldwell – Robert Thompson | 0.00 | 0.00 | | 92 |
| Total Entrys | | | $3,000.00 | |
| BONUS $ | | | $680.00 | |
| Total Paid At Ramp | | | $3,345.00 | |
| Gaston 2019 Final Fund | | | $330.00 | |
| 2019 CATT Championship Fund | | | $50.00 | |
| 2019 Gaston Spring Final Fund Total | | | $1,130.00 | |
| 2019 CATT Championship Fund Total | | | $1,685.00 | |