Next Lake Hartwell CATT is Dec 19 at Broyles! We are getting closer to a date for the 2021 CATT Invitational on Hartwell! Stay tuned! We'll be posting more info soon!
Jimmy Black & Larry Masters too 1st with 5 bass weighing 17.28 lbs! They also weighed in the BF at 6.43 lbs!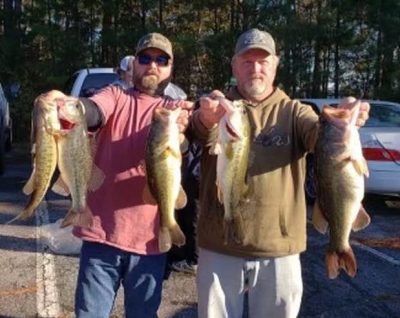 Austin Johnson & Kenny Mathis finished 2nd with a limit weighing 16.76 lbs!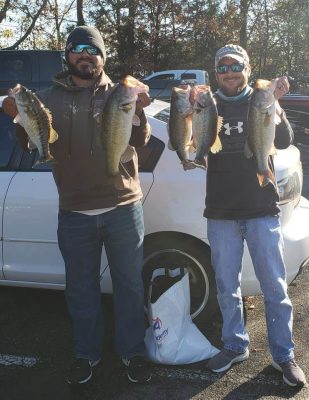 | | | | | |
| --- | --- | --- | --- | --- |
| Team | BF | Weight | Winnings | Points |
| Jimmy Black – Larry Masters | 6.43 | 17.28 | $630.00 | 110 |
| Austin johnson -Kenny Mathis | 0.00 | 16.76 | $180.00 | 109 |
| Cullen Smith – Ben Stone | 0.00 | 14.06 | $80.00 | 108 |
| Cameron Holly – Dave Holly | 0.00 | 13.30 | | 107 |
| Cain Waller – Taylor Givens | 0.00 | 13.09 | | 106 |
| Brian Bowers – Justin Dubose | 0.00 | 12.78 | | 105 |
| Gill Senn – Carl Whitfield | 0.00 | 11.38 | | 104 |
| Vince Blanton – Wesley Sandifer | 0.00 | 11.34 | | 103 |
| Tony Richardson – Phillip Richardson | 0.00 | 10.42 | | 102 |
| Jim Sanders – Guy Neely | 0.00 | 8.76 | | 101 |
| Cameron Fleming | 0.00 | 8.34 | | 100 |
| Kevin Dye – Greg Arnold | 0.00 | 0.00 | | 99 |
| Matt Mitchell – Gary Tucker | 0.00 | 0.00 | | 99 |
| Greg Jeter | 0.00 | 0.00 | | 99 |
| Shawn Grey – Keith Grey | 0.00 | 0.00 | | 99 |
| Scott Reeves – Brady Kimbrell | 0.00 | 0.00 | | 99 |
| Total Entrys | | | $960.00 | |
| BONUS $ | | | $240.00 | |
| Total Paid At Ramp | | | $890.00 | |
| 2020 Hartwell Fall Final Fund | | | $130.00 | |
| 2021 CATT Championship Fund | | | $20.00 | |
| 2020 Hartwell Fall Final Fund Total | | | $340.00 | |
| 2021 CATT Championship Fund Total | | | $385.00 | |