Check out the all new Caymas bass boats!
Next up is the Lake Hartwell 2019 Fall Final Jan 25th at Broyles! We have 24 teams eligible to enter! Entry fee is $130 at the ramp! Optional side pot $25! Vinson Blanton & Wesley Sandifer and Richard Freeze & Seth Thompson tied for 1st in the points and both teams will fish the Final free!
Robbie & Tyler Hoover finished 1st with 5 bass weighing 15.23 lbs!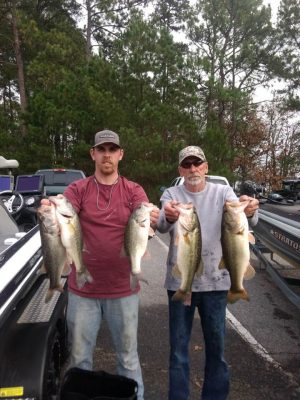 Derrick Lehtonen & Dakota Lehtonen 2nd with 14.94 lbs!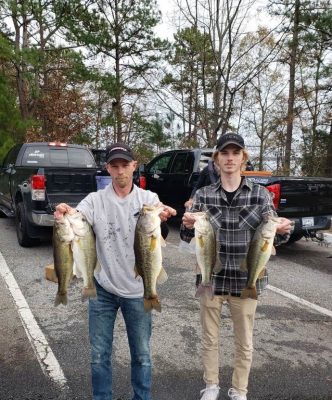 | | | | | |
| --- | --- | --- | --- | --- |
| 14 Teams | BF | Weight | Winnings | Points |
| Robbie Hoover – Tyler Hoover | 0.00 | 15.23 | $525.00 | 110 |
| Derrick Lehtonen – Dakota Lehtonen | 4.99 | 14.94 | $240.00 | 109 |
| Greg Lovelace – Andy Green | 0.00 | 12.44 | | 108 |
| Richard Freeze – Seth Thompson | 0.00 | 11.18 | | 107 |
| Chance Griffith – Keith Satterfield | 0.00 | 11.15 | | 106 |
| Vince Blanton – Wesdley Sandifer | 0.00 | 9.45 | | 105 |
| Nic Thompson – Bobby Root | 0.00 | 8.06 | | 104 |
| Steve Bryson – Willy Tucker | 0.00 | 7.58 | | 103 |
| Josh Payseur – David Looper | 0.00 | 7.24 | | 102 |
| Caleb Wyatt – Jimmy Blackwell | 0.00 | 0.00 | | 101 |
| Bill Hunter – Jeremy Hunter | 0.00 | 0.00 | | 101 |
| Mark Waller | 0.00 | 0.00 | | 101 |
| Joe Richardson – Jaevn Jordan | 0.00 | 0.00 | | 101 |
| Randy Lannin – Jeff Glover | 0.00 | 0.00 | | 101 |
| Total Entrys | | | $840.00 | |
| BONUS $ | | | $225.00 | |
| Total Paid At Ramp | | | $765.00 | |
| Hartwell 2019 Fall Final Fund | | | $150.00 | |
| 2020 CATT Championship Fund | | | $10.00 | |
| 2019 Hartwell Fall Final Fund Total | | | $380.00 | |
| 2020  CATT Championship Fund Total | | | $1,910.00 | |