Next Lake Monticello CATT is June 12 at the Hwy 99 Ramp!
Andy Wicker & Dan McGlohorn took 1st Place with 5 bass weighing 19.90 lbs! They also weighed in the BF at 6.94 lbs and took home $995.00!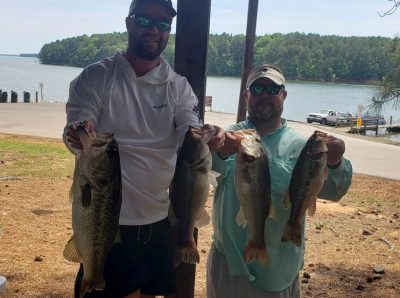 2nd Place went to Jason & Michael Bateman with a limit weighing 17.37 lbs!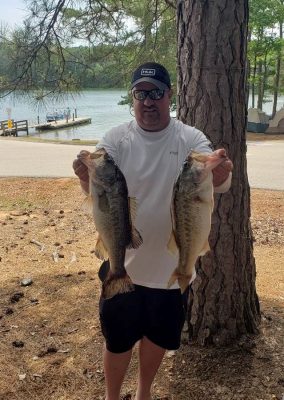 | | | | | |
| --- | --- | --- | --- | --- |
| Team | BF | Weight | Winnings | Points |
| Andy Wicker – Dan McGlohorn | 6.94 | 19.90 | $995.00 | 110 |
| Jason Bateman – Michael Bateman | 6.21 | 17.37 | $300.00 | 109 |
| Andrew Fowler – Jeff Morris | 4.07 | 16.35 | | 108 |
| Phillip Thompson – Chad Bradburn | 0.00 | 14.21 | | 107 |
| Dustin Bannister – Adam Fincher | 0.00 | 13.87 | | 106 |
| Mark Krengel – Ron Wood | 4.61 | 13.12 | | 105 |
| Devin Black – Cory Vaughn | 0.00 | 13.04 | | 104 |
| Tony Slack – Brent Helms | 0.00 | 9.46 | | 103 |
| Tony Exall | 0.00 | 8.98 | | 102 |
| Clay Palmer – Chris Belk | 0.00 | 0.00 | | 92 |
| Steve Harris – Albert Darminius | 0.00 | 0.00 | | 92 |
| Charlie Hendricks – Alston Wingate | 0.00 | 0.00 | | 92 |
| | | | | |
| Monticello Final | | | $240.00 | |