Next and last Lake Murray Spring CATT Qualifier is April 23rd at John Creek Landing! You have to enter 2 Qualifiers to be eligible to enter the Final!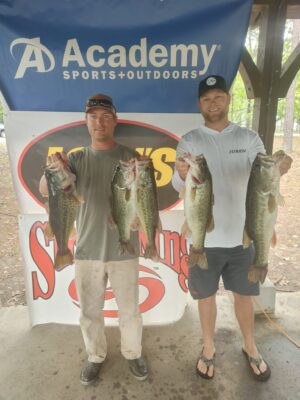 Wade Amick & Josh Rennebaum win Murray with 5 bass weighing 19.86 lbs and weighed in the 1st Academy BF at 5.40 lbs! Total winnings $1,585.00!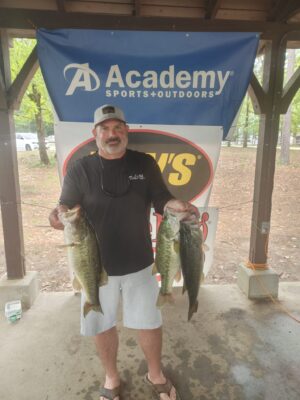 Tim Sox & Kevin Fulmer took 2nd Place with 19.69 lbs!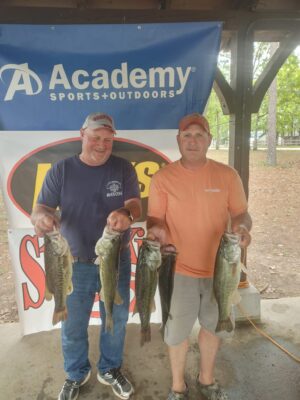 Tim & Neal Huffstetler 3rd with 19.16 lbs!
| | | | | |
| --- | --- | --- | --- | --- |
| Team | BF | Weight | Winnings | Points |
| Wade Amick Josh Rennebaum | 5.40 | 19.86 | $1,585.00 | 110 |
| Tim Sox – Kevin Fulmer | 4.84 | 19.69 | $360.00 | 109 |
| Tim Huffstetler – Neal Huffstetler | 4.22 | 19.16 | $250.00 | 108 |
| Travis Byrd – Joey Spradley | 4.52 | 18.88 | $130.00 | 107 |
| AJ DiPietro – Charley Pargan | 4.26 | 18.80 | $110.00 | 106 |
| Les Westbury – Tony Walker | 5.17 | 18.32 | $100.00 | 105 |
| Dylan Sills – Hunter Jeffcoat | 4.07 | 17.96 | | 104 |
| Gregg Lockhart – Steven Tucker | 4.35 | 17.25 | | 103 |
| Scott Farmer – CJ Freeman | 4.30 | 16.51 | | 102 |
| Frankie Shealy – Brandon Shealy | 3.86 | 15.91 | | 101 |
| Johnny Mayer – Chris Epting | 4.06 | 15.72 | | 100 |
| Tim Richardson | 0.00 | 14.94 | | 99 |
| Terry Morris – Michale Morris | 3.54 | 14.74 | | 98 |
| Bryan Mowder | 3.29 | 14.27 | | 97 |
| Wayne Jeffcoat – Kevin Banks | 5.27 | 14.07 | $90.00 | 96 |
| Chad Hastings – Chris Neal | 0.00 | 13.72 | | 95 |
| Jase Knight – Danny Riffe | 3.99 | 13.38 | | 94 |
| Jeremy Medlock – Hunter Enlow | 0.00 | 12.92 | | 93 |
| Jason Ries – Roger McKee | 4.14 | 12.31 | | 92 |
| Dave Franklin – Gunnar Franklin | 3.13 | 11.94 | | 91 |
| Ryan Raley – Cooper Raley | 4.01 | 11.74 | | 90 |
| Jason Fulmer – John Roberts | 0.00 | 10.65 | | 89 |
| Tommy Cochran – Michael Livingston | 0.00 | 9.63 | | 88 |
| Travis Knight – Wayne Gerould | 4.03 | 7.25 | | 87 |
| Darryl Starkey – Nelson Walker | 0.00 | 0.00 | | 77 |
| Butler Cochran – Blair Moore | 0.00 | 0.00 | | 77 |
| Mark Richardson – Rhett Richardson | 0.00 | 0.00 | | 77 |
| Steve Pizzino – Dave Murdock | 0.00 | 0.00 | | 77 |
| Carter Shealy – Troy Rauch | 0.00 | 0.00 | | 77 |
| Russ Padgett – Phillip Anderson | 0.00 | 0.00 | | 77 |
| Total Entrys | | | $2,400.00 | |
| BONUS $ | | | $750.00 | |
| Total Paid At Ramp | | | $2,625.00 | |
| CATT | | | $50.00 | |
| 2023 Murray Spring Final Fund | | | $425.00 | |
| 2023 CATT Championship Fund | | | $50.00 | |
| 2023 Murray Spring Final Total | | | $1,795.00 | |