Check out the all new Caymas Bass Boats!
We awarded a Lews Mach Speed Stick and 2 -$25 Academy Gift cards at the Murray Fall Final! Thanks to Lews and Academy Sports for the support!
Also the Carolinas Bass Challenge will have the 1st 2020 Qualifier at Lake Murray Feb 8th! $10,000 1st Place!
www.carolinasbasschallenge.com
This has been our best Lake Murray Fall Trail in the past 3 years! For the 2020 Fall Lake Murray Trail we will keep the Qualifier entry fee at $60 and the Final at $120 because it worked so well! We paid back over $10,000.00 in the Fall on Lake Murray and over $30,000.00 for the year! The 2020 Spring Lake Murray schedule is posted!
Johnny Mayer & Chris Epting win the Fall Lake Murray Final with a limit of bass weighing up at 24.00 lbs! They also took the Lews BF at 6.90  lbs which earned them a Lews Mach Speed Stick! Plus they took home the Bonus $. All total in cash and prizes they collected $2,225.00!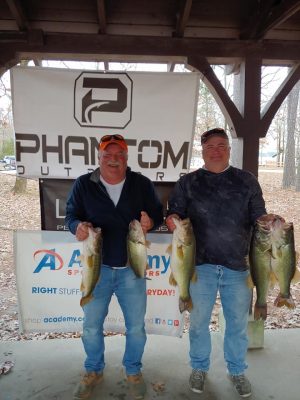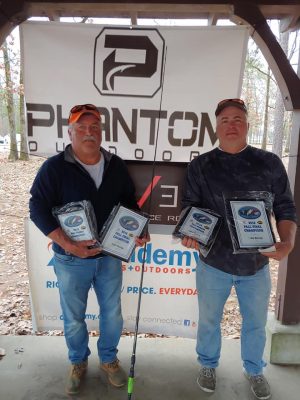 Travis England & Chris Marshall finished 2nd with 23.90 lbs! Another great bag of Lake Murray Bass!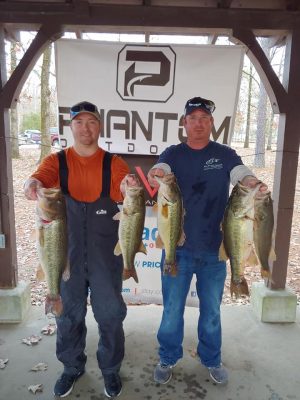 Ronnie Mueller was 3rd with 18.89 lbs!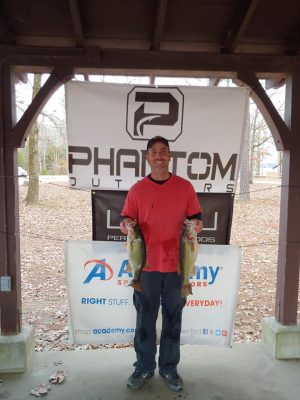 Gavin & Travis Parrish took 4th with 17.12 lbs!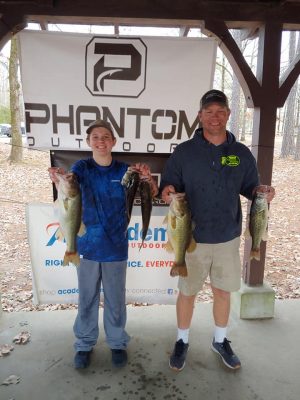 John Ray & Zak Martin received 2- $24 Academy Gift Cards for their 6th place finish with 15.69 lbs!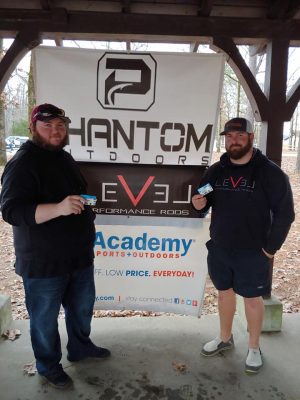 | | | | |
| --- | --- | --- | --- |
| 25 Teams | BF | Weight | Winnings |
| Johnny Mayer – Chris Epting  | 6.90 | 24.00 | $2,025.00 |
| Chris Marshall – Travis England | 6.32 | 23.90 | $1,075.00 |
| Ronnie Mueller | 4.32 | 18.89 | $500.00 |
| Gavin Parrish – Travis Parrish | 5.27 | 17.12 | $250.00 |
| Neil Huffstetler – Tim Huffstetler | 4.63 | 16.41 | $150.00 |
| John Ray – Zak Martin | 5.58 | 15.69 | |
| Joey Sabbagha – Dalton Dowdy | 5.50 | 15.47 | |
| George Berry | 4.57 | 14.01 | |
| Steve Pizzino – Dave Murdock | 3.49 | 13.74 | |
| Tim Sox – Kevin Fulmer | 3.82 | 13.01 | |
| Bernie Dreher – Reese Turner | 4.60 | 12.10 | |
| Roger Farr – David Farr | 3.18 | 11.81 | |
| Eric Enlow – Hunter Enlow | 4.66 | 11.74 | |
| Michale Royal – Wyman Brannon | 4.00 | 11.54 | |
| Ray Merchant | 2.84 | 11.40 | |
| Kevin Malone – Brad Rutherford | 0.00 | 10.20 | |
| Paul Ham – Will Alewine | 2.70 | 10.04 | |
| Phillip Anderson | 0.00 | 0.00 | |
| Joseph Keplar | 0.00 | 0.00 | |
| Todd Ledford | 0.00 | 0.00 | |
| Steve Wicker | 0.00 | 0.00 | |
| Mark Richardson – Rhett Richardson | 0.00 | 0.00 | |
| John Mitchell – Claudell Monroe | 0.00 | 0.00 | |
| Larry Moss – Ray Pettit | 0.00 | 0.00 | |
| Justin McGrady – Clayton Watts | 0.00 | 0.00 | |
| Total Entrys | | | $3,000.00 |
| BONUS $ | | | $350.00 |
| Murray Fall Final Fund | | | $630.00 |
| Total Paid At Ramp Cash & Prizes | | | $10,230.00 |
| Total Paid Fall 2019 Lake Murray | | | $20,895.00 |
| Grand Total Paid Lake Murray 2019 | | | $31,125.00 |