Next Lake Murray CATT is this Saturday Feb 26th at Dreher Island State Park!
Ben Lee smacked em Saturday Lake Murray weighing in 5 bass at 23.29 lbs taking 1st Place Ben also weighed in the Academy BF at 7.54 lbs and took home $1,111.00! Ben also received a $25 Academy Gift Card!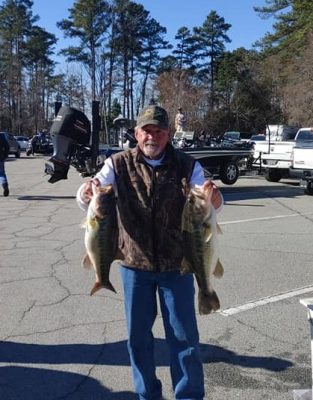 Jim Davis & Josh Rennebaum took 2nd Place with 5 bass weighing 20.33 lbs!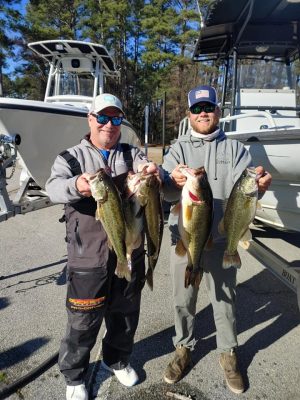 Bradley & Brandon Rhodes weighed in 20.23 lbs good enough for 3rd!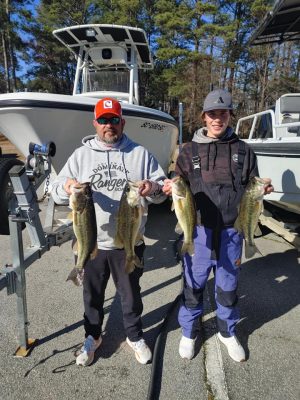 Dave & Gunner Franklin took the last money spot with 18.48 lbs!
| | | | | |
| --- | --- | --- | --- | --- |
| Team | BF | Weight | Winnings | Points |
| Ben Lee  | 7.54 | 23.29 | $1,111.00 | 110 |
| Jim Davis – Josh Rennebaum | 6.06 | 20.33 | $300.00 | 109 |
| Bradley Rhodes – Brandon Rhodes | 6.09 | 20.23 | $269.00 | 108 |
| Dave Franklin – Gunnar Franklin | 5.08 | 18.48 | $120.00 | 107 |
| Ronnie Mueller – Lane Mueller | 0.00 | 17.87 | | 106 |
| Wade Amick – Zach Huffstetler | 0.00 | 16.24 | | 105 |
| Johnny Mayer – Scott Roton | 0.00 | 14.94 | | 104 |
| Chad Hastings – Chris Neal | 0.00 | 14.45 | | 103 |
| Rodney Cromer – David Farr | 0.00 | 13.32 | | 102 |
| Bernie Dreher – Reese Turner | 3.25 | 13.26 | | 101 |
| Joe Quinn – Stacy James | 5.27 | 12.99 | | 100 |
| Jason Ries – Roger McKee | 0.00 | 12.66 | | 99 |
| Trey Locklear – Jackson Locklear | 3.57 | 11.18 | | 98 |
| Les Westberry – Wyatt Westberry | 3.53 | 11.15 | | 97 |
| Thomas MacWhinnie – Tyler Rathbun | 5.85 | 5.85 | | 96 |
| Chris Marshall – Ronnie Wilson | 0.00 | 0.00 | | 86 |
| Mark Richardson – Rhett Richardson | 0.00 | 0.00 | | 86 |
| Will Anderson – Kyle Cannon | 0.00 | 0.00 | | 86 |
| Matt Mollahan – MJ Mollohan | 0.00 | 0.00 | | 86 |
| Tyson Alvanos | 0.00 | 0.00 | | 86 |
| Mark Krengel | 0.00 | 0.00 | | 86 |
| Kevin Fulmer – Tim Sox | 0.00 | 0.00 | | 86 |
| Roger Medlock – Jack Medlock | 0.00 | 0.00 | | 86 |
| Total Entrys | | | $1,840.00 | |
| BONUS $ | | | $425.00 | |
| Total Paid At Ramp | | | $1,800.00 | |
| Murray 2022 Spring Final Fund | | | $365.00 | |
| 2022 CATT Championship Fund | | | $50.00 | |
| 2022 Murray Spring Final  Total | | | $365.00 | |