Next Lake Murray Spring CATT is Feb 25th at Dreher Island State Park! $80 entry 0r $90 at the ramp!
Lake Murray is putting out some great bags this year! Next week is the Carolinas Bass Challenge on Murray with a minimum of $8,000 going to the 1st Place winners! You have until Wednesday Midnight to be signed up! It's going to be a slugfest! www.carolinasbasschallenge.com
The water level is moving up!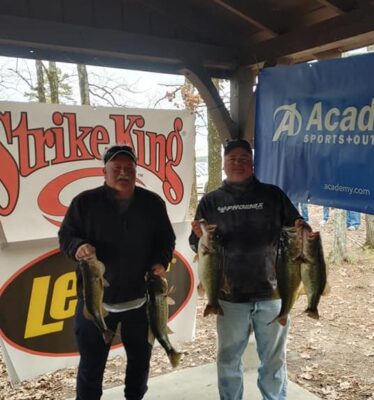 Johnny Mayer & Chris Epting win Murray with 5 bass weighing a whopping 29.63 lbs PLUS the 1st BF at 8.32 lbs worth $1,559.00!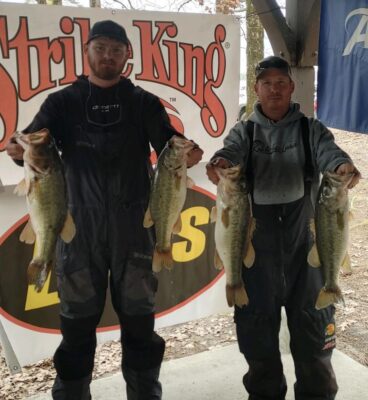 Jay Wright & Chris Marshall were 2nd with a limit weighing up at 25.26 lbs!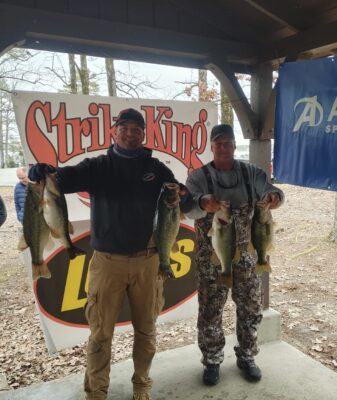 Chad Crosby & Jay Wright finished 3rd with 22.36 lbs!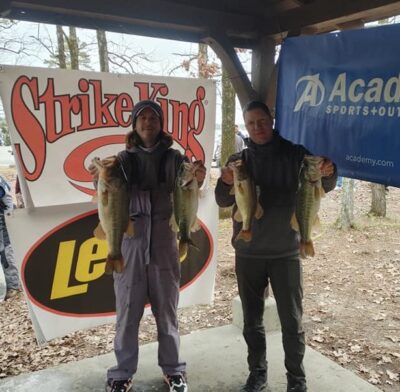 AJ Dipietro & Jeremiah Jenson 5th with 19.26 lbs and the 2nd BF at 6.40 lbs!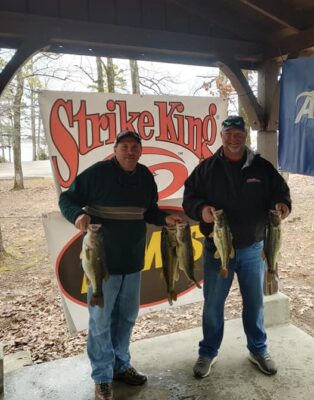 Kevin Banks & Wayne Jeffcoat 6th Place 19.13 lbs!
Come join us for the next one! $80 entry with a $25 Optional side pot!

| | | | | |
| --- | --- | --- | --- | --- |
| Team | BF | Weight | Winnings | Points |
| Johnny Mayer – Chris Epting | 8.32 | 29.63 | $1,559.00 | 110 |
| Chris Marshall – Jay Wright | 5.82 | 25.26 | $495.00 | 109 |
| Chad Crosby – Keith Britt | 5.40 | 22.36 | $300.00 | 108 |
| Mike Stephens | 5.86 | 19.69 | $200.00 | 107 |
| AJ Dipietro – Jeremiah Jenson | 6.40 | 19.26 | $251.00 | 106 |
| Wayne Jeffcoat – Kevin Banks | 4.56 | 19.13 | $110.00 | 105 |
| Hampton Anderson – Tyson Alvanos | 5.82 | 19.04 | $100.00 | 104 |
| Dalton Dowdy – Joey Sabbagha | 4.83 | 19.04 | | 103 |
| Carson Krell – Bridger Boulware | 5.30 | 17.86 | | 102 |
| Jonah Bickley – Bernie Dreher | 6.35 | 16.43 | | 101 |
| Roger Medlock | 5.22 | 15.23 | | 100 |
| Wade Amick – Carl Smith | 4.33 | 15.00 | | 99 |
| Joshua Poling – Brandon Bryan | 5.29 | 14.79 | | 98 |
| Billy Causey – Randy Causey | 4.33 | 13.93 | | 97 |
| Skeeter Crosby – Michael Craven | 3.39 | 12.42 | | 96 |
| Tyler Reese – Wyatt Keisler | 5.99 | 11.01 | | 95 |
| Matt Bickley – Delain Woodward | 3.76 | 9.87 | | 94 |
| Bart Lucas – Brian Mowder | 3.98 | 8.52 | | 93 |
| Robert Jackson – Chance Jackson | 3.76 | 8.46 | | 92 |
| Johnny Lawson – Alvin Zillars | 2.64 | 8.30 | | 91 |
| Travis Knight – Wayne Gerould | 5.35 | 8.07 | | 90 |
| Steven Turner – Gregg Lockhart | 0.00 | 4.39 | | 89 |
| Jason Reis – Roger McKee | 2.19 | 2.19 | | 88 |
| Larry Martin – Deron Johnson | 0.00 | 0.00 | | 78 |
| Eric Enlow – Don Beason | 0.00 | 0.00 | | 78 |
| Lucas Murphy – Frankie Sciosia | 0.00 | 0.00 | | 78 |
| Chad Hastings – Chris Neal | 0.00 | 0.00 | | 78 |
| Hunter Jeffcoat – Dylan Sills | 0.00 | 0.00 | | 78 |
| Adam Smith | 0.00 | 0.00 | | 78 |
| Wendell Causey – Brandon Jeffcoat | 0.00 | 0.00 | | 78 |
| Brandon Shealy – Frankie Shealy | 0.00 | 0.00 | | 78 |
| Jeff Norris – Jacob Norris | 0.00 | 0.00 | | 78 |
| Tim Slice | 0.00 | 0.00 | | 78 |
| Sandy Montgomery – Adam Tisdale | 0.00 | 0.00 | | 78 |
| Matt Mollohan – Steve Morell | 0.00 | 0.00 | | 78 |
| Donald Hinson – Butch Williams | 0.00 | 0.00 | | 78 |
| Sean Anderson – George Berry | 0.00 | 0.00 | | 78 |
| Total Entrys | | | $2,960.00 | |
| BONUS $ | | | $575.00 | |
| Total Paid At Ramp | | | $3,015.00 | |
| 2023 Murray Spring Final Fund | | | $420.00 | |
| 2023 CATT Championship Fund | | | $50.00 | |
| 2023 Murray Spring Final Total | | | $420.00 | |