Next up on Lake Murray is Nov 20 at Dreher Island! The rest of the Lake Murray Fall Qualifiers are GOLD which is $120 entry $130 at the ramp! At the CATT GOLD Qualifiers with only 20 teams entered 1st Place takes home $1,000.00! The Lake Murray Final pays back a minimum of
$2,500.00

to 1st Place! A Team has to enter 3 Murray Fall Qualifiers to be eligible to enter the Murray Fall Final! You may fish solo once and with a sub once and will count toward your teams Final Qualification.
ALSO we are hosting a Black Friday Open Nov 26th at Dreher Island! NO MEMBERSHIP! $100 entry and $25 Optional side pot! If you are a member of the 2021 Lake Murray Fall Trail we will count the Black Friday open as 1 of your 3 Fall Murray events needed to fish the Fall Murray Final!
Sean Anderson & George Berry took home 1st Place at Murray with 5 bass weighing 17.82 lbs! They also weighed in the BF at 6.56 lbs and took home $1,182.00!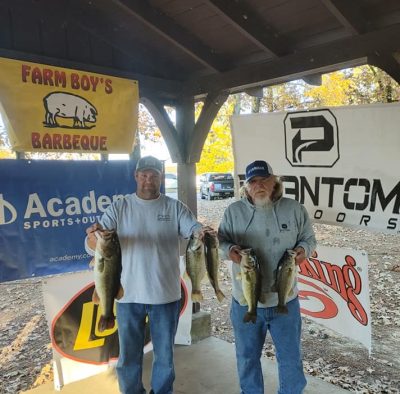 Roger Gosnell & Chad Powell claimed 2nd with 15.37 lbs!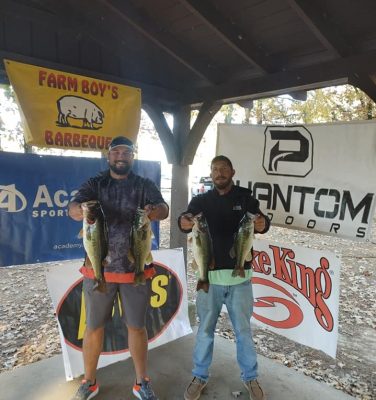 3rd Place went to John Jefferson & Neal Chaffins with 13.79 lbs!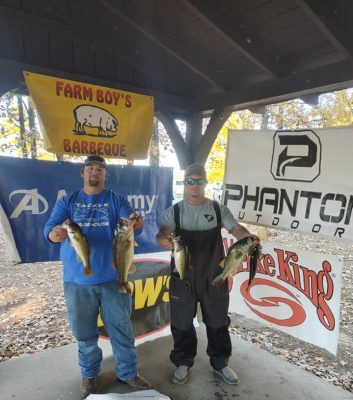 4th Place Samuel Freeman & Scott Farmer with 12.35 lbs!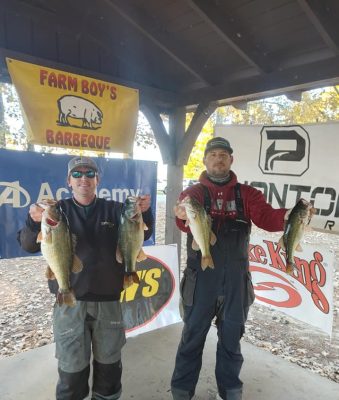 | | | | | |
| --- | --- | --- | --- | --- |
| Team | BF | Weight | Winnings | Points |
| Sean Anderson – George Berry | 6.56 | 17.82 | $1,182.00 | 110 |
| Roger Gosnell – Chad Powell | 5.46 | 15.37 | $408.00 | 109 |
| John Jefferson – Neal Chaffins | 5.44 | 13.79 | $210.00 | 108 |
| Scott Farmer – CJ Freeman | 4.91 | 12.35 | $110.00 | 107 |
| Michael Maxfield – Matthew Dangerfield | 3.04 | 10.63 | $100.00 | 106 |
| Ben Lee | 3.54 | 10.53 | | 105 |
| Joey Sabbagha – Dalton Dowdy | 2.28 | 10.02 | | 104 |
| Jason Ries – Roger Mckee | 2.79 | 9.96 | | 103 |
| Joe Quinn – Jeremy Medlock | 2.78 | 9.32 | | 102 |
| Darryl Starkey – Kevin Kelly | 2.70 | 9.22 | | 101 |
| Dave Murdock – Steve Pizzino | 2.22 | 8.93 | | 100 |
| Will Allewine – Edgar Allewine | 3.14 | 8.62 | | 99 |
| Brett Jones – Fisher Jones | 1.53 | 1.53 | | 98 |
| Chad Hastings – Chris Neal | 0.00 | 0.00 | | 88 |
| Ronnie Mueller – Lane Mueller | 0.00 | 0.00 | | 88 |
| Neil Huffstetler – Tim Huffstetler | 0.00 | 0.00 | | 88 |
| Rhett Manus – Justin Harvey | 0.00 | 0.00 | | 88 |
| Josh Renebaum – Jake Wright | 0.00 | 0.00 | | 88 |
| Greg Oliver – Justin McGrady | 0.00 | 0.00 | | 88 |
| Jeremy Adams | 0.00 | 0.00 | | 88 |
| Hampton Anderson | 0.00 | 0.00 | | 88 |
| Mark & Rhett Richardson | 0.00 | 0.00 | | 88 |
| Robert Pierce | 0.00 | 0.00 | | 88 |
| Wade Amick – Zach Huffstetler | 0.00 | 0.00 | | 88 |
| Matt Mollohan – MJ Mollahan | 0.00 | 0.00 | | 88 |
| Jeff Mayers | 0.00 | 0.00 | | 88 |
| Total Entrys | | | $2,080.00 | |
| BONUS $$ | | | $450.00 | |
| Total Paid At Ramp | | | $2,010.00 | |
| 2021 Murray Fall Final Fund | | | $350.00 | |
| 2021 CATT Championship Fund | | | $50.00 | |
| 2021 Murray Fall Final Fund | | | $475.00 | |