Next CATT Fall event on Lake Murray is the Fall Final November 28th at Billy Dreher Island State Park! The 2021 CATT Lake Murray Spring Trail schedule is posted! Go to Divisions and click on South Carolina then Murray!
Darryl Starkey & Garrett Starkey win the Lake Murray Fall Points and will fish the Murray Final Free!
Chris Epting & Johnny Mayer finished 1st with 5 bass weighing 16.71 lbs!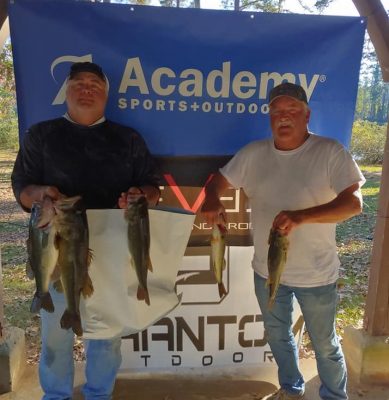 Garrett & Darryl Starkey take 2nd with 15.61 lbs!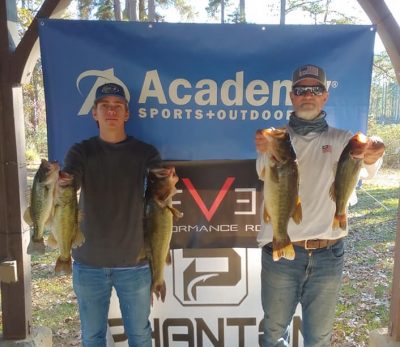 3rd Roger Farr & Wyatt Dawson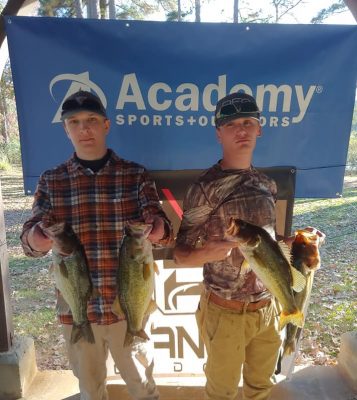 | | | | | |
| --- | --- | --- | --- | --- |
| 16 Teams | BF | Weight | Winnings | Points |
| Johnny Mayer – Chris Epting | 5.78 | 16.71 | $875.00 | 110 |
| Darryl Starkey – Garret Starkey | 5.68 | 15.61 | $180.00 | 109 |
| Roger Farr – Wyatt Dawson | 2.90 | 12.81 | $80.00 | 108 |
| Les Westberry – Dean Chapman | 2.90 | 12.81 | | 107 |
| Will Alewine – Paul Ham | 2.82 | 11.70 | | 106 |
| Mike Stephens | 3.59 | 11.52 | | 105 |
| Chad Hastings | 2.57 | 10.14 | | 104 |
| Joey Sabbagha – Dalton Dowdy | 2.37 | 9.33 | | 103 |
| Travis Parrish – Gavin Parrish | 2.70 | 8.56 | | 102 |
| Eric Enlow – Hunter Enlow | 3.51 | 8.35 | | 101 |
| Jason Ries – Roger McKee | 0.00 | 7.01 | | 100 |
| Eric Johnson – Jeremy Garland | 4.30 | 4.30 | | 99 |
| Jeremy Adams – Justin McGrady | 0.00 | 4.16 | | 98 |
| Joe Quinn – Taylor Causey | 0.00 | 0.00 | | 97 |
| Roger Medlock – Jack Medlock | 0.00 | 0.00 | | 97 |
| Wade Amick | 0.00 | 0.00 | | 97 |
| Total Entrys | | | $960.00 | |
| BONUS $$ | | | $325.00 | |
| Total Paid At Ramp | | | $1,135.00 | |
| Murray Fall Final Fund | | | $130.00 | |
| 2021 CATT Championship Fund | | | $20.00 | |
| 2020 Murray Fall Final Fund | | | $540.00 | |
| 2021 CATT /Phantom Championship | | | $225.00 | |