Next Lake Murray FALL CATT is Dec 14th! This is the last Qualifier and the last chance for you to be eligible to enter the Lake Murray FALL Final Dec 28th!
Johnny Mayer & Chris Epting win with 15.47 lbs!
2nd went to Kevin Malone & Brad Rutherford with 13.79 lbs!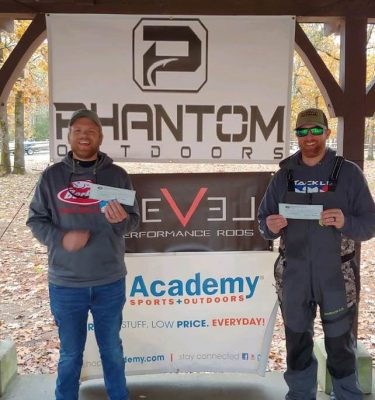 | | | | | | |
| --- | --- | --- | --- | --- | --- |
| | 14 Teams | BF | Weight | Winnings | Points |
| 1 | Johnny Mayer – Chris Epting | 0.00 | 15.47 | $750.00 | 110 |
| 2 | Kevin Malone – Brad Rutherford | 5.16 | 13.79 | $250.00 | 109 |
| 3 | Phillip Anderson – Riuss Padgett | 4.46 | 12.95 | $75.00 | 108 |
| 4 | Doug Lown – Rhett Manus | 0.00 | 11.47 | | 107 |
| 5 | Paul Ham – Jimmy Smith | 0.00 | 10.68 | | 106 |
| 6 | Darryl Starkey – Jamie Hyatt | 4.92 | 10.43 | | 105 |
| 7 | Travis Parrish – Gavin Parrish | 0.00 | 7.75 | | 104 |
| 8 | Joseph Keplar – Robert Keplar | 2.00 | 5.15 | | 103 |
| 9 | Eric Enlow – Hunter Enlow | 0.00 | 0.00 | | 102 |
| 10 | Tom Rubbo – Derek Schotterback | 0.00 | 0.00 | | 101 |
| 11 | Bernie Dreher – Reese Turner | 0.00 | 0.00 | | 101 |
| 12 | Sean Anderson – George Berry | 0.00 | 0.00 | | 101 |
| 13 | John Mitchell – Gary Tucker | 0.00 | 0.00 | | 101 |
| 14 | Roger Farr – Rodney Cromer | 0.00 | 0.00 | | 101 |
| | Total Entrys | | | $840.00 | |
| | BONUS $$ | | | $300.00 | |
| | Total Paid At Ramp | | | $1,075.00 | |
| | Murray 2019 Fall Final Fund | | | $55.00 | |
| | 2020 CATT Championship/Phantom Fund | | | $10.00 | |
| | 2919 Murray Fall Final Fund Total | | | $485.00 | |
| | 2020  CATT Championship/Phantom Total | | | $1,715.00 | |