This will be an annual event! Next CATT Murray Black Friday Open will be Nov 25, 2022 at Dreher Island State Park!
Justin Harvey wins Murray with 5 bass weighing 17.82 lbs! Justin also weighed in the 1st BF at 6.49 lbs and took home $1,475.00!
David Farr & Pat Whaley 3rd with 15.65 lbs!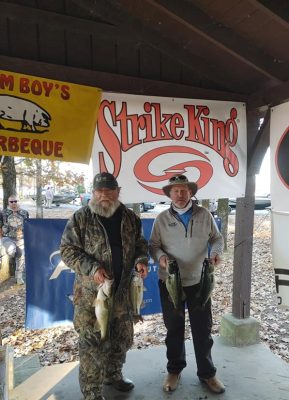 Terry Morris with the 2nd BF at 5.66 lbs!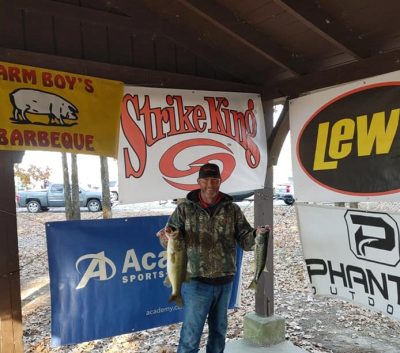 | | | | |
| --- | --- | --- | --- |
| Team | BF | Weight | Winnings |
| Justin Harvey | 6.49 | 17.82 | $1,475.00 |
| Tyson Alvanos – Hampton Anderson | 5.58 | 16.16 | $400.00 |
| Pat Whaley – David Farr | 5.03 | 15.65 | $300.00 |
| Kevin Banks – Dylan Sills | 5.24 | 15.42 | $150.00 |
| Wendell Causey – Brandon Jeffcoat | 4.72 | 15.39 | $110.00 |
| Bobby Martin – Terry Morris | 5.66 | 14.96 | $75.00 |
| Scott Farmer – CJ Freeman | 4.36 | 14.72 | |
| Chris Epting – Johnny Mayer | 2.79 | 13.27 | |
| Andy Lake – Phillip Anderson | 3.34 | 12.82 | |
| Jason Resi – Roger McKee | 3.53 | 12.04 | |
| Chris Gramling | 3.44 | 11.98 | |
| Jody Wright – Chris Marshall | 3.55 | 11.89 | |
| Hunter Enlow – Elton Barnett | 3.14 | 11.34 | |
| Gibson Huntley – Todd Huntley | 2.55 | 11.19 | |
| Darryl Starkey – Garrett Starkey | 3.24 | 10.81 | |
| Roger Gosnell – Chad Powell | 0.00 | 10.31 | |
| Rob Burris | 0.00 | 8.27 | |
| Edgar Allewine | 0.00 | 1.44 | |
| Zach Douglas – Matthew Hodge | 0.00 | 0.00 | |
| Joe Quinn – Jeremy Medlock | 0.00 | 0.00 | |
| Wayne Wilson | 0.00 | 0.00 | |
| Jody Jones – Jeff Bush | 0.00 | 0.00 | |
| John Jeffcoat – Neal Chaffins | 0.00 | 0.00 | |
| Bernie Dreher – CB Dreher | 0.00 | 0.00 | |
| Daniel Howell | 0.00 | 0.00 | |