The Lake Murray Fall Final pays 1st Place $2,500.00! Must fish Final with your partner or a sub your team used Enter 3 Murray Fall Qualifiers and you're eligible to enter the Murray Fall Final! You may fish solo once and with a sub once and will count toward your teams Final Qualification!
**The Black Friday Open on Lake Murray will count toward the Fall Final Qualification! No Points will be awarded at the Black Friday Open!
Chris Marshall & Jody Wright took 1st Place with 5 bass weighing 15.84 lbs!

Gage Spagnola & Jeremiah Jensen took 2nd with 15.58 lbs!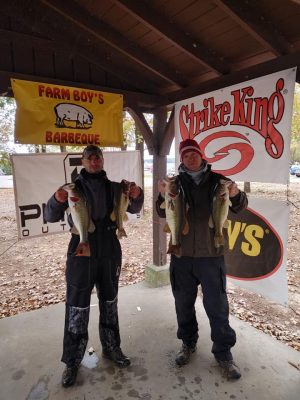 Dalton Dowdy & Joey Sabbagha claimed 3rd with 14.32 lbs!

| | | | | |
| --- | --- | --- | --- | --- |
| Team | BF | Weight | Winnings | Points |
| Jody Wright – Chris Marshall | 4.38 | 15.84 | $625.00 | 110 |
| Jeremiah Jensen – Gage Spagnola | 5.49 | 15.58 | $285.00 | 109 |
| Joey Sabbagha – Dalton Dowdy | 4.29 | 14.32 | $80.00 | 108 |
| Jason Reis – Roger McKee | 3.30 | 12.01 | | 107 |
| Ronnie Mueller – Lane Mueller | 3.39 | 11.88 | | 106 |
| Darryl Starkey – Kevin Kelly | 3.35 | 11.85 | | 105 |
| Will Allewine – Edgar Allewine | 3.81 | 10.72 | | 104 |
| Josh Renebaum – Jake Wright | 0.00 | 9.21 | | 103 |
| Tom Richarson – Gerard kelly | 2.94 | 9.07 | $80.00 | 102 |
| Jeremy Adams – Shawn Callahan | 5.25 | 7.24 | | 101 |
| Robert Pierce – Jordan Drafts | 0.00 | 0.00 | | 91 |
| Brett Jones – Fisher Jones | 0.00 | 0.00 | | 91 |
| Thomas Kokoska | 0.00 | 0.00 | | 91 |
| Greg Gregory | 0.00 | 0.00 | | 91 |
| Hunter Enlow | 0.00 | 0.00 | | 91 |
| Total Entrys | | | $1,120.00 | |
| BONUS $$ | | | $175.00 | |
| Total Paid At Ramp | | | $1,070.00 | |
| 2021 Murray Fall Final Fund | | | $125.00 | |
| 2021 CATT Championship Fund | | | $50.00 | |
| 2021 Murray Fall Final Fund | | | $125.00 | |